UK smaller companies are deeply divided over whether a UK exit from the EU would be beneficial for their business, new research has revealed ahead of next year's likely referendum.
Research commissioned by the Federation of Small Businesses (FSB) has found that 47 per cent of members surveyed would vote 'Yes' to stay in while 41 would vote 'No' to leave.  Nearly 11 per cent were undecided.
Only 41 per cent of those surveyed said they felt informed about the vote from a business point of view.
"Regardless of what a firm current's position is, there is a shared message that small businesses feel they lack clear, impartial information on which to form their views," said Mike Cherry, FSB policy director.
Those in favour of staying in EU are more likely to be members who import and export to the EU, who employ non-UK EU nationals or are based in Scotland. Female business owners are also more likely to vote for continued  membership.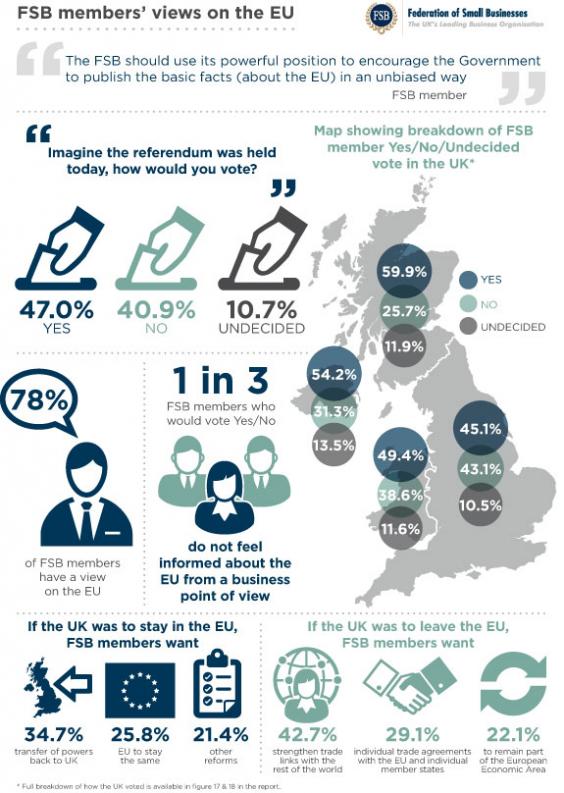 Nearly 43 per cent said of FSB members who would like to withdraw from the EU said they would concentrate on strengthening trade links with the rest of the world.
The FSB surveyed 6,300 members online in June and July. This was followed by a cross section of 123 members participating in a 12-day online discussion forum.
Prime Minister David Cameron is set to hold the in-or-out referendum on Britain's future membership of the European Union next year.
Reuse content