The man dubbed "Britain's most violent prisoner" has sold his artwork to raise thousands of pounds to buy his mother a holiday.
Charles Bronson, 61, has made numerous paintings and sketches as well as writing poems and prose during almost 40 years in prison.
His surrealist pieces have been displayed in galleries across London.
The work "Fantasy Impression", which showed Bronson on a beach, sold for £1,000, while two items, "Broadmoor Lunatic Asylum" and "Self Portrait", each sold for £950 when they were auctioned in Towcester, Northamptonshire.
Bronson's painting, "Impression of Bedlam" sold for £680.
The convict, who is serving a life sentence for robbery and kidnap, wanted to make up for upsetting his mother with an attack on guards at HMP Full Sutton in York.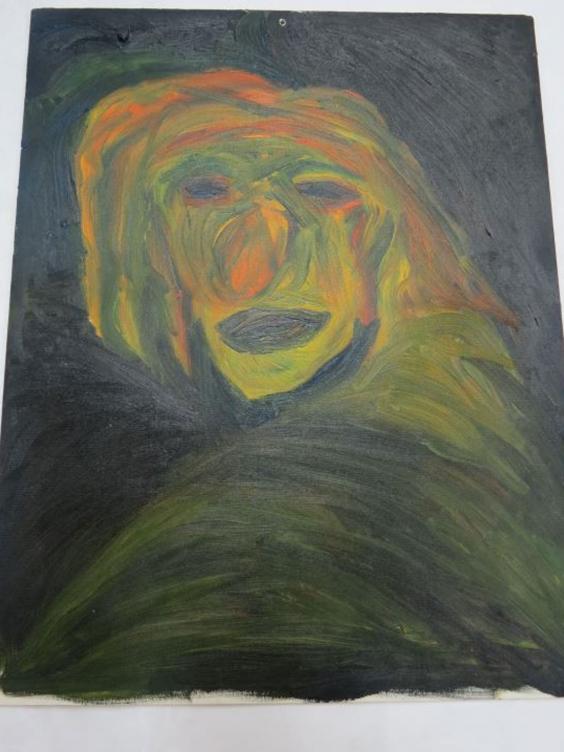 Jonathan Humbert, who auctioned his work, said Bronson asked for eight pieces to be sold after the incident in May.
The Tottenham Hotspur fan reportedly smeared himself in butter before attacking 12 prison officers in a rage because arch-rivals Arsenal won the FA Cup.
He described seeing a vision of Ronnie Kray telling him to let guards "have it" before launching his attack in a letter to the mobster's ex-wife Kate Kray.
She owns several of Bronson's works, which were sold along with 150 lots from the estate of the East End gangster, whose paintings also went under the hammer.
Mr Humbert said: "The intimate and personal nature of these never-before seen Kray items and Bronson paintings show a real human side to these larger than life personalities and, though they are bound to polarise opinions, the lots, much like the individuals, are far from dull."
In pictures: Kray twins prison belongings go up for auction
In pictures: Kray twins prison belongings go up for auction
1/5 Kray auction

The writing on the back of a painting by Charles Bronson which he gave to Reggie Kray

PA

2/5 Kray auction

Bible belonging to East London gangster Ronnie Kray which after his death in 1995 passed to his brother Reggie Kray.

PA

3/5 Kray auction

A quartz, black-strapped wristwatch belonging to Ronnie Kray while he was in jail serving a life sentence and which was passed to his twin brother Reggie Kray, who then gave it away to an acquaintance in 1999.

PA

4/5

A painting by Charles Bronson which he gave to Reggie Kray

5/5 Kray auction

Prison documentation relating to Reggie Kray asking to hand out a painting by Charles Bronson to an acquaintance.
A spokesman for the auction house, who would not say who bought the items, said that it had been "a good night's work" as only two items went unsold.
Bronson, whose real name is Michael Peterson, became notorious for violence both inside and outside jail.
He was first jailed for seven years in 1974 for robbing a Post Office, but has been locked up in isolation for much of the time since then for a string of incidents including assault, hostage-taking and damage.
Bronson  was given a life sentence in 1999 for holding a prison art teacher hostage for 44 hours for criticising some of his sketches.
CCTV footage showed him leading his victim around like a dog with a rope around his neck.
He once boasted: "I've had more hostages than Saddam Hussein" and reportedly ate a budgie after he became annoyed by its singing.
A film starring Tom Hardy was made about his life in 2008.
Additional reporting by PA