Take a couple – any married couple will do, as long as they've been together for a good while. Consider the deeply intimate ways in which they've come to know each other during their relationship. Now think of how they could use that knowledge to wound each other, with a precision afforded nobody else in the world.
Such speculation is fuelling some of the most successful plays in the West End this season, suggesting that the theatergoing audience's appetite for marriage as a blood sport remains alarmingly healthy. The dramas that blur the lines between the marital and martial include two new works for which tickets are as elusive as happy endings.
There's Nina Raine's elegantly brutal Consent, an Ingmar Bergman-like anatomy of love and friendship with a chilling legal twist, which is sold out at the National Theatre. And despite lacerating reviews, Ivo van Hove's ice-cold Obsession is packing them in at the Barbican, partly because it features Jude Law emoting manfully (and shirtlessly) as the fulcrum of a fatal triangle.
In the meantime, being performed within a wedding china plate's throw of each other, are revivals of early and late-career works from that American titan of the bad-marriage play, Edward Albee: an uneven production of The Goat, or Who is Sylvia? (2002), starring Damian Lewis and Sophie Okonedo, at the Haymarket Theatre, and a nigh-perfect interpretation of Albee's masterwork, Who's Afraid of Virginia Woolf?, at the Harold Pinter Theatre.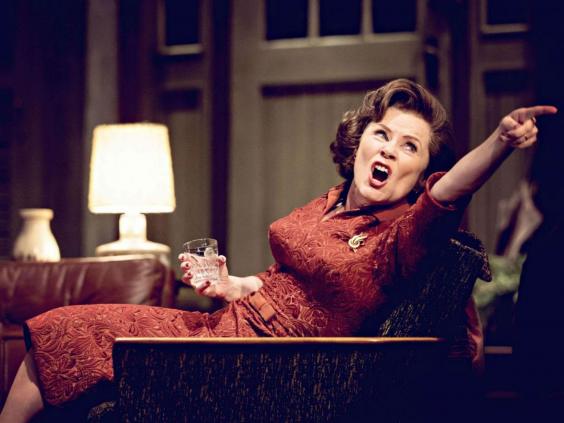 Woolf is one play I thought I'd seen enough of for now. But this version, directed by James Macdonald and starring a ravishingly well-matched Imelda Staunton and Conleth Hill, harrowed and moved me as if I were encountering the show for the first time.
It also made me appreciate anew the impeccable construction this 1962 portrait of marriage in academia and the rich opportunities it allows its cast of four to build characters that tower in the memory. Macdonald, an undersung British director of fierce emotional insight, has an equal appreciation for the form and feeling of this play, and how they infuse each other.
Staunton, who conquered London two years ago as the American musical's stage mother from hell in Gypsy, is just as persuasive as Martha, the scorched-earth mother and hostess from hell. At first, I thought her performance was overly self-conscious. Then I realised those defensive mannerisms belonged to Martha, not Staunton, and much of this production's power comes from watching her be stripped of them.
Hill dares to portray George, her husband, as the grey nonentity she says he is. But his anger at being a human swamp (Martha's word) allows him to assume, by degrees, a fearsome shape; never underestimate the power of hate in love.
As George and Martha's victims, the young marrieds Nick and Honey – Luke Treadaway (who won the Olivier Award for The Curious Incident of the Dog in the Night-Time) and Imogen Poots – are full of their own sly surprises. The entire production keeps surprising you, not least by making such a seemingly classic reading of it feel so revelatory.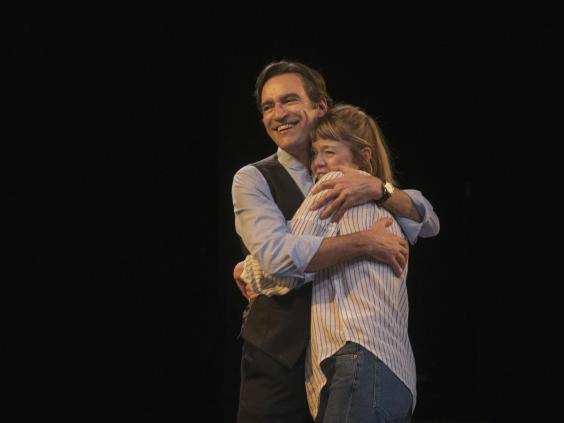 If this Virginia Woolf brings out the play's inherent strengths, Ian Rickson's production of The Goat, the story of a man whose marriage comes apart when he falls in love with a farm animal, underscores its susceptibility to misinterpretation. The Goat has always walked a shaky tightrope between farce and tragedy, and this version often leans dangerously toward the cartoonish.
Part of that is a matter of Lewis's nasal nerdishness as Martin, an architect with his head in the clouds and his loins in the mud. Okonedo (last on Broadway in The Crucible) endows the role of his blindsided wife with a visceral rage that Lewis finally matches, though not without stripping gears. Which, it must be said, the play itself seems to do in this imbalanced production.
There's no tonal instability in Roger Michell's taut staging of Consent, a highly intelligent analysis of intelligent people behaving with self-destructive stupidity. Not that they can really help themselves. Raine (whose wonderful Tribes was an off-Broadway hit in 2012) depicts an interlocking set of couples driven by primal instincts, who abuse the privileges of marriage in ways that include spousal rape.
Or is what occurs truly rape? Like Lucas Hnath's excellent A Doll's House, Part 2, which recently opened on Broadway, Consent carefully weighs different points of view on the battle of the sexes without ever negating the genuine pain that underlies them.
And by making three of her seven characters lawyers, two of whom are friends taking opposing sides in a rape case, Raine makes her own subtle case for the inadequacies of the contemporary legal system in addressing sex crimes. This being a play set in Britain, the class system – and particularly its built-in unfairness for working-class women – is also anatomised ruthlessly.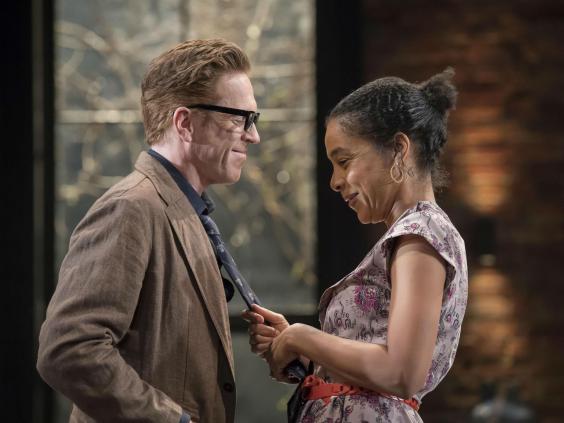 With an excellent cast led by Anna Maxwell Martin and Ben Chaplin, Consent is as tight as a middle-class comedy of bad manners by those favourite British foreign imports, Yasmina Reza (God of Carnage) and Florian Zeller (The Truth). But while always colouring within the lines of the well-made play, Raine also digs deep, in ways that have audience members arguing passionately even before they've left the theatre.
Real passion is in short supply in Obsession, the latest offering from Van Hove, whose brilliant deconstructions of Arthur Miller's A View From the Bridge and The Crucible shook up staid Broadway the season before last. Obsession is based on Luchino Visconti's steamy Ossessione (1943), a prototype of Italian neorealism, adapted from James M Cain's noir novel The Postman Always Rings Twice.
If you've seen either of the US film versions of Postman (1946 and 1981), you'll know the plot, and its potential for burning-down-the-house sexuality. A drifter wanders into an isolated diner and falls instantly for the owner's wife; their lust drives them first to kill her boorish husband and then more or less annihilate each other.
The adulterous lovers are here embodied by Law and Dutch actress Halina Reijn – hotly in his case and coolly in hers. Despite the use of swelling old-style-movie music (by Eric Sleichim) and a melodrama-steeped English-language version by the immensely talented but erratic Simon Stephens, Obsession exudes a yawning detachment from the feverish proceedings onstage.
Designed by Van Hove's right-hand aesthetician, Jan Versweyveld, the typically abstract set includes a suspended accordion, which plays itself, and the carcass of a car, which (this being a Van Hove production) rains icky oil on everybody. That feels appropriate to a production that often registers as mechanically autoerotic.
Being part of a couple is a lonely business, Van Hove seems to be suggesting. In that regard, at least, Albee and Raine would surely have agreed with him.
© New York Times
Reuse content