One of England's beleaguered sixth-form colleges is celebrating overcoming a squeeze on its spending - by doubling the number of teenagers it is sending to Oxbridge this autumn.
Winstanley College in Wigan, which has around 900 sixth-form students, will send 17 of its pupils go to Oxford or Cambridge this year - compared with just eight in 2014.
In addition, 183 of its students achieved at least three straight grade A's when results were published - and around one in three won places at prestigious Russell Group universities.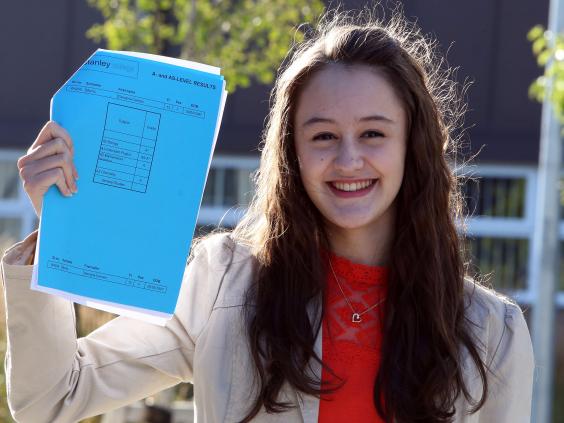 The achievement is all the more remarkable since the college  has had to cope with cuts in its budget totalling 12 per cent as the Government's squeeze on sixth-form funding began to bite.  Only education for five to 16-year-olds is covered by the pledge to maintain education spending.
"We're lucky in that we haven't had to cut academic courses," said college principal Louise Tipping, "although we have had to cut enrichment activities - which I believe are important.  Our students are just as much entitled to these sorts of things as those in the private sector."
One of the students celebrating yesterday was 18-year-old Georgina Morris, from Haigh in Wigan, who achieved two A* and two A grades to secure a place at St Andrews University in Scotland to study medicine.
Georgina not only had to cope with a cancer scare during her sixth-form studies - but also had to overcome the deaths of her father and grandmother whilst studying for her GCSEs.
It was seeing the dedication of the medical professionals treating her father for cancer prompted her to decide tpo become a doctor.  "The care they gave was wonderful," she said, "and I just felt I had to give something back for it."
Louise Tipping, whose college is a member of the Maple group - which represents the top performing sixth-form colleges in the country, was full of praise for staff and students for achieving this year's results.
"We are really proud of all our students and their exceptional achievements. Dedicated staff have worked tirelessly to support these hard-working students and it's fantastic that all that combined effort has paid off."
However, she warned that the college along with other sixth-form colleges was worried about the implications of a government review of funding for 16 to 19 education.
"We don't understand why the sector seems to be in line for further cuts when there seems to be so much money around for new free schools to be set up," she added.
Reuse content