GCSE and A-level exams will become even tougher and more academic over the next few years, according to the head of one of the big three exam boards.
Rod Bristow, the president of Pearson, the exam board that offers Edexcel and BTEC qualifications, says: "The bulk of the reforms to make the content of exams tougher won't flow through into results for at least another two years."
His comments come as controversy has already broken out over the changes to this year's exams – which saw top-grade passes in the GCSE English exam plummet.
It prompted the head teachers' leader, Brian Lightman of the Association of School and College Leaders, to declare that many of this year's students were "victims" who could have been robbed of a top university place by getting lower grades for the same quality of work which would have earned an A* grade in 2013.
In an internal communication to Pearson staff, Mr Bristow argues that "raising the bar, to stretch and engage learners is the right goal (who will argue with ambition?) and for that reason many of the changes we are now implementing are a very good thing".
The changes, which include a complete overhaul of the exam syllabus in most subject areas, are designed to make questions more challenging and encourage students to show more of their creative thinking skills in essay-style questions.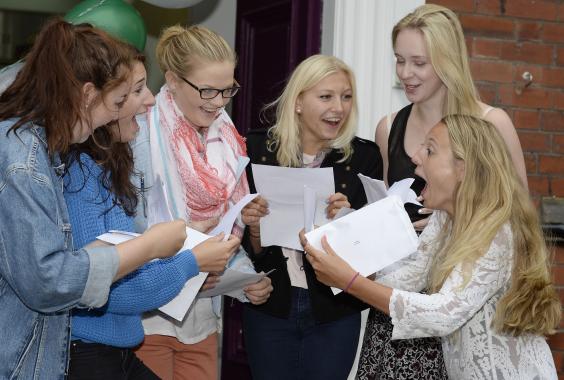 As revealed by The Independent on Sunday earlier this month, the maths content, in particular, will be harder, including much of the content previously covered by a separate and harder additional maths exam. Experts say schools should devote an extra hour a week to cover it, and many schools are planning to spread GCSE studies over three years – starting pupils on courses at 13 – to cover all the content.
Mr Bristow, though, argues that the hardest part is not making the exams tougher but enabling more pupils to succeed in mastering them, rather than simply accept a pass rate decline. He says: "We will know if it has worked when more young people are able to realise their ambitions, when universities tell us new recruits are better prepared than they have ever been – when employers tell us job applicants have the literacy, numeracy and other transferable skills they need.
"While raising standards and making exams tougher is consistent with these goals, it is far from enough. Indeed there are real risks. Higher standards and a greater academic focus won't alone engage all learners. And academic skills, while important (and relatively easy to examine versus practical skills) are not the whole story...
"The global economy does not only value what people know. It values what they can do. That implies a more rounded education that goes beyond what is tested at exams."
"More confident teaching to deliver higher academic standards is important but we also need to give the same treatment to vocational and applied learning pathways."
Nearly one in four successful applicants to university go through the BTEC vocational route – with every prospect that these numbers will grow, he argues. "The A-level is becoming more academically focused at the same time as universities are placing higher value on vocational degrees as they focus their efforts on employability," he adds. As a result, BTEC is also undergoing reform in consultation with employers.
Mr Bristow also raises a question mark over the decision by the former Education Secretary, Michael Gove, to "decouple" the AS-level exam – taken by most students at the end of the first year of the sixth-form – from A-levels. Until now, AS-level marks have counted towards A-levels and universities are worried that students will no longer opt to do them if they are a separate exam. As a result, admissions tutors will have no inkling of the standard of a candidate's sixth-form work before they have to decide whether to make them a provisional offer.
Christine Blower, the general secretary of the National Union of Teachers, said: "The Government's chaotic and piecemeal changes to GCSEs have created instability and confusion for teachers and students. This has so far been a process which shows little regard for professional consensus or evidence.
"Rod Bristow's view that vocational education should be on an equal footing accords with NUT policy, as does his support of AS-level."
Reuse content