It is, according to teachers' leader Mary Bousted, the "elephant in the room" when it comes to addressing the nation's education priorities.
"What is the point in testing students at age 16 when the school participation age has been raised to 18, making the function of GCSEs as a school leaving certificate increasingly redundant?", said Dr Bousted, general secretary of the Association of Teachers of Lecturers.
The ATL has long been campaigning for a review of the curriculum for 14 to 19-year-olds - which would include taking a fresh look at the future of the GCSE.
She is by no means alone in her assessment - former chief schools inspector Sir Mike Tomlinson has voiced similar views earlier this week.
Today 600,000 teenagers will get their GCSE results as the exam struggles to cope with not only claims that it is becoming more irrelevant in today's modern world - but also with a growing number of schools turning their backs on it either because they believe it does not stretch pupils enough or because of concerns over the standards set by the exam.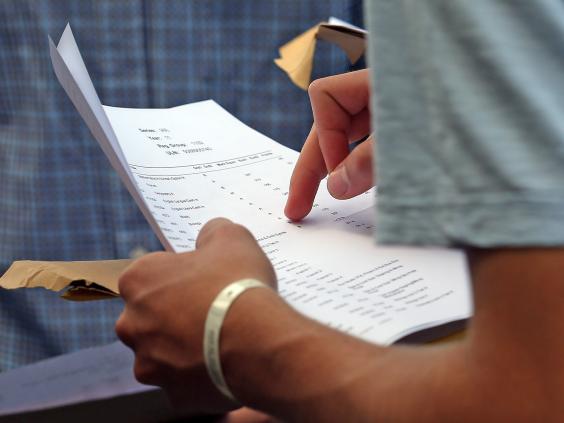 Figures published by Cambridge International Examinations show that - across all subjects - entries for their IGCSE courses in England are up 56 per cent of last year.  The IGCSE was originally designed for former Commonwealth countries who bitterly resented the demise of the old O-level and gradually gained favour with first leading independent schools and then state schools.  Meanwhile, provisional figures for the English GCSE showed a 14 per cent drop in take and a five per cent drop in history.
Now more than 2,000 schools in the UK have students taking an IGCSE in English alone - meaning a third of the age cohort have now ditched taking a GCSE in the subject.  However, the growth in take-up of the alternative has seen a dip in the pass rate as the cohort covers a wider range of abilities - the number of A*'s awarded has dropped from 15.5 per cent last year to 12.4 per cent -  and 63 per cent obtained at least a C grade compared with 64.1 per cent last year.
"With changes in the cohort we would expect to see small changes in grade distribution," said a spokeswoman for CIE.  "Standards have not changed, we have maintained our standards year on year."
Brian Lightman, general secretary of the Association of School and College Leaders said part of the reason for the shift away from the GCSE was a dislike of the decision not to allow speaking and listening skills to count towards a pupil's final grade.  "They looked at the IGCSE and felt there was a syllabus that they liked there," he said.  Heads saw speaking and listening as an "essential skill" for today's young people.
In pictures: Michael Gove's most controversial policies
In pictures: Michael Gove's most controversial policies
1/5 Free Schools

Free schools, which operate independently from their local authority but receive state funding, continue to fuel controversy. Alongside the closure of a flagship free school amid quality of teaching concerns, critics have said that free schools are not being set up in areas where there is a demand for school places

2/5 GCSEs and A Levels Reform

In a move away from coursework, schoolchildren will no longer take AS levels but sit their A Level exams at the end of the two year course. For GCSE students meanwhile, only their first attempt at an examination will count towards a school's performance table after Mr Gove said that schools putting pupils forward early for their exams was a 'damaging trend'

Getty Images

3/5 Teachers' working conditions

At the heart of the ongoing dispute about pay and working conditions lies the policy of 'performance related pay', where teachers get paid more if they meet certain standards

4/5 Phonics Check

The Phonics Screening Test is a compulsory assessment for children in year one where children are asked to decode a mixture of real and made-up words. The government sees the test as a way for schools to spot slow readers, while teachers say that even the brightest fail it

5/5 Curriculum

Sweeping changes to the national curriculum are to be introduced in September 2014. Among the changes, multiplication tables will be at the centre of the curriculum for six- to seven-year-olds while history will be taught chronologically. Mr Gove says that he wants to have the 'sort of curriculum that children in other countries have, which are doing better than our own'
It is not all doom and gloom for GCSE's which have undergone a radical transformation as a result of former Education Secretary Michael Gove's exam reforms. Out has gone coursework to be replaced by a concentration on the end-of-course exam. In addition, the number of pupils taking the exam early - particularly in English and maths - to give pupils more chance of obtaining a C grade has plummeted with Mr Gove's decision to allow only a pupil's first attempt at an exam to count towards the school's league table position.
According to Keith Budge, head of leading independent school Bedales in Hampshire, Mr Gove's attempts to make the exam more rigorous may tempt some independent schools to return to GCSEs from the IGCSE - particularly in maths which, by common consent, has become more stretching.
"I know that schools will look very closely at maths," he told The Independent. "The new grading system [A to E grades will be replaced by a numerical one to nine point system which gives the opportunity for more differentiation at the top end] will have more stretch across the top end.
"Independent schools will be looking very, very carefully to ensure they are giving their students the best deal."
He said that his school, which is now almost a "GCSE free zone" with just a few pupils taking Greek and Latin, was unlikely to change its decision.  "I would do so only if it turned out to be better than the IGCSE," he said.  "I would take a bit of persuading on that."
What is certain, though, is that Bedales will continue with its own home-grown assessed courses - which allow its pupils to engage in a range of activities which include outdoor work such as building an in-school observatory and the renovation of a dilapidated Land Rover - the kind of activity that shows a pupil's ability to get on with others and develops character building skills. They are the types of activities that employers' leaders say they have been crying out for in potential employees.
They are the sorts of skills - "true grit" as they have been described - both Labour's education spokesman Tristram Hunt and Conservative Education Secretary Nicky Morgan said were essential during the election campaign. Maybe they will be developed if that "elephant in the room" is grasped by our politicians.
Reuse content