An airline is aiming to close the literacy gap in a low-income town by launching a pilot programme which sees vending machines give out thousands of free books to underprivileged children.
JetBlue airline has teamed-up with publishing company Random House to place three of the machines around the low-literacy neighbourhood of Anacostia in Washington, D.C. which, according to city school data, sees less than 25 per cent of its middle schools (for children aged between 11-15) able to ready at grade level.
In two of Anacostia's high schools, this number falls to 18 per cent.
Now, however, JetBlue wants to bring these numbers up by providing around 100,000 books over the summer to children up to 14-years-old.
The machines will carry a selection of 12 books and will rotate every two weeks, offering up to 42 different titles through the school break.
.@JetBlue's #soarwithreading program pilots in DC! A book vending machine... How cool! #bookbattle #summerreading pic.twitter.com/dFIB8sPxy8

; Eileen Whelan (@EileenABC7) July 15, 2015
Excited to kick off @jetblue reading program in DC w/ @RGIII #SoarWithReading #BookBattle #co20life pic.twitter.com/LO3IQWoquu

; Company 20 (@Company20) July 8, 2015
#Redskins QB #RG3 at the ribbon cutting for #SoarWithReading. The program offers FREE books to children in SE #DC pic.twitter.com/ti5edYCSjI

; Heather Hutchinson (@H2dcphotog) July 8, 2015
Since 2010, JetBlue has donated over $1.25m (around £800,000) worth of books to help children with its Soar with Reading initiative, but this is the first time it has utilised the specially-designed vending machines to do it.
Director of corporate social responsibility for JetBlue, Icema Gibbs, said the airline was eager to get children reading more in a fresh and interactive way, adding: "This way, they come to the machine, they choose what they like, instead of us deciding what they get and when they can get it."
After commissioning a survey into which areas of the US had limited access to books, results showed Anacostia was the worst-affected with there being just one age-appropriate book available for every 830 youngsters in the neighbourhood.
With no limit in place on the number of titles children are allowed to take from the machines, parents can choose to receive text messages whenever new titles become available at their nearest machine, as they work to keep track of new users.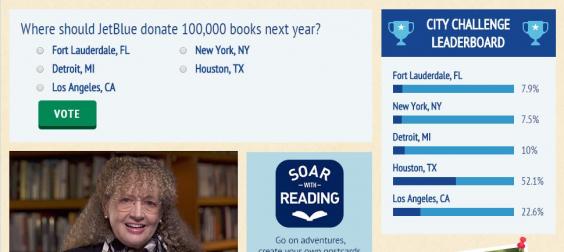 The executive administrator for Matthews Memorial Baptist Church, Shelley Hudson, said she hopes the machine there will encourage parents to read with their children at home more, with Ms Gibbs adding that she's hopeful all 100,000 books will be getting shared out among the community by the beginning of term.
Now, in an online poll, the team behind the Soar with Reading programme is asking the public to vote for where the next instalment of 100,000 books should reach next – out of five cities – with Houston, Texas in the lead, so far, with a score of over 52 per cent.
Reuse content