Local council leaders have urged the Government to let up on its attempts to stop parents taking their children out of school during term time.
Up until September 2013, head teachers were allowed to grant 10 days holiday a year during term-time, but regulations have been changed so leave can only be granted in "exceptional circumstances", with local authorities obliged to fine parents if their child's absence is unauthorised.
Leaders of the Local Government Association argue head teachers should be allowed to take a "common sense" approach, particularly in view of the rising cost of taking a holiday during half term breaks and holiday periods.
With the October half term break starting next Monday in most schools, it points out a family of four heading to Cyprus could be hit with fares that are £1,564 higher than if they went on their holiday two weeks later.
Airlines also ratchet up their prices in the holidays, it adds, so that a slight to Orlando, Florida, from London's Heathrow is £181 more expensive per person next week than two weeks later,
The LGA added: "While councils fully support the Department for Education's stance on every child being in school every day, there are occasions such as religious festivals, weddings, funerals or perhaps a once-in-a-lifetime opportunity whereby parental requests should be given individual consideration.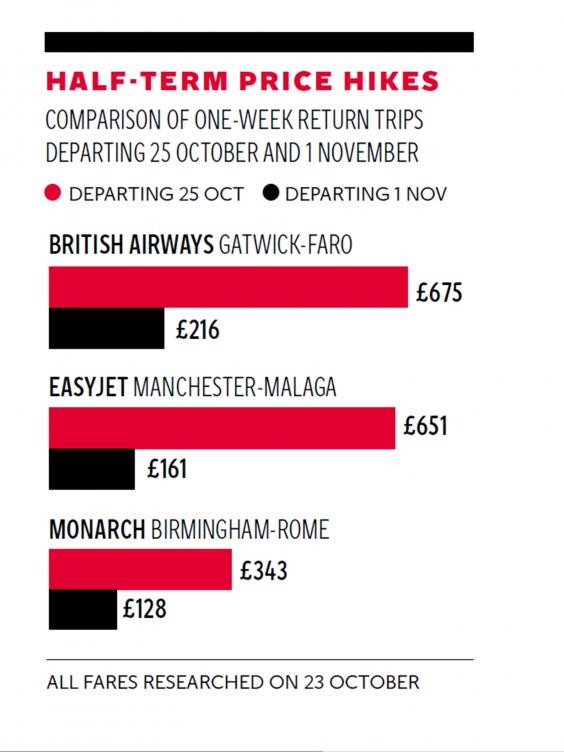 "The LGA is therefore calling for it to be at the discretion of head teachers, not central government, to make decisions on a case-by-case basis."
David Simmonds, chairman of the LGA's children and young people's board, added: "An outright ban is too simplistic and doesn't recognise that family life and circumstances aren't always so black and white. We should have a system where family holidays are just for the rich or indeed children aren't able to take time off in light of family bereavement.
"Head teachers know the circumstances of families and what's going on in their school throughout the year and should be trusted to make decisions without being forced to issue fines and start prosecutions."
Under existing legislation, parents can receive a fixed penalty notice of £60 rising to £120 if it isn't paid within 21 days. Those who fail to pay will then face prosecution and a maximum fine of £2,500 ,or a jail sentence of up to three months.
A spokeswoman for the Department for Education said: "We have been clear that all head teachers are free to grant pupils leave in exceptional circumstances. It is up to them to decide whether to grant time off and how much to grant. This appears to be exactly what the DfE is calling for."
Head teachers' leaders, however, argued that they did have enough flexibility under the present system, adding that "exceptional circumstances" should be "extraordinary and rare".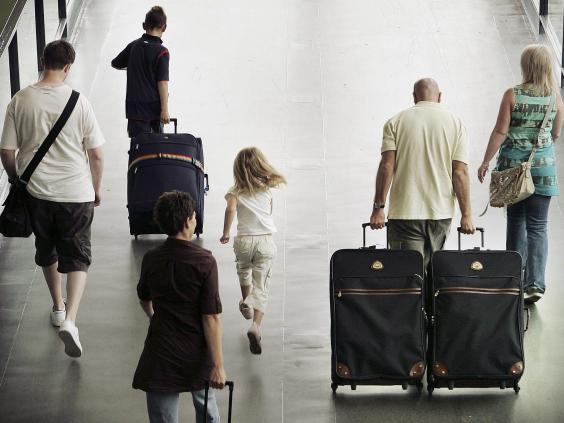 "We sympathise with parents' plight but the way to address this problem is to tackle the holiday companies that charge extortionate fees, not to allow more children to miss out on school," said Brian Lightman, general secretary of the Association of School and College Leaders. "In this case, we agree with the DfE completely.
"Missing school not only puts a child at a disadvantage in relation to other pupils, it means teachers need to spend extra time one-on-one getting that child back up to speed"
He added: "Relaxing the rules would not only undermine the efforts of schools to provide the best possible education for all but potentially open the floodgates. It could trigger a situation where there were always some children in every class absent for holidays."
The difficulty in taking holidays at half-term
Lee-Ann Moir, 37, retail worker, Gateshead, has two children, Evie and Charles, aged 9 and 7.
"I'm taking my two kids to Rome in term time and I face a £240 fine – but we're saving £400 by avoiding the holidays, which makes a mockery of the whole system. I told the headteacher our plans and said she wished she could authorise it but that it was out of her control and current legislation could result in the fine. My kids go to a Catholic school and we will be in the Vatican at a time when there are lots of feasts going on. The headteacher said she knew our kids would come back with lots of stories which would be useful to the whole class.
Since 2010, the kids have missed roughly the first week of every school year. But we don't go on beach holidays – most of the time they are educational trips. Last year, my eight-year-old daughter was studying Anne Frank and she asked to go to her house, so we went on a trip to the Netherlands. On another trip, we saved £800 compared with the price three days earlier. In this case, of course we'd take the fine.
When it gets to secondary school, we probably won't be taking them out of school – I understand it is more important then. But with younger children there needs to be more flexibility. It makes people question taking their children away to new countries to experience new cultures. I normally work in a shop and there are 13 of us and nine have kids at school. We all can't have two weeks off in holiday time. Some people in this situation will end up not going away with their kids for fear of being fined."
Reuse content