Nursery schools have been "colonised by the middle class" - ensuring the gap in performance between their children and those from disadvantaged homes remains, chief schools inspector Sir Michael Wilshaw has said.
Sir Michael, the head of education standards watchdog Ofsted, said it meant they were educating children "who would be just as well catered for from an education perspective in a private nursery, a childminder or indeed at home".
Speaking at the launch of Ofsted's early years annual report, he added:  "It's the poorer children who stand to benefit the most from this type of environment (a nursery school) at the earliest age.  But this is not just happening."
Figures in the report show that nearly half (42 per cent) of all two-year-olds eligible for 15 hours of free early education under a government scheme to help disadvantaged children have not taken up a place.  In effect, that leaves 113,000 disadvantaged children without a nursery place.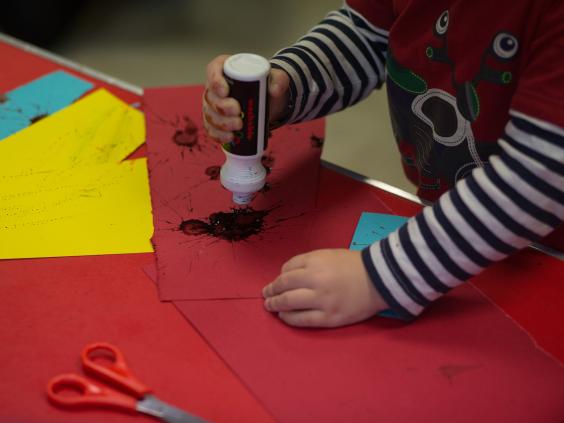 The past year, Sir Michael added, had only resulted in a thousand additional two-year-olds in nursery schools.  "This represents less than seven additional children in each local authority area," he added.  "That is nowhere near good enough."
Part of the problem is thought to stem from a lack of awareness amongst parents - which Sir Michael said could be tackled by putting the onus of health visitors to tell parents of their rights.
However, only around 5,000 schools - less than one in three - admit two-year-olds to their nurseries.  In addition, there are 40 local authorities with not a single eligible two-year-old in any school.
"Even more importantly, where schools are taking two-year-olds, they are not the most disadvantaged," Sir Michael added.  "Forty-two per cent of two-year-olds in England are eligible for a funded place based mainly on family income. And yet, only nine per cent of two-year=olds in schools are on a funded place."
He said there was "a yawning gap" in school readiness between the most advantaged and the poorest children - which had remained stubbornly the same at  20 percentage points for the past eight years.
"What this means in practice is that the poorest children asre less likely to be able to follow instructions, make themselves understood, manage their own basic hygiene or play well together,£ he added.
"Let me be clear: what the poorest children need is to be taught, and well taught, from the age of two.
"It seems that school nurseries have been colonised by the middle classes.  And who can blame these parents?  I'm sure they see the well qualified staff and the appeal of an easy transition to reception and conclude it's a good option for their children.
"But the reality is these better-off children don't get any particular advantage from being in a school from the age of two."
School lunches around the world
School lunches around the world
1/9 Brazil

Rice with black beans, baked plantain, pork with peppers and coriander, green salad and a seeded roll

2/9 USA

Popcorn chicken with ketchup, and mashed potato, green peas, a fruit cup and a chocolate chip cookie

3/9 Ukraine

Borscht (beetroot soup) with pickled cabbage, sausages and mash and a sweet pancake

4/9 UK

Fish cakes, brussels sprouts, cabbage, rice with peas and a yogurt parfait with berries

5/9 Spain

Seeded roll, shrimp with brown rice, gazpacho and tri-colour peppers and an orange

6/9 South Korea

Broccoli and peppers, fried rice with tofu, fermented cabbage and fish soup

7/9 Greece

Baked chicken with orzo, stuffed grape leaves, salad of cucumber and tomatoes, yogurt with pomegranate seeds and clementines

8/9 France

Brie, green beans, carrot, rare steak and fruits - kiwi and apples

9/9 Finland

Pea soup, carrots, beetroot salad, crusty roll and sweet pancake with berries
Sir Michael's comments came against a background of improving standards in early years settings.
Overall, 72 per cent were rated good by inspectors while 13 per cent were found to be outstanding - an increase of 18 percentage points in five years of the number rated good or outstanding.  The percentage of children reaching a good level of development between 2013 and 2014 rose from 52 per cent to 60 per cent.
However, Christine Blower, general secretary of the National Union of Teachers, warned:  "Whilst ensuring as man children as possible gain access to good quality Early Years provision, it needs to be age appropriate.
"Pupils of every age are under pressure to learn things for which they are not ready."
Imelda Redmond, chief executive of the 4Children charity, said: "The attainment gap between children in disadvantaged areas and their peers remains worryingly wide."
Reuse content