An investigation has been launched into claims that the state school chosen by David Cameron and Michael Gove for their children may have breached strict rules which ban state schools asking for financial donations from prospective parents.
Last week it emerged that the Prime Minister's daughter Nancy will attend The Grey Coat Hospital School, in Westminster, central London, a league-table-topping all-girls comprehensive where the former education secretary's daughter is already a pupil. But yesterday allegations emerged that parents at the Church of England academy had been asked for a contribution of £96 when their 11-year-old daughters joined year seven. It is not known whether this request was made of parents being offered places for their children this year.
Schools Week magazine also reported that a form sent to teenagers allocated places in the school's sixth-form for September asked them to state whether they accept the offer and then return a slip, along with a cheque for £120 for the "School Fund".
A separate document reportedly sent to prospective sixth-formers states that the School Fund allows the school to run extracurricular activities for students, adding that "as school budgets are squeezed", the fund  will "from now on" also be used to "improve the learning environment across the school".
It added that paying the contribution was "an important way" of showing that a student is serious about "taking up a place with us".
A prospectus published by the school says parents are under "no obligation" to contribute, and the letter reportedly sent to parents said "If you are able to provide a cheque for the full amount…" (our italics).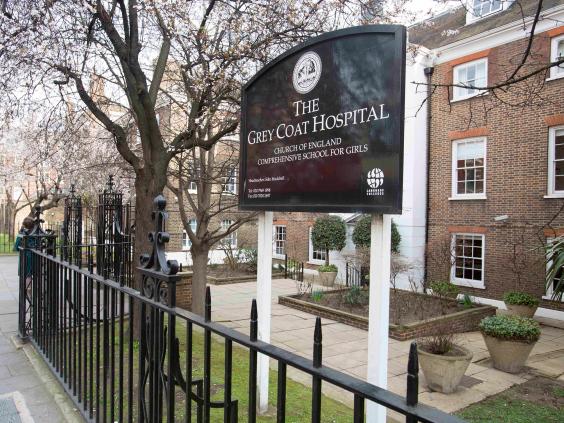 But requesting money from prospective parents, even on a voluntary basis, ostensibly breaches the national admissions code, which states that schools cannot ask for money at any part of the admissions process. Voluntary contributions, donations or refundable deposits are all banned under the code.
The school could face a double investigation: by the Office of the Schools Adjudicator into whether admission rules had been breached; and also by the Education Funding Agency which could examine whether the school had breached its funding agreement.
The school declined to comment on the allegations yesterday.
Mr Gove has denied either paying or being asked to pay a donation to the School Fund when his daughter was offered a place at the school last year.
A spokesman for Mr Cameron declined to comment on the allegations or whether the Camerons had paid the school.
Grey Coat is one of the country's most sought-after state schools with 1,140 applicants for 151 places each year. It was one of 22 state secondaries included in the state school guide published by Tatler, the glossy society magazine, which praised its "strong Christian ethos and pastoral care".
But Tatler noted that entrance to the school "is not straightforward" and added that "getting a place here must feel like winning the lottery".
Last summer another high-flying London secondary school, Camden School for Girls, was reprimanded by the school admissions watchdog for including a document requesting £100 deposit for books and school visits along with letters offering places to prospective sixth-formers.
A spokesman for the Department for Education said: "Any claim that the school admissions code has been breached will be investigated."
Cash for access? The letters
Parents whose teenage children had been offered places in Grey Coat's sixth form were sent a reply slip earlier this month asking them to confirm whether or not they would accept the place, use it as a back-up offer or turn it down. The reply slip then stated: "I enclose a cheque for £120 for School Fund" – without giving details of the fund or giving parents an opportunity to opt out.
A separate letter sent in the same envelope explained: "If you confirm your offer of a place at Grey Coat for September 2015, then we ask you to pay School Fund, which for Sixth Form students is set at £120 per annum. School Fund enables the school to provide many of the extra-curricular activities that are run for  Year 12 throughout the academic year."
It added: "As school budgets are squeezed, school fund contributions will, from now on, also help toward improving the learning environment across the school.
"If you are able to provide a cheque for the full amount £120, please make it payable to 'The Grey Coat Hospital' and return it with your confirmation slip.
"Paying School Fund is an important way of showing us that you are serious about taking up a place with us in Year 12 in September."
Reuse content