National testing is to be introduced in Scottish primary schools for the first time in more than a decade in an attempt to close the gap between rich and poor pupils, Nicola Sturgeon has said as she laid out her long term plans for the future of the country.
The new tests will be taken by pupils in primaries one, four and seven, as well as those in their third year of secondary school, and will focus on basic literacy and numeracy. They will be piloted in some schools next year before being rolled out nationally in 2017.
National testing for five to 13-year-olds was scrapped in Scotland in 2003 by the Labour-Lib Dem coalition led by Jack McConnell, but Ms Sturgeon said teachers "need to know which pupils are doing well and which ones need more support" so they could intervene where necessary.
The new tests are controversial as they are likely to result in the creation of school league tables, although these will not be published by the Scottish Government and will have to be compiled separately by people drawing upon the official data.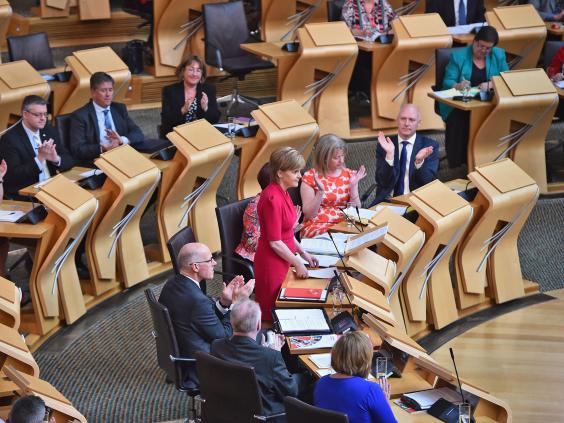 "I have no desire to see crude league tables that distort rather than enhance our understanding of children's attainment and performance," Ms Sturgeon said. "But I am determined that we make available much more information about performance in primary and lower secondary school."
Outlining her legislative programme for the next year in a speech at Holyrood, Ms Sturgeon said that improving the education of Scotland's children was "arguably the single most important objective" she had. The new tests will be based on existing ones already used by local councils, so should not increase teacher workload, she added.
Stressing that the test results would not be viewed as the "sole measurement" of a child's ability, the SNP leader said that much would still rely on the discretion of teachers – but that ministers needed more information to assess whether national policies were working.
In the debate following her speech, the SNP's record on education was criticised by the leaders of the other political parties. Scottish Labour leader Kezia Dugdale highlighted statistics showing that almost half of the poorest pupils leaving primary school are unable to write or count properly, which she said "should shame us as a nation".
Responding to the announcement on primary school testing, Willie Rennie, the leader of the Scottish Liberal Democrats, warned that national assessments would "lead to teaching to the test and every child put under unacceptable pressure to make the numbers look good".
Ms Sturgeon also promised to invest £100m over the next year to "mitigate the harm" caused by Conservative welfare cuts. In a rebuke to both George Osborne and Iain Duncan Smith, the Scottish First Minister said her government would use its newly devolved welfare powers to abolish the bedroom tax and replace the "discredited" Work Programme.
Borrowing Mr Osborne's phrase, she also claimed that Scotland rather than the north of England would become the UK's "real Northern powerhouse".
Ms Sturgeon promised that her government would "do everything we can to mitigate welfare cuts and restore dignity to our social security system". A new Scottish Social Security Bill, introduced in the first year of the new parliament, will pave the way for future measures.
"The new powers proposed in the Scotland Bill fall far short of what we would need to fully mitigate the harm caused by UK Government policies," the First Minister added. "However, we will use these new powers to help those who need it most."
The publication of the programme for government signals the start of the Scottish Parliament's final session before next May's Scottish Parliament elections, when Ms Sturgeon's SNP will be looking to win another overall majority. Her speech, in which she set out "a vision for the coming decade", appeared to be anticipating another two terms in power.
The document, entitled A Stronger Scotland, set out eight bills to be introduced in the course of the next year.
Reuse content