Teenage girls who are budding football stars are being offered a unique chance to play the game every day while they study for their A-levels, in a pioneering new initiative.
A new academy – which will allow the young women to play football daily and also gain their qualifications – is to be opened as part of Leeds City College.
The girls will be coached by Uefa-licensed coaches at the academy, which will be the first of its kind in Europe. Coaches of US soccer teams will also be invited to watch the girls play, and approach any who they believe has the talent to play in an American university team.
The scheme is jointly run by the college in conjunction with Sports Recruiting USA, a UK-based agency that helps to place talented footballers on soccer scholarships with US universities.
Despite the increased reputation of women's football in the UK, there remains a long way to go before it reaches the standard of the game in North America. The US is the leading nation in women's football, with Canada – who will host next year's Women's World Cup – not far behind, so this offers the opportunity to English youngsters of developing under some of the best coaches.
The attraction of crossing the Atlantic to play is great. US teams are backed by rich sponsors, the quality of football is much higher and players are paid enough to become full-time professionals. Several players from Arsenal Ladies' multi-trophy-winning side in 2007 left the club to play in the North American Soccer League, and many, such as Scotland international Kim Little with Seattle Reign, are said to have improved enormously from playing in the US.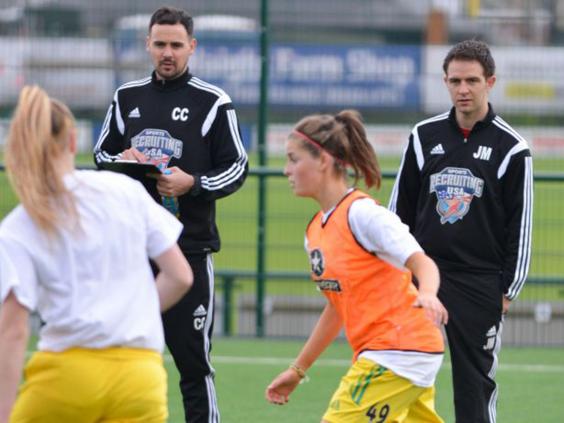 Would-be students for the new Leeds academy will be given a presentation followed by a footballing trial, starting on Friday. The intention is to admit about two dozen girls so that two teams can run throughout the year. Around 40 girls have so far expressed an interest; most applications have come from the Leeds/West Yorkshire area, although Sandy Maciver, who plays for Everton and is England's under-17 goalkeeper, is also interested.
Chris Cousins, head of operations for Sports Recruiting USA, said: "The academy is a fantastic opportunity for any girl in the north of England to do something a little bit different when studying for their sixth-form subjects. It would only take about an hour for Sandy and some of her teammates to travel here.
"They get to play football full time and are being given the platform to be seen by US coaches right here in Leeds. There is nothing else like it in the UK."
What will happen in the second year of A-level or BTEC study is, as yet, unclear but – if the talent is available – the course could take on another 24 and run two more teams. As well as academic work and football, the girls will be helped to study for the SAT, the US college entrance exam. They will also be able to scrutinise American college soccer games to help them prepare for the standard expected in the US.
While the girls study in the UK, they will take part in the British college leagues. All games will be filmed and there will be performance analysis to aid their development.
Reuse content