One of Britain's leading independent schools is raising £10m to provide free places for 100 pupils from disadvantaged homes by 2017.
John Claughton, the headmaster of King Edward's Boys' School in Birmingham, is trying to recreate a social mix at the 800-pupil school.
"When I was here as a boy 80 per cent of the pupils were here for free," he said – one of the highest percentages of non fee-paying pupils for any independent school in the country. King Edward's was a direct grant school under the system abolished by Labour in the 1970s.
The school, which has regularly topped exam league tables over the past two decades, has already made great strides – 21 sponsors have emerged from the ranks of alumni who have individually pledged to pupils through the school.
Of the 800 boys at the school, 279 currently have some form of financial assistance – 186 on assisted places, 77 attending free and the rest on scholarships.
If the fund-raising campaign is successful it will have 40 per cent of its pupils receiving some form of financial support, making it the private school with the second largest intake of disadvantaged pupils in the country.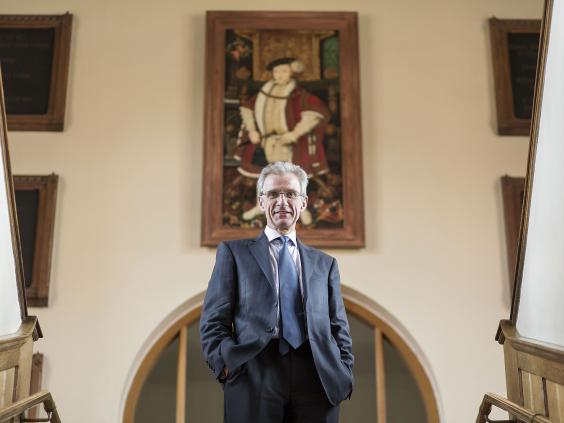 The alumni who have already contributed include Lee Child, the author of the Jack Reacher private eye novels who told Mr Claughton: "I didn't enjoy my time here –  but my parents were proud of what I'd achieved". They have already raised enough cash to fund about 60 places.
The upshot is that King Edward's has become more representative of the make-up of the city it serves than most other schools in Birmingham.
"We have 60 per cent Asian pupils and 15 to 20 per cent are Muslims – an increasing number of boys from ethnic minority backgrounds in a place where they're talking about 'Trojan Horse' schools," he said, a reference to  allegations of a takeover of schools by hard-line Islamists.
"In parts of the city you have schools which are 99 per cent Muslim because of the area they serve and others which take their children predominantly from white working class estates.
"In terms of integration within this city, those boys coming here are being successful and not being cornered within their own communities. That is important."
The school has gone out of its way to encourage junior schools within the city to encourage their pupils to aspire to a place at King Edward's. Visits have been made to more than 100 primaries, and the school runs special sessions before the start of the school year for those new pupils who may be the only ones from their school attending, in an attempt to familiarise themselves with their new surroundings.
The results has been a flood of applications – 560 – for assisted places.