Hardline governors in some Birmingham schools were guilty of "serious malpractice" and headteachers were undermined in order to introduce Islamic worship and ban sex education, a damning report into the "Trojan Horse" allegations found today.
Schools introduced Islamic assemblies without permission and used the Muslim call to prayer which had "led to the coercion of young people" to participate in worship during the school day, the report commissioned by Birmingham City Council found.
There was no evidence of a systematic plot to take over schools or of a conspiracy to promote "an anti-British agenda, violent extremism or radicalisation in schools in East Birmingham", the 141-page report by Ian Kershaw, an independent education expert found. He added that the people involved seemed to be motivated by a "genuine and understandable desire" to "raise standards".
However, his report warned: "There are a number of key individuals who are encouraging and promoting certain Islamic principles in the Birmingham area, and we have noted a pattern of these individuals moving between schools in the area."
The governors – mainly men of Pakistani heritage – used "inappropriate, unprofessional and disruptive behaviour" and were "overly challenging and sometimes aggressive" towards head teachers who resisted their proposals.
The problem had been compounded by the failure of Birmingham City Council to challenge the governors and support the headteachers for fear of being accused of being racist or Islamophobic, the report concluded.
The controversy was sparked in December last year by an anonymous letter outlining a plot called "Operation Trojan Horse" to oust headteachers and replace them with people who would run schools on strict Islamic lines.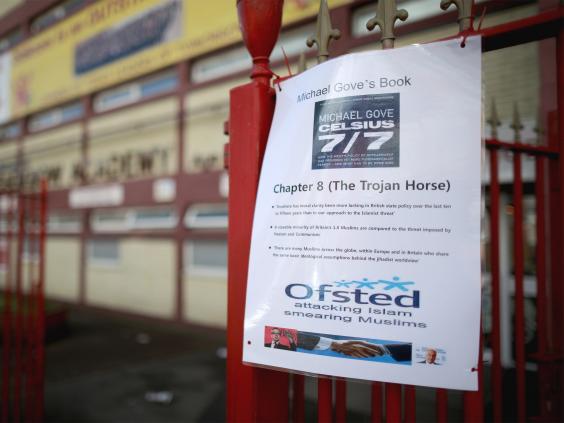 Claims that the letter was a hoax were neither supported nor rejected by the report, but Mr Kershaw found evidence that 10 of the 16 Birmingham schools he investigated showed some elements of the Trojan Horse conspiracy.
The letter set out a five-step plan to change schools to ensure they were run on Islamic principles, including turning parents against a school by persuading them that their children were being corrupted by being taught about sex education and homosexuality.
The council had been warned about the problems before the Trojan Horse allegations but had failed to tackle them.
The report concluded: "It is a determined effort to change schools, often by unacceptable practices, in order to influence education and religious provision for the students served."
"These "activists" have regarded the role of being a governor as a means to an end. Where they judge a school to be failing the students, they have seen their role as one of leading change through the replacement of school leadership and an improper manipulation of school governance. There is a need to guard against this behaviour, which does not comply with local authority and school governance legal obligations."
Sir Albert Bore, Leader of Birmingham City Council, acknowledged that the council had made mistakes.
He said: "The report has highlighted areas where we have either taken no action, were too slow to take action, or have simply done the wrong thing. The report further states this has often been because of the risk of being seen as racist or Islamophobic. Our proper commitment to cohesion in communities sometimes overrode the need to tackle difficult questions about what was happening in a small number of schools."
Reuse content