A village primary school in the heart of the English countryside has struck up an unusual twinning arrangement - by linking itself to a school in Beirut.
On one end of the frequent video links with the Middle East are the 190 pupils of Frances Olive Anderson school, a Church of England primary in Gainsborough, Lincolnshire.
On the other are the 850 pupils of the Mohammad Shamel school in Beirut, where 40 per cent of the pupils are Syrian or Palestinian refugees and which had to instigate a shift system for learning at one stage to cope with the influx of pupils.
"They never know on the first day of term how many pupils are going to arrive," said Stuart Cook, the teacher in charge of the programme at Frances Olive Anderson said.
His pupils will be travelling to London on Thursday to tell world leaders at a conference about the future of Syria how the programme has made an extraordinary contribution towards giving them an insight into the lives of refugees in the war-torn Middle East.
One exchange from the four years in which the two schools have been linked stands out in Stuart Cook's mind.
It came when one of the pupils at the Beirut school told how he had to flee from his home in Damascus at a moment's notice.  The children at Frances Olive Anderson were asked: "If you had to flee what would you take with you?"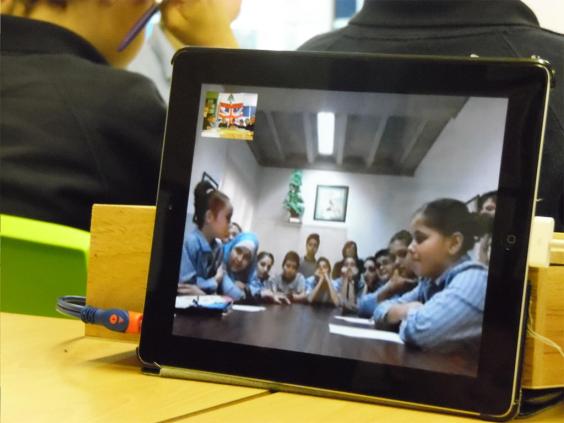 "My iPad," said one.  "My play station," said another.  Back came the reply: "Nothing." "All he took were the clothes that were on his back," said Mr Cook.  "He had to flee that quickly."
The British pupils were so moved that they decided they would donate money that would have been spent on Christmas celebrations to helping refugee children in the Middle East.
"To hear what it is like to leave home with nothing but the clothes that they are wearing has made me realise how lucky I am," said 11-year-old Thomas Edwards.
The bonus from the scheme, argues Mr Cook, is that his pupils get to see refugee children not just as the mob-ravaged bombing victims portrayed on news schedule - but as human beings like themselves.  "When they talk about what the both enjoy out of school, it's football," he said.
It has a spin off with parents, too, many of whom would never have encountered anyone from a Middle East background in their lives.  It is also a link between a Christian and largely Muslim school.
"All the parents are involved in it," said Mr Cook.  "They would have thought of the Beirut children as growing up with the civil war and being constantly bombed - but Beirut is not like that.  It is a developing city."
Since the launch of the scheme, Mr Cook has set up similar twinning arrangements - under the Connecting Classrooms initiative backed by DfiD (the Department for International Development) - in six other schools in the county.
Reuse content