Teenagers at a pioneering new University Technical College will be able to train for a career in the National Health Service from the age of 14.
The West Bromwich Health Futures UTC is the first of its kind in the country to offer all its students the opportunity to specialise in preparing for a job in the health service.
The students split their time between studying for core GCSE subjects at 14 - English, maths and the triple sciences - plus a compulsory GCSE in health and social care..
In addition, they undertake a series of Technical Challenge Projects - such as simulating working as a nurse or doctor on a hospital ward where they tend for robot patients who exhibit life-like symptoms such as having a pulse and opening and shutting their eyes.. They can also role play ambulance staff  bringing an injured patient into a hospital on a stretcher.
The students fit it all in by working a longer school day from 8.30am to 5pm - which staff at the UTC say is an ideal preparation for them entering the world of work.  The college uniform of smart clothes (suits for boys) is designed to fit in with what would be expected of them in the workplace.
The training, say UTC bosses, will stand the students in good stead in applying for a range of health service jobs - including radiologists, dental nursing, theatre support staff or school nurse.  Many of the new intake hope to become doctors - taking A-levels and then continuing to university.  Others will follow the path of high level apprenticeship to train for a technical post within the service.
Alarmingly, at the opening ceremony on 4 February, two ambulances stood outside the doors of the UTC - but they were there to help the pupils for their training.
The UTC has already taken in 230 students - at age 14 or 16 - and plans to expand to 600 within the next three years.  It supported by the University of Wolverhampton and a range of health care organisations including most of the NHS Trusts in the Midlands, Birmingham Children's Hospital and a local hospice.
Dr Anthony Marsh, chief executive of the west Midlands ambulance service and chairman of the UTC governing body, said: "We're very proud of our NHS in this area and we want - through this - to train the best doctors, the best midwives and the best health service staff that we can."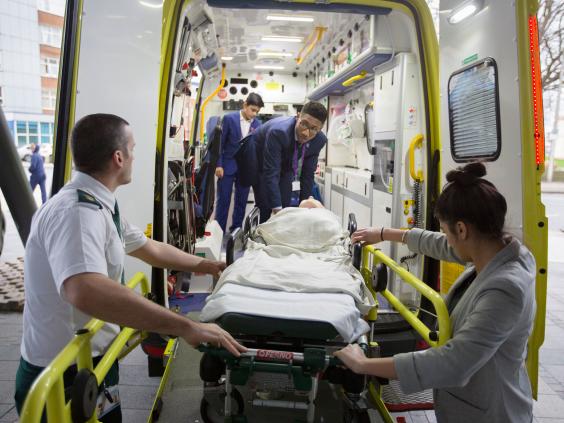 Leaders of the UTC said the West Midlands - like other parts of the country - was experiencing difficulties in recruiting and a specialised college would tackle the problem.
Plans are already afoot to replicate what the West Bromwich UTC offers in other parts of the country.
""We should have had this sort of college 50 years ago," said Lord Baker, chairman of the Baker-Dearing Trust - which backs the national UTC programme.
He said students opening to come to the UTC had shown "courage".  "Courage because when you decided to come it didn't exist, it wasn't here and had no records at all." he added.
Most of the students had also been urged by their schools not to make the switch.  Last week it was revealed most secondary schools had closed their doors to the UTC movement and refused to allow it to address their pupils about what opportunities were on offer. Education Secretary Nickty Morgan is preparing legislation which UTC supporters are confident will give them a right of access to schools.
However, Lord Baker added: "This UTC creates the template for what you'll find in future in Liverpool, Leeds and London and every major city."
Fourteen-year-old Numeen Sharif, head boy at the college, said: "I got to hear of it through a friend and looked it up on the internet.  I just thought it was a unique school .  I don't regret my decision at all."
"When they look at my portfolio and see the kinds of experience I've had here I'm sure it will help me get a job in the health service," added Rhea Sangha, also aged 14. "I want to become a GP when I grow up."
Elliott Grant, aged 16 - who is studying biology, chemistry and psychology at A-level as well as studying for a health and social care qualification and undertaking a range of technical challenge projects, said:  "I want to go into medicine when I'm older and the idea of a school that specialises in the health service just appealed to me."
"Our students have significant chances to gain real experience that is genuinely relevant to their future," added Robert Fell, the UTC's principal.
The UTC is one of 39 already opened throughout the country.  A further 20 are in the pipeline.
 A day in the life of a UTC student
8.20am: Registration followed by English tutorial.
9.40am: Physics linking normal physic lesson with what they have learnt from professionals in Technical Challenge Project (role-playing nurses and ambulance staff)
11am: Working in the simulation ward with nurses and paramedics.  Wiring a patient up to computers and medical equipment - them monitoring his vital signs.
12noon: Talk over lunch with colleagues from Technical Project Group about how to do a presentation of what they have learnt.
1pm: A session in the visualisation suite where pharmacists explain how their medicines work on the body and explore how the hearty functions.  Maths and science forms part of the session as it is show how miscalculating a drug dosage can be a matter of life and death.
2.3pm: Preparing homework for the following day.
3.30pm: PE lesson - includes football.
5.05pm: Leave college.
Reuse content