Students who buy in essays from online companies could suffer a double whammy - not only do they risk being disqualified for cheating but they could also be receiving substandard work.
An investigation by exam regulator Ofqual into online essays reveals that many were nowhere near the standard they claimed to be.
Essays that were billed as being worthy of an A-level A grade were only given C or D grades by the regulator's markers.  In one case, a paper was awarded a U grade - ie a failure.
The investigators commissioned A-level history and English Language essays from three online companies and found they were littered with errors, clumsy sentences and Americanised spellings. The companies all told researchers they were commissioned to provide hundreds of essays a month.
In one case, an English essay sumbitted by one of the companies - Custom Essays, an examiner said it read "like the work of an unengaged, untutored and floundering student".
Another described it as "crudely structured, poorly written and almost entirely descriptive", adding: "The weakness of expression and the errors in punctuation, spelling and grammar would restrict it to a GCSE grade D or E."
In the case of an essay submitted by another company, UK Essays, examiners said it "appeared to have been written by a professional although by no means a specialist".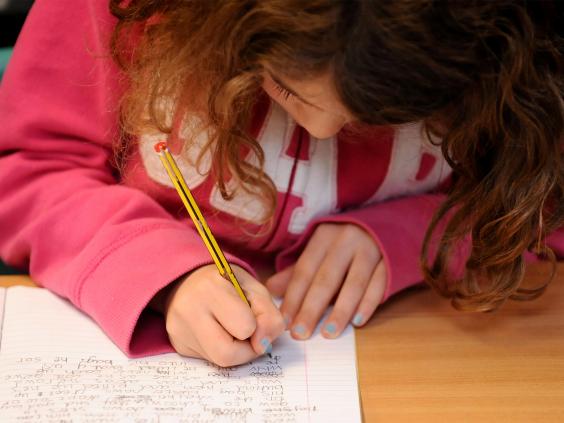 "If this was the work of a student then we'd have to conclude that she was very articulate and very poorly prepared for this coursework task," one examiner said.
On a history essay from Custom Essays, a marker wrote: "It is riddled with typos/ mis-spellings and ... clumsy sentences."
On a comment made by the author - "why, one asks is this act (the 1911 National Insurance Act - which students were asked to write about) so important?", the examiner wrote: "The last does not sound like an 18-year-old unless they are rather pompous."
On another paper submitted by UK Essay Writing services, an examiner concluded the work had demonstrated "a lack of ambition in terms of spelling and Americanised versions, confused punctuation within sentences and errors of grammar and expression".
The report, commissioned from consultants London Economics, concluded: "The provision of essay student 'support services' may present a threat to the integrity of the qualifications system."
Charges for supplying the essays ranged from £70 to £153 with a premium demanded for an A grade quality essay, the report added.
Glenys Stacey, chief regulator, said: "My message to students is quite clear.  These essays are poor quality.  Anyone who buys them isn't getting value for money.
"More importantly, while there can be valid reasons for students buying these essays - such as essay practice or research - any attempt to pass this work off as student's own is cheating.
"One of the more shocking findings was that the essays supplied by these companies were not even the grade they claim to be.  For example, essays that claim to be grade A quality were purchased and when they were analysed by our experts the majority were given only a C or even a D grade."
She added: "Teachers are also advised to look out for these essays being submitted.  They can look out for a change in style in how the student normally writes or even a very fast turnaround of a piece of work.
"Exam boards should also be doing everything they can do to stop these essays being submitted into the system."  She added that they had to ensure their systems for detecting malpractice were effective.
Tony Eynon, chief executive officer of All Answers Ltd - which runs ukessays.com, said:  "We are disheartened and disappointed by the wholly inaccurate and presumptuous report and have no option but to refute a number of their conclusions."
He added that the report had been "heavily biased" against the student support industry and was "deeply flawed and inconsistent".
Extracts in the report from the essays
English Language essay asking students to review media articles assessing Nelson Mandela's importance.

"The authors also put into perspective the menial problems Mandela had with his family."  Examiners' verdict - meaning unclear.
"The author writes the text with the inclusion of the events before the death of Mandela."  Verdict:  barely literate.
In various essays when asked to describe Mandela's successor, the essay dismissed them as "falling short", "wayward" and "stray".  Verdict: lacking depth.
"The idea that Mandela served as the silent guarantor of a democratic and free SA once possessed a grain of truth ... but not for several years before his death." Verdict; lacking depth.
In a history essay on the importance of the National Insurance Act of 1911.
"These people are likely to be unemployed for a long period before the company reopens."  Verdict: when writing about history, you should use the past tense.
Reuse content