The teacher asks a question – and no one in the class puts their hand up. But this is not an example of children failing to be engaged at school.
The idea is to keep the whole class on their toes – and for the teacher to pick who will answer the question. It is a policy that is adhered to in every classroom throughout the school.
"We want to know what students don't know instead of what they do know," says Luke Sparkes, the headteacher of Dixons Trinity Academy in Bradford. "That's why we have the 'no hands-up' policy."
There is a pot with "lollipops" in it, each one with a pupil's name on it. The teacher can randomly pick up one of the pots and thus choose who will answer the question.
"It's quite hard when they first come here," acknowledges Mr Sparkes. "Students have been putting their hands up for seven or eight years [in primary school]."
There are also coloured prisms on the desks; if a pupil turns their prism to amber it means they are struggling, red means they are further behind, green that they are up to speed. It is a mechanism for showing the teacher which pupils need help.
The "no hands-up policy" was singled out by Ofsted, the education standards watchdog, which visited the school and awarded it "outstanding" status in every category – teaching, achievement, behaviour and school leadership. "The academy's 'no hands-up policy' ensures all students know they must be ready to offer an answer," Ofsted said.
The school became the first of Michael Gove's secondary free schools to be given such an astounding clean bill of health. It is, if you like, the counter-story to the picture painted in the Commons Public Accounts Committee last week of an education project beset by spiralling costs and umbrella problems.
It – and two other schools that have also just received outstanding verdicts – must have been manna from heaven for the Department for Education, which has been reeling from bad headlines about free schools such as Discovery New School in Crawley, West Sussex, which has been closed after education inspectors found standards there unacceptably poor.
Al Madinah school in Derby was closed because of the poor quality of teaching and an investigation at the Kings Science Academy found "serious failings" in Kings' financial management.
There were bad headlines, too, at the weekend, after Mr Gove was accused of diverting £400m of essential classroom funding to plug a hole in his free schools project – a charge he denies.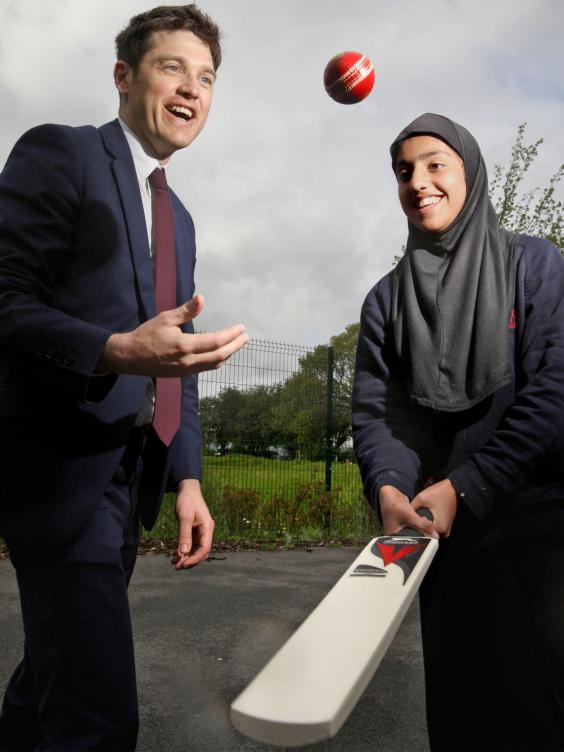 Dixons Trinity Academy is in a family of schools in Bradford under the Dixon umbrella – all of which have quite an impressive record of success. The original Dixons Academy, one of the first City Technology Colleges that opened two decades ago under the initiative launched by Kenneth Baker, when he was education secretary, is regularly among the best-performing state schools in the country. Another school, Dixons Allerton Academy, has risen from the ashes of a former failing comprehensive. Mr Sparkes taught in them both before taking on his present post.
He says that he has unashamedly taken best practice from other schools he has visited – including the Charter schools in the United States, America's equivalent of the free school movement. An example of this is the Drop Everything And Read scheme. Every pupil has a book with them that they take round the school all the time, and there are daily reading sessions in class to help promote the importance of literacy.
Around the school, there are pen portraits of each teacher displayed, showing which university they attended and what book they are currently reading.
The goal of going to university is something that is instilled in every pupil. "They might want to be a footballer," said Mr Sparkes, "but it is unlikely that you will become one, whereas going to university is realistic."
Instead of holding its transition day – preparing pupils in the summer for moving from primary to secondary – at the school, it is held at Leeds University. "It is a Russell Group university," says Mr Sparkes. "It represents the top of the mountain they have to climb."
Dixons Trinity is big on quiet time, too. After breaks, pupils gather in the main dining hall before walking silently back to their classrooms. At lunchtime, teachers put their hands up to call for silence before the pupils being to eat their food – served by the pupils themselves, in an attempt to give the atmosphere of a family meal.
The school is also big on discipline – "tough love", as Mr Sparkes calls it. Teachers dish out same-day detentions to pupils. It might be for a simple mistake such as failing to bring a pen to school, arriving a minute late for the school day's early start at 8am, or even not putting their name on their homework.
"They would be given what we call a correction," says Mr Sparkes. "If they cross what we call the red line, there can be more serious consequences. The expectations here are very high. We don't expect them [the number of corrections] ever to get to zero, but we don't hold grudges. Once they've been in detention, that's it.
"We are setting the bar very, very high. We want a purposeful, happy working environment where it is cool to be smart, where they can, for example, pick up a book and read when they're waiting for a class to start and don't feel they will be ridiculed for doing so. There is silence in the corridors. You can't have disorderly corridors."
The students are also asked to compile a statement to describe their aspirations. Iqra Hussain, who is in the Yorkshire under-13s girls' team, wrote that she would like to be "a fabulous cricketer who inspires girls to play cricket". She is hoping to study at Loughborough University.
She counts herself lucky to be at the school – her parents had applied to the former CTC but she was turned down. "Then this happened in the year I started secondary school," she says. "It was like a miracle."
The academy's reputation is beginning to resonate – not surprisingly, since statistics show that its pupils made an average of 19 months' progress in reading in their first year at the school.
It is vastly oversubscribed, with 800 applications for 112 places this summer. So far, there are only two years' intake at the school – years seven and eight. When it is finally all up and running, it will have 740 pupils. And probably even more parents applying now that the Ofsted report has been published.
So amid all the bad publicity for Mr Gove's pet project, here is at least one good news story that the Education Secretary can relish.
Reuse content