When I was at school, they tried to make us interested in our future job by forcing a transparent multiple-choice quiz on us. Like maths? Then you could be an accountant! Enjoy food? Think about being a chef! And, of course, most children went home saying they should be zookeepers simply because they ticked the "yes" box when asked whether they liked animals.
But oh, how things have changed. Career-aptitude tests could be a thing of the past with the arrival of KidZania, an "educational entertainment experience" that offers four- to 14-year-olds the chance to role-play more than 60 professions, including firefighter, actor, chocolatier, and, er, factory worker.
Launching early next year, KidZania is like a Playmobil city come to life. Located in the Westfield shopping centre in London's Shepherd's Bush, this 75,000 sq ft settlement (built to two-thirds scale) includes a town square, streets and moving vehicles. The giant set, which is more like a theme park than an educational institution, has everything from a football stadium to a hospital, a radio station to a clothing store. Parents will be thrilled to know that there is even a (fake) tattoo parlour for aspiring needle artists.
On entering, children will be handed a boarding pass and an ATM card. They must head straight to the bank to open their account, and then they go to work earning "KidZos", which can be exchanged for small items such as pens and sweets. For the next four hours, the more they work, the more "KidZos" they receive. Adam Smith would be proud. And if they really want to up their wages, they can enrol in KidZania University.
Adults are allowed in or they can watch from a glass mezzanine (or at least pretend they are and then nip to Jamie's Italian next door for a glass of wine instead). Four hours of play will, according to one of KidZania's legion PRs, cost "in the high twenties".
Walking around the "town", which is still under construction and is really just a mess of scaffolding and wood, I ask the hard-hatted chief operating officer, Helen Carpendale, what the best thing about KidZania is. "Opportunity," she says, quick as a flash. "To be exposed to things you just wouldn't know existed. And the chance to try things out." She goes on to talk about how doing work experience at Midland Bank when she was 15 taught her about "real life". "That's what this is all about," she enthuses.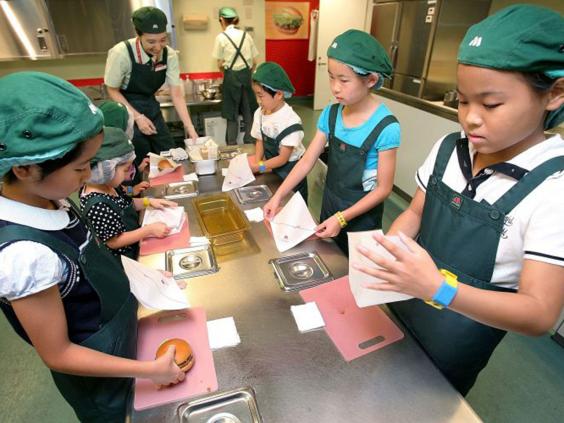 Started in 1999 by Xavier Lopez Ancona, a Mexican entrepreneur, this is the 19th KidZania branch to open around the globe, and 38 million children have so far run wild around their mock cities. With a name such as KidZania (which sounds as though they left Peter Andre in charge of christening it), many would be quick to dismiss its educational value. But those involved insist that it is a worthy activity.
Sir William Atkinson, a former principal of London's Phoenix High School and once dubbed Britain's most successful head teacher, is on the tour with me. He is full of praise for KidZania. "I think it has wonderful potential. It engages kids, gives relevance to their studies, and can impact career choices down the road," he says. Sir William sits on the company's educational advisory board, but he is quick to point out that he isn't being paid and genuinely backs the project.
OK, so perhaps it can help children to decide which path they want to follow, and it teaches them about finance and teamwork. But the corporate sponsorship is rather worrying. The amount of branding on display makes Formula One look subtle. Partners include Renault, H&M, Innocent Drinks, and Global radio. KidZania argues that the youngsters prefer to role-play with real brands but it does just seem a lot like targeted advertising to kids.
That said, what a bloody lot of fun it looks. The 10-year-old me would have chosen this over Disneyland any day.
The biggest problem, at least that I can see, is how they will ensure that the 1,700 children that the facility holds spread out over the whole city. After all, when they have the opportunity to do flight simulation in the cockpit of a life-size British Airways plane, who's going to want to learn about housekeeping with boring old Dorsett Hotels?
Reuse content