Last weekend saw the end of the 11th annual Lesbian, Gay, Bisexual and Trans History Month, led by the LGBT equality group Schools Out. Across the country, we've seen exciting work done in schools to celebrate the achievements and contributions of LGBT people, as well as open discussions about social history and how the past provides important lessons for the way we live today.
At Haybridge High School in Worcstershire, Year 12 students delivered assemblies covering topics from the Greek poet Sappho, to trans-discrimination laws in Europe and to the status of same-sex marriage across the globe. What was striking about the way that students talked about these topics is that they were not only focusing on how LGBT people were affected, but also looking at how LGBT history contributed to a sense of citizenship and responsibility that was genuinely empowering for all.
As one student from the school put it: "We need to stress the importance of respect for all people, from a young age, in order to hopefully build a better society for the future." I can't think of a better way to explain the importance of celebrating and respecting difference – not simply tolerating it – and why this is in everyone's interests.
We've come a long way since my own schooldays, when Section 28 prohibited teachers from talking about issues around sexuality, never mind promoting respect for all. These days, the Government is an active ally in promoting the inclusion of LGBT people in education, from the Department for Education's recently announced £2m fund to tackle homophobic bullying to the local authorities that work with Stonewall's Education Champions programme which supports diversity.
LGBT History Month has seen some inspiring work from local councils: in Norfolk, for instance, the county council took over a local cinema to hold a screening of our film Free, with 150 pupils from five schools, and in Cambridgeshire, a human rainbow was created to celebrate the first flying of the rainbow flag from its County Hall.
After all of these achievements, it now seems fitting that this year's LGBT History Month theme was history itself. If much of LGBT history concerns inequality and the gradual progression towards liberation, then the achievement of legal marriage equality may seem like a definitive moment – and to some people, an end point of sorts.
But, as with any other social equality movement, to be equal in law is just part of the story. Equal marriage did not mark the end of LGBT history – momentous though that day was. We're now entering a new phase of history for lesbian, gay, bisexual and trans people and their allies: where the focus is on changing hearts and minds.
We look forward to celebrating many more social milestones in the days, months and years to come. One day, we hope to welcome the first trans MP in the UK or the first openly gay premier league footballer, for example. Every milestone will be a step forward, and a new role model for young LGBT people in Britain's schools. Those role models are still needed because today's young people continue to live in a far from perfect world. For all the inspiring work done in schools this month, too many young people are still unable to be themselves for fear of bullying and harassment.
Too many teachers hear homophobic language, from colleagues as well as students. Too many LGBT people face mental health issues, self-harm and suicide. For these young people, the achievement of legal equality may seem a rather remote abstraction from the daily challenges they still face.
And what's key to remember is this: the true measure of an inclusive society should not be based on a checklist of positions. Instead, it must be understood by how individuals and groups experience different communities. Measuring diversity in parliament or in the country's top boardrooms is only a part of the story – the real yardsticks of progress are to be found in the experiences within our offices, our hospitals, our sports clubs and our places of worship. And, crucially, in our classrooms, where tomorrow's society is being formed.
These are challenges for which progress cannot be measured simply in terms of laws and regulations, and they will form the next stage in our journey: tackling deep-seated discrimination where it still exists; challenging the casual prejudice that creates a hostile environment in schools, and changing our culture from one that tolerates difference to one that recognises that the celebration of diversity makes all of us stronger.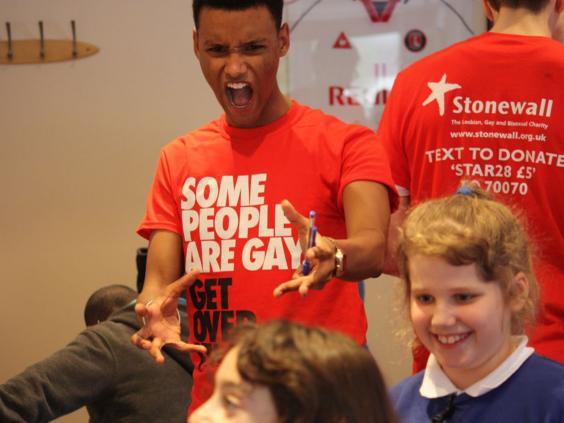 Our schools will be a key place for this next step in our journey to play out. The history lessons studied around the country throughout LGBT History Month are built around key achievements in freedom and individual stories of oppression. Students taking part in future LGBT History Months may find that the next period of history is built less around such tangible milestones and more around the individual stories that we hear each day.
It will be influenced by the teachers who allow young people to express their gender identity freely in and around the classroom; by the pupil-led alliances that are already being created to fight for inclusion in schools; by diverse governing bodies that can reflect the interests of all students, and by supporters and campaigners working to provide them with the tools and resources to do all of this. We've still got lots to do, and while the challenges that lie ahead may be different, the battle to change hearts and minds is just as fierce. We may well be on to a new chapter for LGBT history, but we have certainly not finished writing it just yet.
Chris Sims is head of education at Stonewall. Stonewall.org.uk
Teaching equality: how two schools do it
Two schools that have been praised for their efforts to tackle homophobic bullying are Jenny Hammond, a primary school in Waltham Forest, London, and Corelli College, the first Co-op academy to be set up in London, based in Shooters Hill, Blackheath.
Jenny Hammond was praised by inspectors from the education standards watchdog Ofsted for its "excellent understanding of different kinds of bullying, including cyber-bullying and homophobic and emotional bullying".
It understands the need not to engage in name- calling or making fellow pupils feel isolated, says the Ofsted report.
The school has pupils who speak 28 different home languages – so celebrating diversity is a key part of the school's ethos
They do this through their choice of books for literacy lessons, choosing "age-appropriate storybooks to introduce different types of family – including same-sex relationships – that challenge stereotypes".
In addition, all the staff have had training on tackling homophobic language and bullying. Stonewall's "Different Families – Same Love" posters are displayed in every classroom.
At Corelli College, a restorative approach is taken to incidents of homophobic bullying, with follow-ups involving all the students, so that the bullies get an understanding of the harm they have caused.
Sir Ian McKellen, the actor, has also visited the school to talk about the effects of homophobia.
As with the Jenny Hammond primary school, all the staff at Corelli College have undergone training on how to tackle homophobic bullying and language.
"The school celebrates special events such as LGBT History Month and it took students to the Pride festival last year," says Stonewall. "The drama department regularly stages plays with an LGBT theme."
The school also has "Stonewall Champions" – a working party of staff who plan events involving the whole school to celebrate diversity. Discussions about LGBT people and issues are included across the curriculum and new parents are asked to sign up to the school's inclusion policy.
Richard Garner
Reuse content