Anthony Seldon acknowledges that he may have been a bit "naive" to think it was enough for an independent school just to sponsor a state-school academy and watch it thrive.
"The only way you can do this is by being fully committed and being fully up to speed with the way that state schools operate," he tells me.
Dr Seldon is now the executive principal of the Wellington Academy – one of the first academies to be sponsored by a leading independent school (in this case, his Wellington College) – and is spending a term's sabbatical from the college rolling up his sleeves at the academy.
The decision that Wellington College should take a more "hands-on" approach to the academy followed disappointing GCSE results last year, when the percentage of pupils earning five A*- to C-grade GCSEs including maths and English plummeted to 37 per cent (from 48 per cent). The then head teacher, Andy Schofield, was replaced with one of Dr Seldon's senior team members at Wellington College, Michael Milner, taking over day-to-day responsibilities, with Dr Seldon himself devoting more time to the academy as well.
We were speaking at a time of growing controversy over the academies programme, with calls for greater financial scrutiny after a police investigation into financial irregularities at the Glendene Arts Academy, a special school in Durham. Happily, there are no such issues at Wellington Academy, though that is not to say that the sponsorship has all been plain sailing.
At first, Dr Seldon had to deal with a campaign on YouTube to oust him from his job. "There were some pockets of a quite nasty response – a 'get rid of Dr Seldon' campaign on YouTube," he said. "There was a negativity about me being very hard.
"I do say what I think needs to be done when a school needs to be turned round. I said, 'This is acceptable, that is not acceptable, you will not do this and you will not do that.' That didn't go down well universally."
However, five months later, the atmosphere has now changed. The links between the college and the academy are stronger. By September, they will have the same uniform and the same house system. Visits between the two schools are also more frequent.
On Friday, the day before half-term, two sixth-formers from the college who had been particularly successful in their GCSEs last year came down to the academy to address a school assembly and give the pupils tips on how to do well in their studies. One of them, Henry Duff, told how important it was to keep in touch with fellow pupils during GCSE revision, adding: "When I'm on my own, I'm tempted to use Facebook." They both won spontaneous applause from the assembled pupils, some of whom could well have campaigned five months previously against Dr Seldon's methods.
As well as building closer links between the schools, the new leadership team also cracked down on bad behaviour and standards of school uniforms, insisting all pupils wore their uniforms smartly. Termly reports on pupils' progress, showing where they had met expectations and where they had fallen short, were introduced instead of the annual report to parents.
Ofsted, the education standards watchdog, has visited the academy and declared that it "requires improvement", the new category that has replaced "satisfactory" in the nspectors' lexicon. It is a judgement that Dr Seldon believed the academy deserved at the time. The school, though, has arranged for a return inspection at the end of the year, when it expects to be given a "good" rating. "By 2016 [the next inspection], we will get a [grade] 1," Dr Seldon declares. That would mean "outstanding".
It has set itself ambitious targets for 60 per cent of pupils to receive five A* to C grades including maths and English by 2015. No target has been set for this year (an acknowledgement that it takes time for real improvements) but, in an end-of-term "pep" talk to GCSE students, Dr Seldon said: "None of you have yet in your lives undertaken anything as serious as GCSE exams – they are the most serious thing and the most serious exam that has happened to you. What you do now, from this time onwards from the middle of February, will make a real difference if you're in Year 11 [the GCSE year].
"Dr Milner and I are very pleased with you – you have made considerable progress," he added by way of encouragement.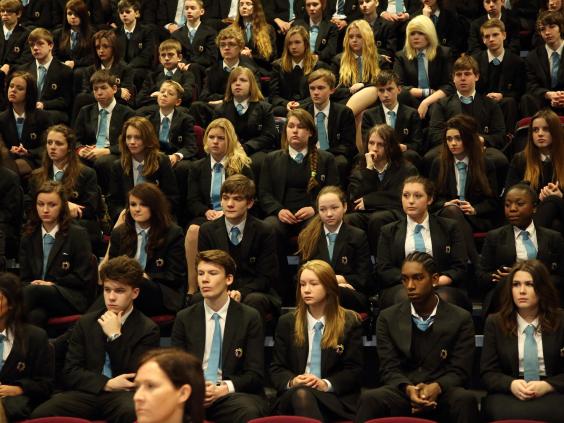 Dr Seldon's philosophy is that the pupils at the academy – sited on the Hampshire/Wiltshire border, with perhaps the largest intake of children from Army personnel in the country – should have the same opportunities in life as those whose parents pay for them to attend the fee-paying Wellington College. Earlier in the day, he had waved off a group of academy students who were going on a skiing trip for the first time.
Debate has raged in the past couple of weeks about whether the Government's drive to get more private schools to sponsor academies is the right way to bring down the so-called "Berlin Wall" between the state and private sectors and, in doing so, improve standards.
In The Independent last week, Jon Coles, the former head of standards at the Department for Education and now the chief executive of one of the biggest academy chains, the United Learning trust, argued that it was not. Mr Coles believes that a good head of an independent school would not necessarily be a good head of an academy. But Dr Seldon disagrees. "If you can't run an independent school, you won't be able to run a state school," he says. The reverse would be true, too.
He does concede, though, that "looking back, I was naive in thinking that it would be sufficient to sponsor it and do it in a hands-off way". "I have taken a sabbatical until Easter [from Wellington College]," he says. "It does mean I'm able to spend more time here [in the academy] and I'm learning a lot more about running state schools.
"That's why I was arguing in Schools United [a pamphlet he has written about how to breach the state-/private-school divide] that we need to work either with an academy chain or with a very successful state school."
Interestingly on the day I visited, Dr Seldon was locked in discussions with Gary Lewis, the head teacher of Kings Langley school, in Hertfordshire, an outstanding state school, about the way ahead.
Dr Seldon estimates that there is a kind of "DNA overlap" between running a state and independent school of about 80 per cent. "There are a whole bundle of things, though, about the monitoring of performance and about behaviour and attendance, about special needs, about the quality of teaching and learning and performance management as well as appraisal of staff, that probably feature far less heavily in the life of an independent head."
That, he argued, was where links with academy chains and successful state schools could prove fruitful. The changes introduced at the academy since its disappointing GCSE results last year have certainly already made an impact on the pupils. Ben Bartlett, 14, said the links between the two schools "used to be a bit dead – like once a year". "Now we have much more," he adds, though he admits that the first time he visited the college he felt the grounds were so palatial that "it was a bit like going to see the Queen".
Dr Milner says that when 13-year-olds from the two schools get together they are soon swapping Facebook and Twitter accounts like any other youngsters. The social media, he says, have helped to bring down any barriers between the two sets of pupils. "After all, when you're on Facebook, you don't know the background of the person you're dealing with," he adds. "I think the divide is more in the minds of adults than it is in the students."
Not in the adults running these two schools, it would seem.