After Heather Peach achieved 10 A and A* grades at GCSE, everybody expected that the 16-year-old would stay on to study A-levels and set her sights on a top university. So when Heather, from Wigan, told her teachers that she was planning to become an apprentice at a defence firm, they were horrified.
"My family were really supportive, but my teachers were all really shocked. One teacher told me I'd regret it and that I'd be back in the sixth form within six months," says Heather. "I've really enjoyed proving her wrong."
Nearly four years later, Heather, now 19, is in the final year of her apprenticeship, and will start a full-time job at the company MBDA Missile Systems in September. Her current role sees her working with a senior engineer designing and producing equipment to test new defence products.
"I had never considered an apprenticeship until a couple of former apprentices came into my school electronics class to talk about it... I had had no idea that my love of electronics could be turned into a viable career."
Heather is one of a growing number of young women who are becoming apprentices. The latest figures from the National Apprenticeship Service last month showed a huge rise in the number of applications from women.
Online applications from women have increased by more than half since 2012, with 216,100 applications made by women in the three months between August and October last year, a 55 per cent increase on 2012. This has also served to narrow the male bias in applications, with 47 per cent now made by females in 2013, compared with 43 per cent the previous year.
Abigail Fraser, 20, from Accrington, Lancashire, is another who ended up on an apprenticeship almost by chance. She discovered a hidden talent for furniture polishing after being encouraged to start an apprenticeship at the factory where she worked as a 16-year-old labourer. "I just wanted to leave school, get a job and start earning some money, so I got a job as a labourer in a furniture factory," she says. "I worked with some of the furniture sprayers and asked them if I could have a go. My bosses thought I might have a talent for it and asked me to become an apprentice. I wasn't sure about it to start with, as I didn't want to go back to college. But I actually enjoyed it. It was one day a week and you get to do things that you might not do at your own company – such as restoring antique furniture... Within a couple of months, I was able to refurbish certain pieces of furniture on my own."
She completed her Level 3 advanced apprenticeship last month, and now hopes to become a supervisor and to one day run her own polishing business.
Heather and Abigail are unusual in training and working in such male-dominated fields. Vocational training has always been segregated by gender, and apprenticeships have been no different. A recent report by the TUC warned that female apprentices were likely to end up in low-paid jobs because they tended to train for female-dominated roles, with limited scope for career progression.
The number of women taking apprenticeships has more than doubled in the past decade, with just over half (51 per cent) of all apprentices starting training in 2011-12 being female. However, women make up only 2 per cent of apprenticeship starts in construction, electro-technical and vehicle maintenance and repair sectors, and less than 4 per cent in the engineering and driving vehicles sectors, the report warned. Meanwhile, more than 90 per cent of apprentices in childcare and hairdressing are women.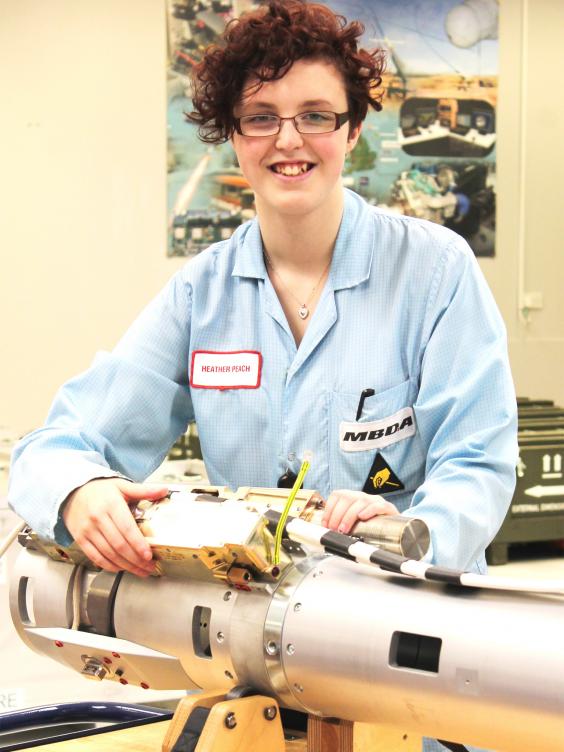 Frances O'Grady, General Secretary of the TUC, says: "While the increase in the number of apprentices over the last decade is encouraging, we are still a long way short of having the number and breadth of high-quality apprenticeships that many of our competitors have. Ministers also need to work closely with employers and unions to get more young women into non-traditional apprenticeships such as engineering. This will help tackle the UK's chronic skills shortage and help to close the gender pay gap."
The union has also raised concerns about the numbers of apprentices paid less than the minimum wage. According to figures released by the Department for Business in October, three out of 10 apprentices are paid less than the legal minimum. The two sectors where under-payment is most rife – hairdressing and children's care – are dominated by women.
More also needs to be done to attract women into IT, as Anouska Ramsay, head of talent at Capgemini, a technology services company employing more than 250 apprentices, acknowledges. "About 20 per cent of our apprentices are girls," she says, "which is something we really want to improve upon. We take on more young women at graduate level – about 27 per cent is forecast for the next few months. We need to get the message across that the work we do is not just for IT geeks,.. It is about finding business solutions across all kinds of industries."
Professor Alan Smithers, director of the Centre for Education and Employment Research at Buckingham University, said that gender imbalance in apprenticeships reflected "deep-seated differences between men and women", which would be difficult to address.
"On average, women are more interested in working with and for people," he says, "while men are typically more comfortable with the impersonal, and working with things... I don't think it matters if the sexes are genuinely attracted to different occupations. The important thing is that the school curriculum ensures that all children experience the whole range of subjects so that they can discover what they are good at.
"The Government must do more to ensure modern apprenticeships are the first rungs of ladders to rewarding jobs and careers, and not just there to soak up youth unemployment."
Back at MBDA Missile Systems, where Heather Peach will soon finish her apprenticeship, Gareth Humphreys, head of education and apprentices, says that schools must shoulder some of the blame for the gender bias. The company has worked hard to ensure that it recruits equal numbers of male and female apprentices.
"Schools are not telling people at 14, 15 or 16 that they can leave school at 16 and become an apprentice," he says. "Teachers are doing young people an injustice by not giving them this option. We need a better balance between young people going to university and starting apprenticeships. We need both. We take young people at 16 and after four years they are earning at least £27,000 with us. Where else can you do that?"