Across the grounds of St Bede Academy in Bolton come the sounds of children playing and learning. But this is not just the excited laughter of the school's 450 infant and junior pupils and the 30 children in the school's nursery class. There are also 100 children in Baby Bede, the first private nursery in the UK to be opened and controlled by a state school.
St Bede has been leading the way in an early years revolution since Baby Bede opened in 2003. Baby Bede can take children as young as six weeks old and is open 52 weeks a year. Children can attend the nursery and older chidren can have breakfast and go to after-school clubs from 7.30am until 6pm.
The Education minister Elizabeth Truss recently returned from a visit to St Bede's calling it the "future" of early years provision and describing its headteacher, Jack Hatch, as a "hero". Hatch, 66, who has led St Bede since 1992, began his revolution around 15 years ago when he commissioned external providers to run an after-school club at the school.
"We were appalled by the quality of what was happening," he says. "We felt we could do much better ourselves. From that little acorn, we have grown from being just one primary school with an after-school club to running nurseries and childcare."
Today, the school runs three nurseries and six out-of-school clubs through its charity, St Bede's Services. In 2010, the school was rated "outstanding" by Ofsted and became an academy in 2011. It plans to open a childminder agency in September and is considering expanding one of the nurseries and upping the age range to open its own free school. The group will open two more nurseries in September, expanding its daycare numbers to more than 370 children.
Schools across the country are being encouraged to open their doors to children as young as two and to extend their opening hours as part of a drive to increase childcare provision. Three and four-year-olds, and some two-year-olds from low-income homes, are already entitled to 15 free hours of early education per week. From September, this will be extended to include 40 per cent of two-year-olds as part of a drive to tackle the 18-month vocabulary gap between children from wealthy homes and those from low-income households, which is already evident by the time youngsters start school.
In April, Sir Michael Wilshaw, the head of Ofsted, called for schools to take the lead in providing high-quality early education for two-year-olds, saying: "What children facing serious disadvantage need is high-quality, early education from the age of two, delivered by skilled practitioners with degrees, in a setting that parents can recognise and access easily. These already exist. They are called schools."
Hatch agrees that schools can be ideally placed to run early years provision. He says: "Our emphasis has always been on the education aspect. What you do with children matters. The quality of the adults matters and the interactions with those adults matters. Children are only young once and we have to give them our best."
After her visit to St Bede, Truss has repeatedly praised its work and announced "sweeping reforms" to extend the school day by making it easier for schools to open from 8am to 6pm.
She praised St Bede for its value for money, saying that it costs less than two-thirds of the average price for the region and offers flexible deals to parents, such as using some of the 15 free hours of childcare for three and four-year-olds, plus lunch for just £1.40 a day.
"We want to see more school nurseries open from 8am to 6pm, giving working parents greater flexibility and choice. Which is why it's great to see the excellent work done by Jack Hatch and his team," Truss tells me. "St Bedes offer fantastic places through their school and private nurseries, with all the teachers and assistants part of one team. One-third of childcare places are in school nurseries, but they often sit empty for parts of the day."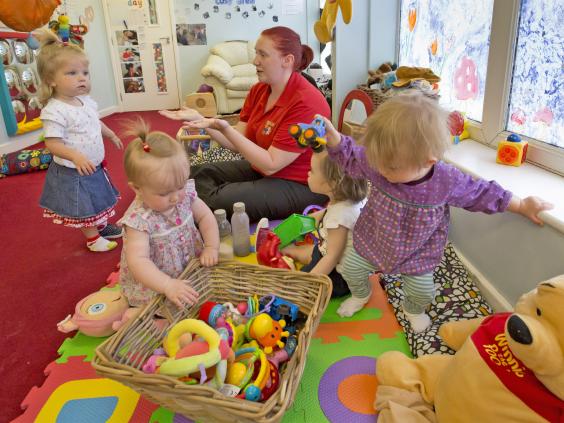 From September, St Bede will again be at the vanguard of education reforms when it opens its own childminding agency. The Government hopes these agencies, which have been piloted in 12 areas including at St Bede, will encourage more individuals into the profession while reducing the cost of childcare for parents.
Hatch argues that parents and children will benefit from the changes by having a relationship beyond the one they have with the childminder. "It is about providing choice. Some parents will want a nursery place, others will want a childminder, but all of them want to be confident that they are getting the best possible quality of care. They will also have support if for any reason their childminder isn't available, because they will have back-up from the agency. Children can gain more exciting experiences and opportunities because their individual childminder will have more professional development and support from us."
Kimberley Dearden, the childcare area manager at St Bede who is responsible for overseeing its three nurseries and the new childminding agency, believes that the group's reputation for excellence will make St Bede's childminders popular with parents.
"A lot of parents like that we have an education background," she says. "All our settings have been judged to be outstanding and parents joining us know they are going to get that quality. There is a lot of childcare provision locally, but not a lot of it is high quality. For a spell, we were the only outstanding setting in the area. We have a two-year waiting list for some of our nurseries. People are putting their children's names down when they are only a few weeks old."
But the reforms have been controversial – even though it will be optional for childminders to join an agency. Childminders and early years organisations have united to condemn the move, warning that it could lead to lower standards of care. Neil Leitch, the chief executive of the Pre School Learning Alliance, is concerned that childminders who register with an agency will no longer be individually inspected by Ofsted, which will instead inspect the agency and judge it on how it supports childminders.
"It is still unclear what will happen if a childminder previously rated 'good' or 'outstanding' registers with an agency that is subsequently rated 'requires improvement'," he says. "Will they, by default, be seen to 'require improvement' as well? And how will this impact on their ability to access free entitlement funding?
"Given that these agencies are set to be introduced in little over three months, it is deeply concerning that there is still no clarity on this, and until questions like this are answered, many childminders will remain rightly sceptical."
Dearden argues that parents and minders would benefit from central support from St Bede. Parents recognise that the St Bede brand guarantees quality and will have access to a replacement minder if their usual carer is unavailable, she says. "The existing minders were a bit reluctant at first," she says. "We then visited them again and feelings had changed and some of them were more positive."
Liz Bayram, the chief executive of Pacey, the Professional Association for Childcare and Early Years, questions whether too much focus has been put on schools. "We are sceptical about whether the focus on teaching and a school-led approach is the only way of closing that gap and making children ready for school," she says. "We are not against childcare in schools and we recognise the benefit of some adult-led activities, but not to the detriment of children playing together. We would question whether it is right for a very young child to be there from 7.30 in the morning until 6pm."
Back in Bolton, Hatch argues that his school has responded to parents' needs. "Some parents want their children to be here for normal school hours, others want a full day. It's all about choice, he says. "We constantly evaluate everything we do and make changes to ensure that we provide the best possible provision. That's the essence of education... We have done this to improve the quality of what's on offer and respond to the needs of our community."
Reuse content