A little boy, "Jesus", is walking carefully in his plimsolls across a sea of tables to save his diminutive disciples, who are grouped together in the prayer corner and unable to suppress their giggles at the re-enactment of the Biblical miracle. This is the surprising, if entertaining, religious scene I am met with when I stick my head around the corner of a classroom at St Matthew's Primary in Blackburn.
But the surprise is not so much the sight of a child walking on makeshift water. St Matthew's is, after all, a Church of England school, where the walls are adorned with crosses and religious drawings, and which regularly organises Christian activities, readings, prayers and songs. No, the surprise is that almost every child in the class is Muslim.
In fact, 97 per cent of the 265 pupils schooled in the 1980s-style building that is perched on a hill overlooking the Lancastrian city are from Muslim families. The head teacher, Julian Rogers, believes that the word of God should be spoken and Christian values and morals upheld at the school no matter what background the children are from. Indeed, during assemblies, his biblical stories hold his audience – of excited, intrigued and sometimes confused-looking pupils – captive.
Most are second- or third-generation British Asians, whose parents/grandparents emigrated here from India and Pakistan from the 1960s onwards. But there are also children with families from countries such as Iran, Palestine, Turkey and Nigeria. So: a melting pot of cultures, languages and identities. Some have only just arrived with their families from the turmoil of their home country, and have found being taught about Christianity in English somewhat unexpected.
But the teachers and assistants at the school, along with the adjoining Brunel nursery, work hard to improve the children's English and help them adjust to the unfamiliar surroundings and teachings. So much so that the Muslim parents accept the importance of the underlying Christian ethos, and St Matthew's achieved a "Good" rating in its latest Ofsted report.
"The fact that it is a church school is fine with us, " says Maryam Pathan, who was born in India but has lived in England for 10 years and whose daughter is in the reception class. "We think it's great that they are learning about other religions."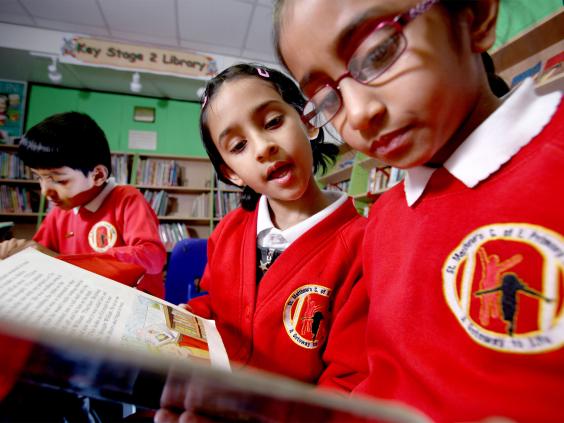 Mr Rogers says that the children are more receptive to the Christian teachings because they already come from a background of belief. "This is an advantage over those kids who have no faith background whatsoever, who don't necessarily appreciate spiritual themes," he says
But it hasn't all been plain sailing, and some changes at the school have been a cause for discussion among some of the white parents. "In the past 15 years or so, there have been a load more Muslim kids arriving at St Matthew's," notes one parent.
"When my older kids were at the school, there were more white Christian children. It has been a dramatic change."
Another mother says that a couple of years ago her son was allegedly the victim of abuse from some Muslim children who called him "white honky" and other such names. But, she added, that this was swiftly dealt with by the school, which provides a private counselling service for parents and children with any issues.
Jan West has two white grandchildren at the school, and admits she was surprised at the high number of Asian children. But she says, "We've not had any problems, and the extra care and attention they give my grandson, who has behavioural problems, is excellent. [My grand-daughter] is even picking up words in other languages like Urdu."
Overall, the school has had great success in maintaining religious and social harmony among the pupils, but there are unlikely to be any Muslim converts to Christianity any time soon. As one Muslim mother, Amina Patel, points out: "It's good that our kids learn about Christianity, but it's not going to change their religious faith or the way we teach them at home."
This is illustrated by the fact that the Muslim children at St Matthew's also attend local Islamic schools from 4.30pm to 7pm every day, with a short break at home in between for tea and homework. A large number of them go to the Islamic Educational Society for their additional schooling. This consists of an impressive-looking mosque called Masjide Noorul Islam (place of worship) and the Madressa Noorul Islam in a basic brick building opposite where the children sit in classrooms to learn about Islam.
The school's principal, Mufti Ashraf ("Ash") Sidat, is rightly proud of the mosque, which he says was built with £2m of voluntary contributions from the local community. and not, he jokes, from "George Osborne, Saddam Hussein or Bin Laden".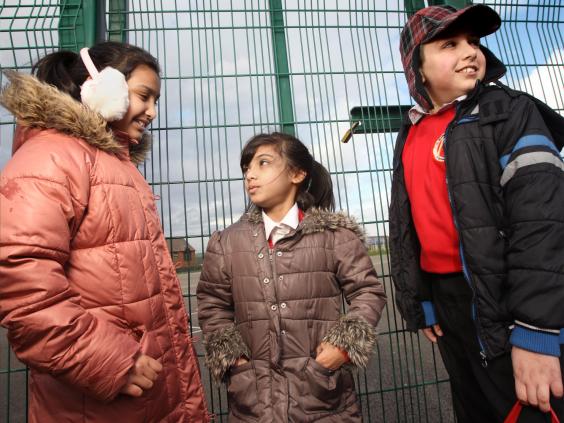 There's no call to prayer because this is forbidden by the local council, but, from 4pm onwards, the Muslim families – boys dressed in their jubbas (tunics) and girls with their hijabs (scarves) wrapped around their heads, all with varying coloured jackets thrown over the top and Spider-Man or princess bags on their backs – emerge from their houses, creating quite a sight on the streets.
As they enter their second school for the day, they must perform the ablution, or cleansing of the body, using the taps provided. Then they are split off into separate classrooms along a corridor to learn about the Islamic religion. There are no tables and chairs; the children sit and pray on cushions, surrounded by sparse walls.
"Most of these kids were born in Britain and have adapted to the culture here, but it is important they learn about and identify with the religious beliefs of their forefathers," says Ash, who is friendly and open, but exudes an air of authority. As the children pass by, there is an obvious deference and respect shown towards him.
The hall is silent save for the sound of hundreds of little voices quietly murmuring the words of the Koran. The recitation is a vital part of their education, along with learning about Islamic law, history, manners, etiquette, citizenship, languages and spiritual training.
In keeping with the times, there is a greater crossover of ideas, learning and appreciation between the faiths in the city. Ash helped create an Interfaith Forum in which local leaders from the different religions can meet to discuss their practices.
Church school children also come to the Islamic School to learn about the mosque. "Christianity and Islam are actually very similar religions," Ash tells me. "Jesus, Mary and Joseph are just pronounced differently. The only clear difference is the Trinity."
Mufti Ashraf Sidat, with his beard and robes, and Julian Rogers, in his sharp, modern suit, are strikingly different characters in appearance and personality, but they preach the same message: of the need for racial and religious tolerance, and understanding.
Reuse content