To many people, talk of "Dirty Den" would conjure up images of the morally challenged landlord of the Queen Vic in EastEnders.
Not this dirty den, though. It stands for "Direct Improvement Review Time den" – the place where pupils go to if they have to catch up on school work after they have been struggling in class. They can even receive one-to-one tuition from a "DIRTy" teaching assistant to get them on a par with their classmates.
It is just one of the initiatives employed by Victoria Park Primary Academy, in Smethwick, West Midlands, which has won international recognition for its efforts to ensure that the school is not just an "exams factory" but provides the kind of relevant education that will help its pupils make something of their lives.
Victoria Park is a 450-pupil school in a disadvantaged area just outside Birmingham. Between them, the pupils speak more than 30 different home languages. Rather than see this as a difficulty to overcome, the school chooses to celebrate this diversity by displaying their different countries' flags in the main hall.
"Children come to us from all four corners of the world," says Andrew Morrish, who started his job as executive head of the school just over eight years ago when it was in "special measures", ie failing, as a result of its latest inspection from Ofsted.
"There are asylum seekers, refugees who have never been to school before," he adds. "They can pitch up here aged 10 without a word of English – their parents may never have been to school before, either."
Interestingly enough, though, he says the hardest-to-reach group in the school are the six or seven per cent of pupils who come from white British homes.
"The Asian families understand the need for education – they see education as a way out of what has happened to them," he says. "The Polish, too. We've got an awful lot of Eastern European children here."
Half of the pupils are entitled to free school meals – thus bringing with them a pupil premium for teaching the most disadvantaged children, amounting to an extra £500,000 to the school budget. That does not include the asylum seekers who are not initially entitled to the benefit, whom the school does not charge for their meals.
The school also has a quick turnover of pupils – with roughly half of those on the roll at age seven having left by 11, as a result of their parents being rehoused or moving out of the area for other reasons.
Therefore, according to Mr Morrish, it does not make sense for the school to offer a "Gradgrind" curriculum, coaching pupils for their national curriculum tests at 11 in English and maths.
"We teach them the soft skills that employers are craving," he says. "It's a duck and dive, wheel and deal, zig and zag curriculum. We want them to be creative, entrepreneurial, innovative – to have the work ethic from start to finish."
The school's motto is summed up by the sayings displayed predominantly in its entrance hall, such as "If you can dream it, you can do it – now go out and change the world", from Walt Disney.
One initiative that has just launched and which is central to the school's ethos is Ballot Street Spice (Ballot Street is the name of the street that the school is on). It has the pupils working together with their parents to make spicy Indian dishes, which are sold to the community.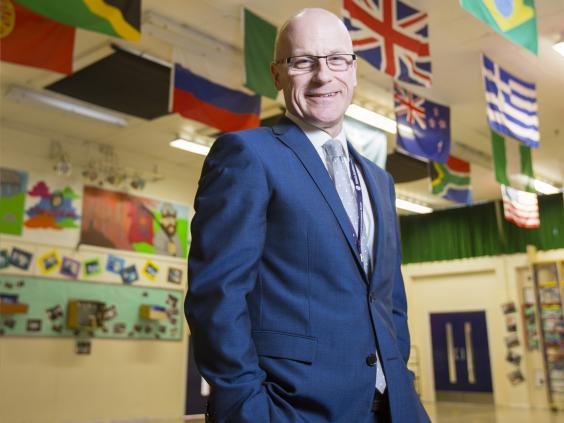 One of the teachers is involved in preparing a wide range of masala spice dishes for the project. They are currently dealing with around 50 orders at a time but are expecting the numbers to increase as word gets around. As an example of the parent/pupil co-operation in the venture, 10-year-old Kyle Hussey is helping to pack the spices and his mother has just been employed as dispatch co-ordinator for the project.
"We make masala to sell online," says 11-year-old Jaskirat Kaur. "It brings a lot of people together to work as a team."
The school's international recognition has come from the Ashoka Foundation, the social innovations fellowship, which has awarded 130 schools around the world "changemaker" status – including five in the United Kingdom. From Victoria Park's point of view, this title helps them to develop cultural ties with schools internationally – a bonus given the diverse make-up of its pupils.
Ashoka says of the schools to which it awards "changemaker" status that they are institutions that have "ceased to operate as examination factories" and have embraced the development of skills such as empathy, leadership, teamwork and creativity in their pupils.
Not that Victoria Park has neglected academic study. Mr Morrish is the proud owner of a letter from Schools Minister David Laws, informing him that his school is among the top 100 primary performers in the country, in terms of the progress made by children between taking their assessments at the age of seven and their national curriculum tests in the three Rs at 11. Equally impressive is the fact that the school punches above its weight for seven-year-olds – its assessment results are above the national average despite the disadvantaged community it serves.
As a result, the school's progress has been noted and it now forms part of a multi-academy trust with three other primary schools in membership and negotiations over a fourth acquisition already taking place.
Hence Mr Morrish's title of executive head – he is also executive head of a primary school in Stafford which he is in the process of taking out of special measures. The school has already set up its own training school for teachers. "We are hoping to take on another 40 students (to train) from September 2015," says Avnish Dhesi, head of school. In three years' time it hopes to have increased the number to 100. "We don't want to be in a situation where I have to put out adverts (for senior positions), because it can be so difficult to recruit," says Mr Morrish. "We want to make sure that we have someone outstanding in hand."
If asked to define what he is trying to achieve at Victoria Park Private Academy, he will say that he is trying to create a "stand-out" school, rather than one recognised by education standards watchdog Ofsted as "outstanding".
"Ofsted abolished the term 'satisfactory' – it became 'requires improvement'," he adds. "What happens if all schools become 'outstanding'? We need to create a school that stands out from the rest."
Ashoka thinks that Victoria Park does – citing the initiatives it has already launched to ensure pupils' lives are changed by their experience of the school, such as "The Shed", which Mr Morrish likens to a Big Brother-style house where pupils can record their own videos of what they have done in their lessons. It means that – even if they do not get everything right – they have a video recording of how they learned and how they became "unstuck" from a problem that was puzzling them.
The school is also not afraid of embracing failure. "Risk-taking is encouraged," says Mr Morrish. "Dyson, Steve Jobs and Edison all failed at first. They learnt from it – FAIL means 'Feedback Always Improves Learning' or 'First Attempt In Learning'. No child learns to ride a bike without falling off first." It is, he argues, the ability to tackle failure and learn from it that has led to its letter from David Laws.
Viliana Dzhartova, from Ashoka Education, says that Victoria Park was chosen as a "changemaker" school because the foundation was impressed by the way that the school had moved so swiftly from "special measures" to "outstanding".
She adds: "A practical example of Victoria Park's commitment to social impact and community engagement is their whole school social enterprise – Ballot Street Spice."
Reuse content