Juno Roche had taught in primary schools for eight years when she told her headteacher that she was transgender and would be returning to school as a woman.
The next two years were an "absolute nightmare", Roche, 50, says. She was plunged into a legal battle with her school and local authority to keep her job.
Last month, her story trended on Twitter after she received a standing ovation for her speech at the National Union of Teachers (NUT) annual conference, where she told delegates of the discrimination facing transgender teachers and the bullying that forced them out of their jobs.
In her first interview since her speech, Roche, who has been living as a woman for three years, tells The Independent that: "Transgender issues are just so badly handled in schools. I had nothing but fantastic support from parents and pupils, but my headteacher said it would be easier if I found somewhere else to work.
"I ended up in legal action for two years. We were all set to go to court, but that morning, they settled and I got my job, my classroom and my dignity back.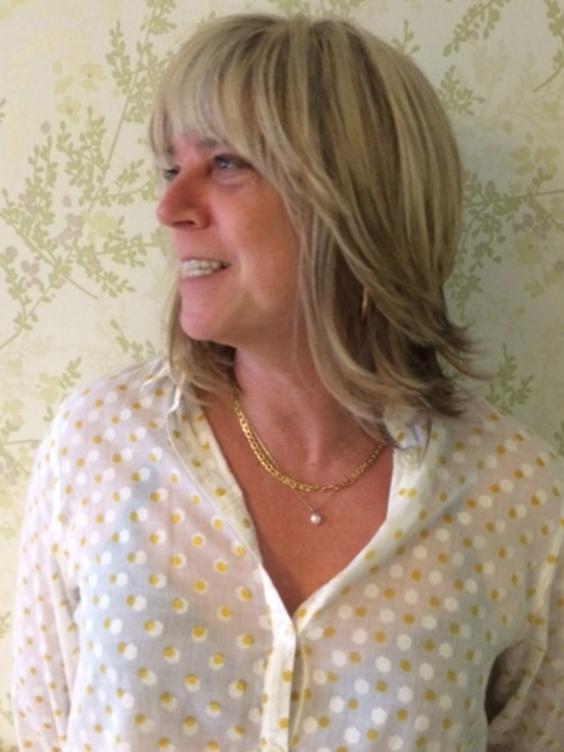 "Trans politics is pretty much where lesbian and gay politics was 15 years ago. I know of only eight trans teachers across the country but a large number of them have lost their original jobs. The number of trans teachers who lose their jobs after coming out is close to 95 per cent. Some keep their jobs, same pay, but on the condition that they no longer have much, if any, student contact.
"If you lose your job you are at the mercy of supply agencies, and it's notoriously difficult to get supply work if you're a trans teacher."
Forty years ago, being gay could get a pupil expelled from school and a teacher sacked. But today, many schools celebrate LGBT history month every February and activists are working to get lesbian, gay, bisexual and transgender (LGBT) people "usualised" across all subjects in the curriculum.
This weekend, many of the original activists will be joining the new generation of campaigners to celebrate 40 years of Schools Out, the charity responsible for LGBT history month.
Recalling the difficulties for gay teachers four decades ago, Sue Sanders, co-founder of the group says: "It was like a different world. It was pretty awful, really. At that time, if you were found out as lesbian or gay, the chances are you would be sacked, and the national unions weren't interested in supporting you.
"We are talking about the dark ages. In the late 1960s and early 1970s, I wasn't even allowed to wear trousers [when teaching] at school. There was a whole lot of sexual stereotyping going on."
Ther has been much change since the group was founded in 1974 as the London Gay Teachers' Group.
In 1988, Section 28 was introduced, prohibiting local authorities from "promoting homosexuality", and effectively silenced any discussion of the issues in schools. Although the legislation was repealed in 2003, it has left a legacy of fear, activists say.
"Section 28 has cast a long shadow," says Elly Barnes, who is the LGBT schools adviser for Birmingham City Council and founder of Educate and Celebrate, a teacher-training programme on LGBT issues.
"It can be a really difficult thing for a teacher to even say the word gay in a lesson. A teacher I recently worked with wanted to mention a gay musician in one of her lessons.
"She'd built it up into a really big issue and she was very nervous about it. She rang me afterwards and the kids had been completely blasé about it. She'd convinced herself there was going to be a backlash from the kids, parents and the community about it. She was so relieved. But it's never about the kids. Kids know about LGBT people. It is about our fear as teachers."
Barnes argues that it is best to usualise LGBT people by integrating them across the curriculum in subjects such as English, music, art, French, humanities and drama. She became involved in LGBT education after being appointed head of year at Stoke Newington School, in Hackney, east London, in charge of 240 11-year-olds. "The language I was hearing in my own school was often racist and homophobic. I wanted to eradicate this sort of talk. I wanted to change the culture. We just did simple things like explain what a lesbian is. The reason children laugh and giggle about it is they don't know what it means. Eight of that year group subsequently came out. They were not bullied and had extremely positive experiences. I want that for other young people."
Campaigners welcome the introduction of legislation such as 2010's Equality Act and 2011's specific duty on public authorities to publish equality information. Since 2012, Ofsted inspectors have been expected to ask secondary students if their schools have taught them about how to respond to homophobic language and bullying, and about different family structures – including children with same-sex parents.
However, activists warn that progress has been patchy across the country. Sanders says: "You can put the law in place, but it takes a long time to shift attitudes. That's why we introduced LGBT history month – it is a way of talking about LGBT people in a positive way, not about them being victims."
Barnes adds: "We are trying to make lesbian, gay, bisexual and transgender people visible in schools. It is something that tends not to be talked about. Our work is about training teachers so that they can say the words lesbian, gay, bisexual or transsexual without fearing that something terrible will happen. We are looking to make sure that young people are using the word gay in the right context. So if your pen runs out or your mate falls off their chair. Are they gay? No. We talk about different families. One in 10 people identify as LGBT, so every single child in a class will know someone who is LGBT."
But problems remain. The NUT, which is the largest teaching union, last month passed a motion recognising that trans teachers were still "a very isolated, almost invisible minority who experience significant and often life-changing discrimination". Delegates, who heard that trans teachers are often forced out of the profession, passed a motion remembering Lucy Meadows, who committed suicide shortly after transitioning as a woman.
According to a 2007 report by Stonewall, the gay and lesbian lobbying organisation, 65 per cent of young lesbian, gay and bisexual pupils have been the victims of bullying. Meanwhile, 98 per cent of young gay people have heard homophobic phrases such as "that's so gay" or "you're so gay" in school.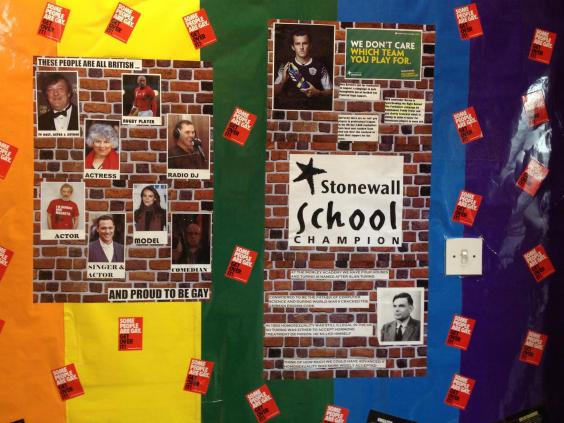 A follow-up study in 2012 found that, while bullying levels had dropped to 55 per cent, homophobic language was even more widespread, with 99 per cent of gay youngsters complaining of it.
Another Stonewall report into teachers in 2009 found that eight in 10 secondary-school teachers and two in five primary-school teachers reported hearing homophobic insults such as "poof", "dyke", "queer" and "faggot". Ninety per cent of secondary-school teachers had witnessed children being subjected to homophobic bullying. Activists agree that the problem is a lack of LGBT training for teachers.
In March, a survey by the Teacher Support Network found that nearly 70 per cent of staff in schools did not feel adequately prepared to teach about LGBT identities and equality. This supported the findings of an earlier survey by the NUT and Schools Out, which found that 72 per cent of teachers wanted specific training to help them address homophobia in their classrooms.
Luke Tryl, head of education at Stonewall, the gay and lesbian lobbying organisation that was founded 25 years ago to oppose Section 28, says: "I think that problems remain because teachers often lack the confidence to tackle homophobic language.
"The best work in schools is not just about tackling bullying – although that's obviously important – but is about actively celebrating difference. We need to show young people that LGBT people are an important part of 21st‑century Britain."
Barnes says: "Unfortunately, teachers are not being trained in specific LGBT issues. It should be part of all teachers' initial training. I think all teachers naturally want to tackle these issues, they just lack the confidence to do it.
Peter Tatchell, the human rights campaigner who will speak at Saturday's conference, says that specific equality and diversity lessons should be introduced in schools. Pupils would face exams every year in the subject and their results would have to be declared on their university or job applications.
He says: "No child is born bigoted. Some become bigoted as a result of exposure to bigoted adults and peers. Education can help prevent that. To combat intolerance, bullying and hate crime, education against all prejudice – including racism, sexism, homophobia and transphobia – should be a mandatory subject in every school.
"It ought to start from primary level onwards, with no opt-outs for independent or free schools and no right of parents to withdraw their children. This would help promote understanding and acceptance of difference.
"The lessons should be subject to annual examination, with the results going on each pupil's record, and should have to be declared when applying for higher education and jobs. It is necessary to make them part of the statutory national curriculum and an examination subject, in order to ensure that pupils and teachers take these lessons seriously."
After winning her court case, Roche returned to school last autumn, but left after a term. She is now working to support other transgender teachers across the country.
She says: "I suppose it wrecked my teaching career to take them to court, but I had to do it. We have the Equality Act, and it was important to show that people have to follow the law. You can hate trans people, you can think we are disgusting – but in this country there is a law and you have to follow it."
Reuse content