The Department for Education has "lacked inquisitiveness" in pursuing concerns over extremist infiltration of schools, according to a review conducted by its most senior civil servant.
Chris Wormald, Permanent Secretary at the DfE, said there was "a marked contrast between, for example, how the Department responds to reports of child protection issues and how it has historically responded to reports of potential extremism".
Mr Wormald was ordered by then Education Secretary Michael Gove to carry out an investigation into the DfE's handling of the issue in the wake of the Birmingham "Trojan Horse" affair - where extreme Islamists were accused of plotting to take control of city schools. 
In his report published today, Mr Wormald concludes: "I find that in future the Department needs to be more vigilant, more inquisitive and have more robust systems in place than it has had in the past if it is to play its part in preventing and countering the issues identified in the Clarke report (which revealed the extent to which extremists were running schools in Birmingham)."
As a first step, he announced he was increasing the number of staff to the division tackling extremism in schools by almost half - from 25 to 36 - and allowing it to operate as a semi-autonomous group within the Department with its own director.  It will carry out background checks on new governors and new academy sponsors.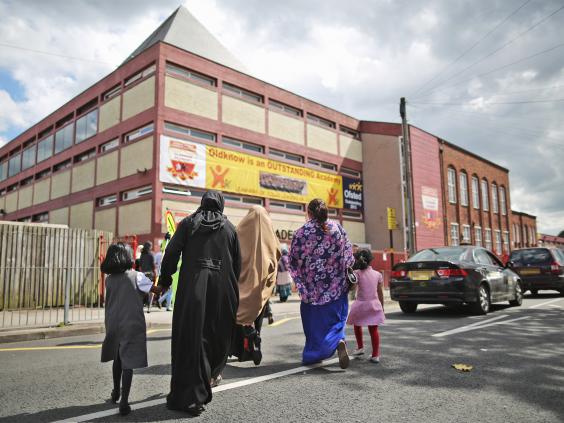 Mr Wormald's report reveals the Department first received information about potential infiltration of school governing bodies in Birmingham way back in 1994 but the complainants - a vicar and three heads of city schools - were told the correct course of action was to raise their fears with the local authority.
"With the benefit of hindsight, it is possible to conclude that a more inquisitive Department might have approached the council directly, given the seriousness of the allegations," he says.
Then, between 2008 and 2010, the Department was told of a difficult relationship between governors and the headteacher of Moseley School in Birmingham.  The governors were removed "on school standards grounds" but Mr Wormald adds: "If a similar question were to be raised about the religious or political views of governors were to be raised now, I would expect the Department to be more inquisitive about whether there were wider problems going beyond the individual school standards issues."
The last case came when a consultant specialising in special education needs  raised concerns about the potential for young people being educated in alternative provision (pupil referral units) to become radicalised.  "The original reply issued by the Department did not address the specific issues in the way it should have done," he adds.
Mr Wormald concludes: "I have found no instances where direct warnings of 'extremism' in Birmingham schools were received by the Department and ignored.
"I have not found any instances where ministers, officials or advisers have acted inappropriately."
Michael Gove's memorable moments
Michael Gove's memorable moments
1/5 Gove 'claims people move to London for "loads of hot sex"'

The Tory politician allegedly made a surprising claim that no doubt led to chair of Tech City UK Joanne Shields spluttering into her coffee when he reportedly explained to her that London's young entrepreneurs have been attracted to the capital because of all of the "hot sex" on offer. Hmmmm.

Getty

2/5 Gove and the #BritishValues backlash

The Twitter sphere decided to educate the Education Secretary on some of the traits actually associated with being British, after it emerged schools would be required to encourage the promotion of "fundamental British values" in the classroom in the wake of the Birmingham "Trojan Horse" investigation. Among the many suggestions were Stuart Brown's summary of: "Being wary of foreigners while having a Belgian beer with an Indian curry in your Spanish villa wearing Indonesian clothes." LBC presenter James O'Brien meanwhile suggested "queuing; dressing inappropriately when the sun comes out; warm beer; winning World Wars; immigration & Pot Noodles" could be placed within the British Values bracket, while "socks and sandals" and "complaining about immigration" have proved relatively popular.

PA; E+; Getty Images

3/5 Gove performs Wham! rap to school children

As part of the BBC's News School Report project, school children were given the opportunity to interview Mr Gove, who claimed to be a fan of rap music. When asked by one girl if he would give them "a taster of your favourite rap", he responded with an impromptu performance of a Wham! song, complete with bobbing, fist clenching and the lines: "Hey everybody look at me, I've got street credibility. I may not have a job but I have a good time with the boys I meet down on the line."

4/5 Gove is filmed falling over in a Vine

The (very blurry) moment Gove was filmed falling over before hurriedly climbing back up and walking off in a Vine quickly went viral.

5/5 Gove poses for selfie with school children

In a trend that stubbornly refuses to disappear, Mr Gove decided to jump on the bandwagon by posing for a selfie – although he did apparently warn the children to "watch out that he didn't break the camera".

Getty
However, he adds: "In general, my review has found that  ... the Department has historically show less willingness to follow up specific allegations relating to individual schools than I would expect to be the case now."
In a written Parliamentary statement about the report, Education Secretary Nicky Morgan said she endorsed all the findings of the report - accepting procedures could have been tighter than they were.
Russell Hobby, general secretary of the National Association of Head Teachers, said: "Key lessons still need to be learned and changes need to be made.
"No central government department can or should police the entire education system for extremism ...  Where school leaders are taking the brave and difficult step of reporting their concerns, they have a right to expect a proactive response from the Department and other agencies."
Mr Wormald's report is the latest in a long line of inquiries into the "Trojan Horse" affair which stemmed from a letter outlining plans for hard-line Islamists to take over the running of schools.  The letter was widely regarded as a fake but a subsequent investigation by education standards watchdog Ofsted led to five schools failing their inspections.
Reuse content