One of the vehicles used by internet giant Google to gather images for its Street View service has been put out of action after it was attacked by revellers at a famous tomato-throwing festival.
The car, which is fitted with video cameras and other electronic equipment, had filmed the empty streets of Buñol, Valencia, in the hours before the 2015 Tomatina festival was due to take place.
It returned to the areas after the tomatoes had been thrown, hoping to follow a cleaning lorry and document the tomato-strewn aftermath, it was reported by Yahoo News, who referenced Spanish newspaper El Pais.
But the car came under heavy attack by tomatoes, having its cameras knocked out, mirrors and windscreen wipers destroyed, and body dented.
Este es el coche de Google que pretendía grabar la experiencia de la #Tomatina2015. Pero la gente es así... pic.twitter.com/dAkWkvNAfN

— Ainhoa (@noaanswers) August 26, 2015
The Google employees working in the car were not injured.
Users on social media posted pictures of the car covered in tomatoes.
The Tomatina festival, which was started after villages spontaneously had a fight with tomatoes in 1945, is celebrating its 70 anniversary this year.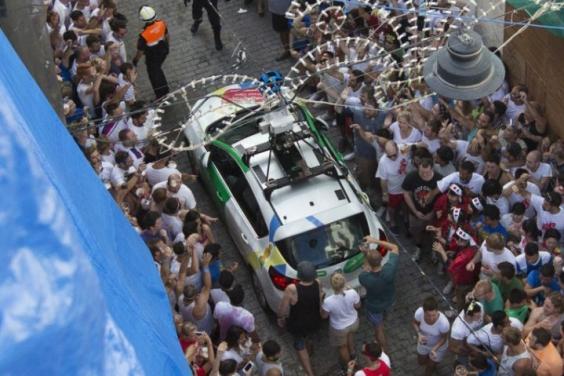 It now draws 22,000 partygoers every year with hundreds of thousands of kilogrammess of tomatoes thrown.
A spokesperson for Google told the Independent: "Our Street View team was at Spain's Tomatina festival to collect imagery of the tomato lined streets after the event had finished.
"Unfortunately there were a number of people still present when we arrived and our car was caught up in the revelry, where it sustained some damage."
The ubiquity of Google's Streetview vehicles means they often capture unusual sights.
In one incident reported earlier this year, a US woman was attested after flashing her breasts at the car. In an other case this summer, it reportedly informed a woman that her husband had not quit smoking after picturing him with a cigarette.
Reuse content