A baby boy suffering from a rare genetic condition "deserves a chance" to be taken to the US in a final attempt to save his life, his parents have said.
The parents of Charlie Gard pleaded with a High Court judge to overrule doctors who say it is time to stop providing life support to the eight-month old.
Doctors at Great Ormond Street Hospital in London say Charlie, who suffers from a rare genetic condition and has brain damage, should move to an end-of-life care regime.
But his parents Connie Yates and Chris Gard, both in their early thirties, disagree and want to be allowed to take him to a hospital in the US where they hope he can be treated.
"My son is the apple of my eye and I would do anything for him and I want to give him a chance," Mr Gard, a postman from Bedfont in west London, told judge Nicholas Francis.
"He deserves a chance. It doesn't mean he should have to die because he will not be like another little boy running around."
Mr Justice Francis has been asked to decide what is in Charlie's best interests in the High Court battle, which began on Monday and continues on Friday.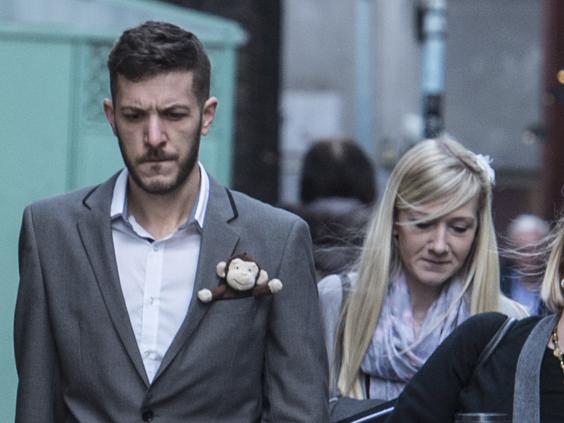 Charlie, who was born on 4 August 2016, has a form of mitochondrial disease, a condition that causes progressive muscle weakness.
A specialist from the children's hospital said Charlie's condition had "deteriorated hugely" since he came to the hospital.
"The disease has affected his brain to the extent that he is completely ventilator-dependent," said the doctor. "This situation is not a tolerable one to leave a child in."
Mr Gard and Ms Yates said Charlie experienced pleasure and was not in pain, and said he should get treatment to see whether his condition can be improved.
They have raised £1.2m through more than 34,000 donations by setting up a crowdfunding campaign to help take their son to the US.
Mr Gard said he believed a treatment trial proposed by US doctors could work, saying: "If there is no improvement we will let him go".
Ms Yates also asked for Charlie to be "given the chance" to try the pioneering treatment. "If I thought for a moment that Charlie was in pain or suffering I would not fight for that life to be extended," she said.
Great Ormond Street Hospital's history
Great Ormond Street Hospital's history
1/10

'Treating rickets, 1920': This image of two children in protective eyewear in front of an ultraviolet screen was used in the 1930s to encourage donations to the hospital's redevelopment

2/10

The Children's Hospital School, which had opened with just one teacher, 1951

3/10

Staff and patients celebrate Christmas on Dresden Ward, which opened in 1893 after a large endowment from a London businessman

4/10

'Lady Folkestone cot, 1880s' shows a child in a bed with the name of the viscountess who sponsored her cot. The idea of cot sponsorship had begun just over a decade earlier, in 1868

5/10

Mrs Francis Willey, the hospital's first matron, appointed two months before GOSH opened, 1851

6/10

The hospital's nurses' home, 1914

7/10

An operating theatre, circa 1930

8/10

Patients with lung conditions or infectious disease were wheeled on to the balcony for fresh air, 1920s. 'Images such as the balcony scene would have been used to show that the buildings were becoming antiquated and in need of replacement,' says Baldwin. 'The idea was to encourage people to donate towards maintenance, which was a constant concern.'

9/10

The RAF Cranwell cot, funded from 1920 by a base in Lincolnshire

10/10

GOSH acquired its first X-ray machine in 1903
Mr Gard had given evidence with a toy monkey that belongs to Charlie protruding from the top pocket of his jacket.
"Mitochondrial depletion syndrome is very rare, Charlie is the 16th reported case with this condition worldwide. We believe that with your help we can save Charlie and others like him," his parents wrote on their crowdfunding page.
"[Charlie] was born perfectly healthy but then he started to decline. We took him into hospital at eight weeks old and none of us have been anywhere near home since.
"We have been with Charlie day in, day out and watched our poor baby get weaker and weaker, he now needs a ventilator to breathe but we have never lost hope throughout all this time."
The US doctor who would give Charlie experimental treatment has called the case "unchartered territory" and said the therapy would be "treatment but not a cure", reported the BBC.
"Charlie may be able to interact," he said. "To smile. To look at objects."
Additional reporting from Press Association
Reuse content