BT has backed The Independent's Christmas Appeal by committing to provide the phoneline for Centrepoint's new Young and Homeless Helpline for free for its first three years.
The amazing generosity by the communications provider means that even more of the funds raised can now be directed to helping run the service, and to funding the support programmes needed by the young people who turn to it for help.
The telecoms company's support includes a specially created Freephone number which can be accessed by vulnerable young people at no cost.
"BT understands the power of information," said Niall Dunne, the telecom giant's Chief Sustainability Officer. "That is why we are delighted to be supporting this appeal by providing Centrepoint with its new helpline for the first three years.
"The helpline will help ensure young people at risk receive the information they need when they need it – and stop them ending up sleeping on the streets. BT is proud of the work it does to help those in need and is delighted to be supporting this project this Christmas."
As well as providing the helpline free of charge for three years, the operator has promised to assist in spreading awareness of the helpline through the web and other outlets, thereby publicising news of the service to those young people who might otherwise risk ending up on the streets.
It is part of BT's commitment to helping improve the lives of hundreds of millions of people around the world through the company's pledge to help raise £1bn for good causes by 2020.
BT's backing was hailed by Centrepoint, which is behind the new Young and Homeless Helpline, as a massive step towards turning the project into a reality.
"This means we now have the cost-effective infrastructure and expertise we need to make the Centrepoint helpline a reality," said Seyi Obakin, chief executive of Centrepoint.
The causes of homelessness
The causes of homelessness
1/7 Family Breakdown

Relationship breakdown, usually between young people and their parents or step-parents, is a major cause of youth homelessness. Around six in ten young people who come to Centrepoint say they had to leave home because of arguments, relationship breakdown or being told to leave. Many have experienced long-term problems at home, often involving violence, leaving them without the family support networks that most of us take for granted

2/7 Complex needs

Young people who come to Centrepoint face a range of different and complex problems. More than a third have a mental health issue, such as depression and anxiety, another third need to tackle issues with substance misuse. A similar proportion also need to improve their physical health. These problems often overlap, making it more difficult for young people to access help and increasing the chances of them becoming homeless

Getty Images/iStockphoto

3/7 Deprivation

Young people's chances of having to leave home are higher in areas of high deprivation and poor prospects for employment and education. Many of those who experience long spells of poverty can get into problem debt, which makes it harder for them to access housing

Getty Images/iStockphoto

4/7 Gang Crime

Homeless young people are often affected by gang-related problems. In some cases, it becomes too dangerous to stay in their local area meaning they can end up homeless. One in six young people at Centrepoint have been involved in or affected by gang crime

Getty Images/iStockphoto

5/7 Exclusion From School

Not being in education can make it much more difficult for young people to access help with problems at home or health problems. Missing out on formal education can also make it more difficult for them to move into work

Getty Images/iStockphoto

6/7 Leaving Care

Almost a quarter of young people at Centrepoint have been in care. They often have little choice but to deal with the challenges and responsibilities of living independently at a young age. Traumas faced in their early lives make care leavers some of the most vulnerable young people in our communities, with higher chances of poor outcomes in education, employment and housing. Their additional needs mean they require a higher level of support to maintain their accommodation

Getty Images/iStockphoto

7/7 Refugees

Around 13 per cent of young people at Centrepoint are refugees or have leave to remain, meaning it isn't safe to return home. This includes young people who come to the UK as unaccompanied minors, fleeing violence or persecution in their own country. After being granted asylum, young people sometimes find themselves with nowhere to go and can end up homeless

Getty Images/iStockphoto
At present some 150,000 young people approach their councils each year because they are either homeless or at risk of homelessness. Many are turned away with little or no support, or have no idea where they can go.
The helpline will be the first national service to give them the assistance they need with trained operators helping provide the support they so urgently need.
A pilot programme is now in operation in London to test out the equipment behind it, ahead of the national roll out scheduled for 13 February. Google.org has been working with the Centrepoint to produce the database of contacts which will help fuel it.
Mr Obakin, Centrepoint's head, said that though BT's support was a massive step, more was needed if the February launch date is to be met.
"BT has joined the legion of Independent readers who have already come out and given to the campaign and refused to stand by as the cold winter closes around those homeless young people in dire need of our help," he said.
"But we cannot congratulate ourselves yet. We remain a long way from our goal of raising the money that will enable us to provide a vital service for young people who are facing or experiencing homelessness. But we can – and I know that together we will get there."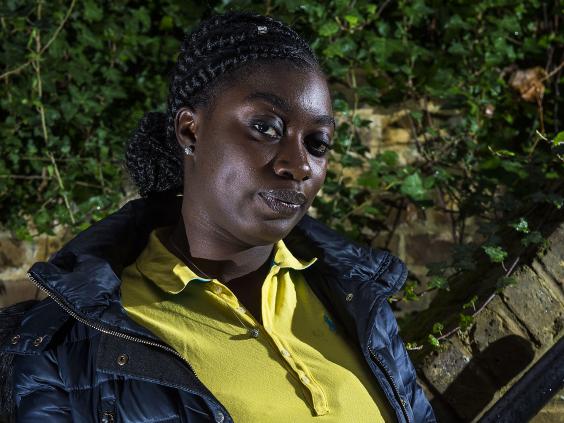 'If only the helpline had been there when I was homeless'
Andrea Brown can't remember what she did for her 18th birthday.
It was, she explains, such a non-event for her that she can't remember how it passed. But she can remember how she felt: "Frightened," she says. "And completely alone."
Having been pushed into homelessness by family breakdown and bitter arguments with her parents aged 17, she felt trapped in a seemingly endless cycle of sofa surfing.  
When she had to move on from one friend's flat and couldn't find another sofa to sleep on, she would seek shelter from the streets in nightbuses, or in a 24-hour McDonald's in Catford, south-east London.
"It was really hard and scary," she admits. "I was feeling fear, uncertainty. I didn't have much hope. I could only see negativity.
"I was frightened and didn't know who to turn to and what support to get."
Which is why, her life now turned around with the help of the youth homelessness charity Centrepoint, Andrea, 20, is so keen to support Centrepoint and The Independent's campaign to raise funds for a national helpline for young people facing homelessness.
"I didn't give up but others might," she explains. "The helpline then would have been amazing. The helpline will be vital. I'm sure it will help so many people who need it."
Even while enduring homelessness, Andrea who hopes one day to set up her own retail fashion outlet, persisted with her studies for a B-Tech in business.
With the help of another homeless charity, she was, eventually, able to move into a bedsit – but it was, she says, "freezing and unsafe".
Refusing to give in, battling anxiety and depression, Andrea kept studying for her B-Tech and working in high street chains to support herself. 
Her breakthrough came in 2014 when she found Centrepoint, which moved her into safer accommodation.
Then, with the charity's support, she was able to move into her own privately-rented flat last month, and has succeeded in getting a place studying international business at university next year. 
"They gave me so much support and advice," she says. "They have help for everything."
If only, she adds, "I had the opportunity from the start just to call Centrepoint, rather than everything I went through..." 

How to donate to The Independent's Christmas Appeal
The Independent's Homeless Helpline appeal is raising money for the Centrepoint Helpline, a brand new support service that will save young people from ending up on the streets. 
To donate you can: 
Call
0300 330 2731
Text
HOME66 £5 to 70070
Post
Freepost RTKC-JRGU-ZYGT
Centrepoint
40-42 Phoenix Court
Hawkins Road
Colchester
CO2 8JY
Go online
www.independent.co.uk/homelesshelpline