The BBC journalist who wrongly announced on Twitter that Queen Elizabeth had been taken ill will face a disciplinary investigation following the error.
A rogue tweet from BBC Urdu reporter Ahmen Khawaja's account prompted a global news alert and was picked up by CNN Newssource's Twitter feed, as well as German newspaper Bild and the editor of India's Hindustan Times.
It was sent during a regular rehearsal by the BBC for royal deaths. However The Telegraph reported that Khawaja was not taking part and appeared to have misinterpreted the exercise as breaking news.

Khawaja, a 31-year old presenter and multimedia producer who has worked at the BBC for a year, also issued a "breaking news" tweet which claimed: "#Queen Elizabeth is being treated at King Edward 7th Hospital in #London. Statement due shortly."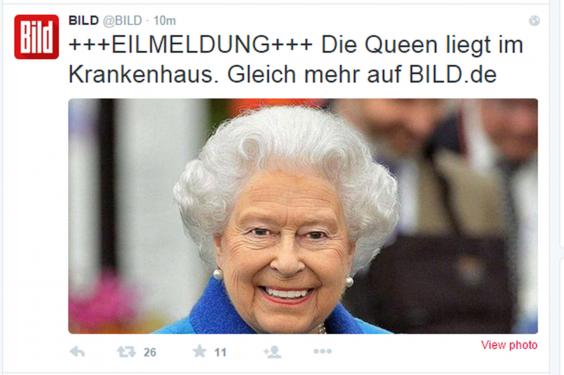 In a rare move, Buckingham Palace issued a statement to confirm the Queen was in good health, as usual protocol is to refuse comment on speculation regarding the health of the Royal family.
By sheer coincidence it emerged that the Queen had paid a private medical visit to the King Edward VII Hospital in London for a routine check-up, on the day the erroneous tweet was posted.
Khawaja initially said that the post had been a "false alarm". A second tweet read: "Phone left unattended at home. Silly prank, Apologies for upsetting anyone! [sic]"
However the last tweet has since been deleted.
The BBC said in a statement: "During a technical rehearsal for an obituary, tweets were mistakenly sent from the account of a BBC journalist saying that a member of the Royal Family had been taken ill. The tweets were swiftly deleted and we apologise for any offence."
The BBC confirmed to The Independent today that an investigation as part of the corporation's disciplinary process will now take place.
Reuse content