For 25 years The Onion has been skewering contemporary America and its journalism with satirical headlines from "CIA Realizes It's Been Using Black Highlighters All These Years" to "Drugs Win Drug War".
Now it is making headlines on the web and print pages of the media it so often mocks, amid questions over whether the website that proclaims itself "America's Finest News Source" is up for sale.
Following a number of approaches this year, Onion Inc, the company that owns the site, has called in boutique investment bank GCA Savvian to consider its options.
As well as the flagship brand of The Onion, the group also owns the non-satirical arts and reviews site AV Club and the recently launched ClickHole, which parodies so-called click-bait websites such as BuzzFeed.
Onion Inc chief executive Steve Hannah sent a memo to staff, according to Bloomberg, saying the company had been in "a nice growth mode for the past 18 months, and that never fails to attract attention". He admitted the interest ranged from investment in the group to an acquisition.
"We have had follow-up conversations with numerous parties in recent months," he wrote. "Our advisers will continue to have those conversations and, hopefully, they will lead to the right income."
The company's sites receive nearly 30 million unique visits a month, according to data company Quantcast, and the speculation is that traditional media groups are looking to invest in new media companies. Vice Media this year raised $250m (£160m) from cable channel A&E, which put the whole company's valuation at $2.5bn.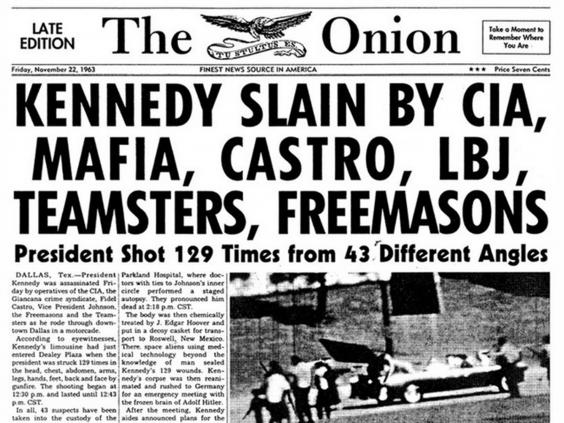 It is not the only comedy site to explore its options. Funny or Die, co-founded by Will Ferrell, which includes episodes of Between Two Ferns with guests including Brad Pitt and Barack Obama, has also called in bankers to advise on its options.
Dick Glover, the website's chief executive, sent a memo to staff in the wake of rumours, saying: "We are not trying to sell Funny or Die, but we thought it wise to engage some experts to help us evaluate the situation."
He added: "In the meantime, if any of you mistakenly receive a briefcase full of cash, please bring it to my office immediately."
The Onion was founded in 1988 as a print magazine by Tim Keck and Christopher Johnson, two students at the University of Wisconsin in their twenties, who sold it a year later for $16,000.
The name was inspired by the founders' lunches of raw onion sandwiches at the lowest points when the magazine was making no money.
It was bought by Onion cartoonist Scott Dikkers and publisher Peter Haise, who expanded the operations and in 1996 launched a website that would become hugely popular.
Fund manager David Schafer bought the group in 2003 and it has expanded into online broadcasting with the Onion News Network.
The Onion stopped its print edition last year, which had been distributed to 17 cities around the US.
Shortly after Mr Obama became US President, The Onion ran a news in brief with the headline: "Black Man Given Nation's Worst Job."
Reuse content