In an orange party dress and with not a hair out of place, Oprah Winfrey came clapping and jumping on to the stage at the Jazz at Lincoln Centre auditorium in New York on Thursday as the final act of a television industry event which rivalled the shows on nearby Broadway.
She summoned the singer Toni Braxton from the wings to talk about her lead part in My Name is Love, the new musical drama on OWN (the Oprah Winfrey Network) and unveiled an epic religious series for next year called Belief, which the First Lady of American media said was "the reason I put my name on the channel".
But it wasn't Oprah's gig and she was preceded on stage by a succession of other big names, from film director Ron Howard to comedian Roseanne Barr. This was "Keep On Discovering", the 2014 edition of the annual "Upfront" presentation by Discovery Communications, when the biggest pay-TV programme provider in the world sets out its stall to its advertisers.
I was sitting about 10 rows from the stage. Discovery is seen as the front-runner among potential buyers of Channel 5, for which Richard Desmond is asking £700m. If it were to complete such an acquisition, it would undoubtedly be in a position to transform the terrestrial TV market in the UK and offer a formidable challenge to the BBC, ITV and Channel 4.
Not everything in the Discovery show reel has obvious public-service quality; Deep Fried Masters is a celebration of fatty food which cocks a snook at the obesity crisis, while another show about loggers carries the battle cry: "Out of those woods there's money to be made". But Discovery does champion science programming, it has campaigned to end whaling, and it has deployed basketball star Yao Ming to front a project to save the rhino.
The president and chief executive for the past seven years, David Zaslav, is a remarkable character who hosts "Upfront" by appearing in a series of filmed clips alongside his head of advertising, theatrically discussing the company's growth on camera in a downtown cafe as if they were part of the acting talent. There's a level of confidence you just don't see in British TV. And when Oprah takes her bow she gives "David" a name check.
OWN is one of 14 Discovery channels in the US. In the UK, its shows are broadcast via Sky and Virgin Media on the women's network TLC, one of Discovery's most important brands.
It is 25 years since it launched its international business, arriving in British homes with the onset of satellite TV and expanding to a global reach of up to 2.5 billion subscribers in 220 territories. Owned by media magnate John Malone, Discovery has been pouring money into acquisitions – from Nordic broadcaster SBS to French-based Eurosport – and ambitious content.
It wants more of the "event television" embodied by Nik Wallenda's Skywire tightrope crossing of the Grand Canyon last year. With Wallenda dressed in a Discovery T-shirt and insisting on no ties or safety net, the live event – filmed by multiple cameras and trending worldwide on Twitter – had the capacity for personal tragedy and corporate disaster. Wallenda – whose grandfather died on the high wire – appeared at Thursday's "Upfront" to announce that his next trick would be Skyscraper Live, a journey between the highest towers of Chicago, the notoriously Windy City.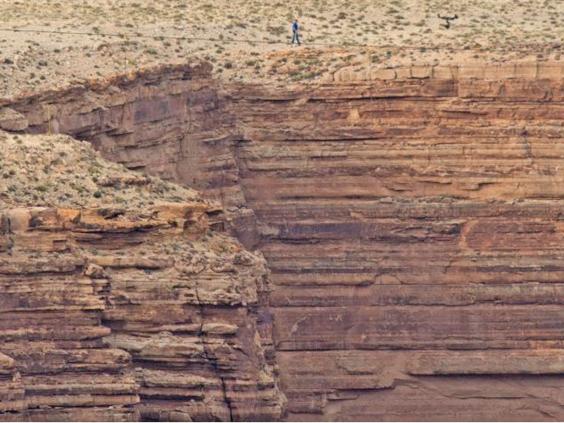 In terms of derring-do, he faces competition from other Discovery presenters. Joby Ogwyn will next month attempt to be the first man to base-jump from the summit of Everest, descending 10,000 feet at a rate of 150mph in a wing suit. I assume that Discovery executives have not scanned YouTube for the British Pathé footage of pioneer skydiver Franz Reichelt, who fatally plummeted from the Eiffel Tower in 1912 in his own prototype wing suit. He left such a crater in the ground that bystanders measured its depth with a ruler.
Discovery relentlessly seeks to broaden its reach. As the pay-TV platforms on which its channels sit in the UK reach only 56 per cent of homes, big events are important. "It's hard," says Susanna Dinnage, Discovery's UK head. "You have to be bold, your ideas have to be bigger and you have to be first."
One of Discovery's biggest stars is British presenter Ed Stafford who, having walked the length of the Amazon, persuaded Dinnage to leave him stranded on a desert island for 60 days "with nothing at all, not even a stitch of clothing" in Naked and Marooned. There are many other British voices on Discovery. Presenter Bear Grylls is almost a pastiche of the TV survival genre. "What Bear eats, Bear has killed," I'm told curtly. The scatty English eccentric Anthony Archer-Wills landscapes breath-taking garden ponds in Pool Master and car salesman Mike Brewer fronts Wheeler Dealers. Both are transatlantic stars.
Dee Forbes, who leads Discovery in Western Europe, says the company is working with 70 British production companies and the UK is its international hub. The UK headquarters in west London has doubled staff to 1,200 in two years. Jean-Briac "JB" Perrette, new president of Discovery Networks International, is relocating there this year.
It owns British independent companies Raw and Betty and wants more UK content. TLC will shortly launch The Charlotte Crosby Experience, in which the winner of Channel 5's Celebrity Big Brother and star of MTV's Geordie Shore will travel the world, riding an Indian elephant and meeting geishas in Japan.
At "Upfront" I had the pleasure of meeting June Shannon, famous to TLC viewers as the mother of Alana "Honey Boo Boo" Thompson, star of global TV phenomenon Here Comes Honey Boo Boo. The family reality show grew from US TV's fascination with children's pageant shows (rather like the endless "gypsy" shows on British TV). Ms Shannon told me that the Daily Mail's obsession with the show online has helped drive interest worldwide.
It is not a modern remake of Kenneth Clark's Civilisation, but it is the type of hit that Channel 5 would kill for. We may yet see it on that platform. Discovery's biggest UK adventure could be about to begin.
Reuse content