Except perhaps to the writers of horoscopes, it wasn't the most predictable piece of evidence about newspapers presented in the phone-hacking trial at the Old Bailey.
When ex-News of the World editor Andy Coulson was asked why the £105,000 annual contract paid to private investigator and phone-hacker Glenn Mulcaire's company did not make him curious about the service provided in return for such a large sum, Coulson shrugged and said that it wasn't a lot of money in the business, adding: "We paid double that, I think, to the astrologer."
Coulson's revelation that the NOTW paid Margaret Lake aka Mystic Meg more than £200,000 a year to read the cosmic runes revealed how important horoscopes are considered to be by some newspapers, and the large financial return is something Fleet Street's longest serving astrologer, Jonathan Cainer, is happy to discuss. Cainer – the Daily Mail's stargazer since 2004 and before that soothsayer-in-chief for the Daily Express, Daily Mirror and the now-defunct Today – says his horoscopes earn him a turnover of £2m a year.
The Mail column is syndicated to newspapers in Australia, South Africa, Japan, India and Bali, while Cainer's website receives 40,000 page views every day and is estimated to earn him around £70,000 a year. The real moneyspinner, however, is his premium rate phone line, earning sums that read like, well, telephone numbers. Cainer's costs 77p a minute and is now so successful that he no longer charges the Mail for writing horoscopes. Instead, he prefers to take the income from phone line advertising.
The money has allowed him to build up a property portfolio that includes a £1m-plus manor house in rural North Yorkshire, which he rents out, and a prime site in one of York's main medieval streets, Stonegate, now run as a kind of museum of ghosts called The Haunted House. It's a long way from his early days as an afro-haired hippie living in a squat in Tufnell Park, north London, when he was branded one of Britain's top 10 anarchists by the Daily Express for helping to organise the infamous free Watchfield rock festival in 1975, which was eventually broken up by police.
Hacking trial: The verdicts in full
Hacking trial: The verdicts in full
1/7 Rebekah Brooks

The former News of the World editor and News International chief executive has been cleared of conspiracy to hack phones; misconduct in public office for allegedly signing off payments to a Sun journalist's 'number one military contact' between 2004 and 2012; conspiracy to pervert the course of justice after seven boxes were allegedly removed from the NI archive just days before 2011 arrests

2/7 Andy Coulson

Former News of the World editor and Downing Street spin doctor guilty of conspiracy to hack phones from 2000 to 2006. The jury failed to reach a majority verdict on charges of conspiracy to commit misconduct in a public office by allegedly paying police officers for two royal directories. He could face a retrial.

3/7 Stuart Kuttner

Retired managing editor cleared of involvement in phone-hacking conspiracy spanning six years

Reuters

4/7 Cheryl Carter

Brooks' former personal assistant, cleared of conspiracy to pervert the course of justice by removing seven boxes from the News International company archive just days before she was arrested in 2011

5/7 Charlie Brooks

Racehorse trainer and Rebekah Brooks' husband, cleared of perverting the course of justice around the time of police searches in July 2011

6/7 Mark Hanna

Former News International director of security, cleared of perverting the course of justice

7/7 Clive Goodman

The former News of the World royal editor, could face a retrial after the jury failed to reach a verdict on charges of committing misconduct in public office for allegedly paying police officers for two royal directories
After 18 months working in Los Angeles, latterly as a nightclub manager, his career in astrology was kick-started back in London by £40-a-week payments from Margaret Thatcher's Enterprise Allowance Scheme while he wrote a horoscopes program for the first generation of home computers.
Cainer currently lives on the outskirts of York in the sort of comfortable middle-class suburbia you imagine to be the natural habitat of Daily Mail readers, and dictates his horoscopes to a secretary by phone while walking in nearby fields. His predictions may earn up to £2m a year, he says, but the editing and dissemination operation has a staff of more than 30 people.
Churning out daily, weekly, monthly and annual horoscopes plus tailor-made predictions for individuals based on their date, place and time of birth requires him to work a 70-hour week.
"It's like being on an ermine-lined hamster wheel. Everything's fine as long as the wheel keeps turning, because I work only a few days in advance. This morning I was working on something that people will read in the middle of next week. So if I stop pushing the wheel, the world will get to know pretty fast."
Cainer was the first newspaper astrologer to negotiate the right to annual holidays, and recalls the reaction of horror from the Mail's editor Paul Dacre when he made the request. "It was a classic Oliver Twist moment. 'A holiday? But you're furniture [newspaperspeak for fixed features such as crosswords, cartoons and weather forecasts]. The furniture doesn't get holidays.'" Eventually Dacre relented, however, and Cainer gets three weeks off a year while another astrologer deputises.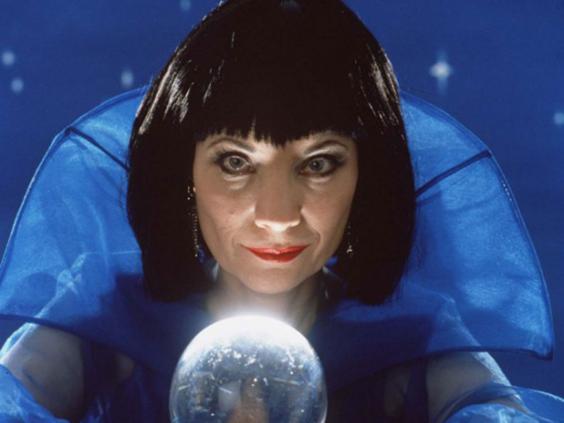 "OK, the Daily Mail may not reflect my personal political views," he says, tiptoeing across the minefield of why a one-time hippie revolutionary works for a right-wing newspaper, "but it sells copies in a huge volume because its editor, Paul Dacre is a one-off. There is no one else like him. He's a magician, every bit as intuitive as any astrologer."
Like other top newspaper columnists, Cainer has earned the right to have barbed wire surround his horoscopes to keep out the blue pencils of sub-editors. "Actually, there isn't just barbed wire but also machine-gun towers and tank traps," he says, laughing. "I work to a fixed length, but when I first started back in the 1980s, that wasn't the case. The subs at Today had been recruited from the lofty ranks of the broadsheets and found that they were required to edit the work of the lowly astrologer.
"I don't know whether to put it down to malice or what, but one sub decided to make my horoscopes fit a space by editing down that day's prediction for Sagittarius. I'd written at some length to explain what I thought would be important, but poor old Sagittarius's prediction was shortened to just one sentence – 'Nothing much will happen today.'"
Cainer claims to have been in the business of hacking before the term became known in newspapers. "The only difference is astrologers like me hack into the cosmic lines of communication. Our job is to find out on behalf of newspaper readers whether the outlook for them is good or not.
"I think the ethical standpoint that we astrologers come from, as we attempt to divine the mind of the universe, is somewhat better than that of anyone who has hacked phones."
Reuse content