Panic spread about the Queen's health this morning after a BBC journalist's tweet claimed that she had been admitted to hospital.
Ahmen Khawaja quickly deleted a post claiming that the monarch had been admitted to King Edward VII's Hospital in London.
"False alarm to Queen's death!" it said. "She is being treated at King Edward 7th hospital. Statement due shortly."

Ms Khawaja has since apologised for upsetting anyone and said the "silly prank" happened when she left her phone unattended at home.
But the retraction was not quick enough to stop the story spreading across the world on Twitter and being picked up by international news sources.
CNN Newsource, an affiliate of the US broadcaster which claims to use its "worldwide resources…to give you a dynamic newscast", sent out the claim.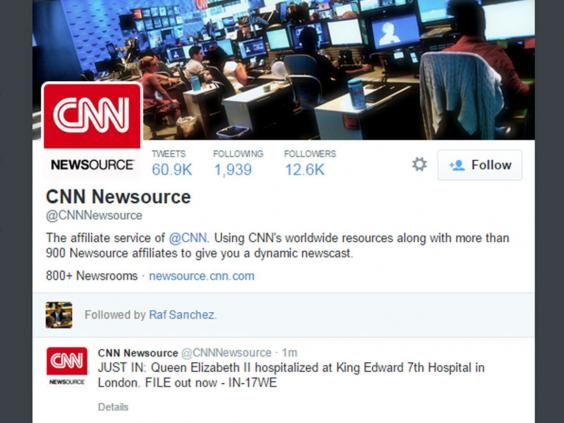 "JUST IN," its tweet read. "Queen Elizabeth II hospitalised at King Edward 7th Hospital in London."
The message was deleted and followed by an apology reading: "Affiliates, please disregard our previous tweet about Queen Elizabeth. It was sent in error."
Influential German tabloid Bild also sent out a tweet with the "breaking news", containing a link to its website.
A spokesperson for Buckingham Palace said the Queen had attended the hospital  "very briefly" on Wednesday morning but was not ill.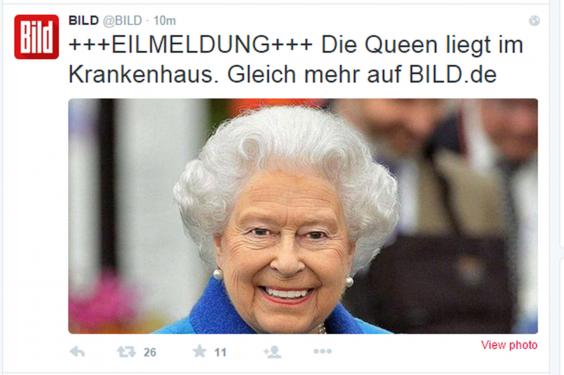 He told The Independent: "I can confirm that the Queen this morning attended her annual medical check-up at the King Edward VII's Hospital.
"This was a pre-scheduled appointment and the Queen has now left the hospital."
Aides do not routinely release information about the royal family's medical care as it is considered private but the Palace decided to issue a statement to dispel the Twitter rumours.
Still alive and kicking: Famous people social media tried to kill off
Still alive and kicking: Famous people social media tried to kill off
1/10 Jeff Goldblum

The actor, famous for his roles in The Fly and Jurassic Park suffered a fatal fall from a cliff while filming in New Zealand in June 2009 - or so Australian news show Today would have you believe. The show had got their information from the latest Twitter frenzy for celebrity deaths following on from the recent genuine death of Michael Jackson, but assured viewers that their story was confirmed by New Zealand police.

Getty Images

2/10 Pope Benedict

While there is strict ritual and ceremony to be followed to confirm the death of any pope, this did not seem to matter to thousands, who believed a tweet from 'Cardinal Tarcisio Bertone', the papal number two, announcing the passing on of the then Pope Benedict XVI in 2012. The tweet was later revealed to be from Tommaso De Benedetti, a Roman school teacher, who says he pulled the hoax to expose the weakness of social media.

Getty Images

3/10 Adam Sandler

The comedian should really give up snowboarding. The actor has been the victim of various hoax reports announcing his death, each time in a similar accident involving a snowboard and a tree. Rebutting the rumours on The Tonight Show with Jay Leno, Sandler assured viewers "If I do die it will be in America and I won't be on a snowboard, I will either be on a toilet or hanging from a belt naked."

Getty Images

4/10 Zach Braff

In 2007, Scrubs actor Zach Braff became an unfortunate victim of nothing but his own undoing. He set up a website announcing that he had committed suicide, in order to film his friends' reactions. In 2009, Braff was again the subject of an internet death hoax. New Jersey resident Chris Laganella kick-started a rumour about the actor's death, forcing Braff to put out a video on YouTube confirming his wellbeing.

Getty Images

5/10 Miley Cyrus

She once sang "I can't be tamed", but it also seems American singer Miley Cyrus can't be killed off by an internet rumour either. In September 2008, Reuters reported that the then 15-year-old star had died in a car accident, while later that year someone hacked her YouTube page to announce that she had died after being hit by a drunk driver.

Getty Images

6/10 Gotye

The Australian singer's friends and family were concerned that Gotye had become "somebody they used to know" in July, when CNN's iReport - the channel's social news network - reported that he had shot himself in the head in 2012. Gotye quickly took to Twitter to deny the report, while bandmate Tim Shiel joked "It saddens me to confirm the news of Gotye's passing - he suffered cardiac arrest while flying a unicorn over a double rainbow".

Getty Images

7/10 Kanye West

In one of his most famous hits, he said "Jesus walks with us", but according to Reuters in 2009, it was the rapper who was walking with Jesus, when it reported that he had been killed in a car crash. With Kanye being one of the world's biggest performers, this soon caused chaos on Twitter, leading to his less-than-amused then girlfriend at the time Amber Rose to take to the site exclaiming: "This 'RIP Kanye West' topic is not funny and it's NOT TRUE!".

Getty Images

8/10 Neil Young

Following the death of moon-walker Neil Armstrong at the weekend, NBCNews.com mistakenly reported "Astronaut Neil Young, first man to walk on moon, dies at age 82". The headline was amended within seven minutes, with sources confirming the 66-year-old Canadian musician is still rocking like a hurricane.

Getty Images

9/10 Skrillex

The dubstep DJ formerly known as Sonny Moore was the victim of several death pranks over the past year, including one alleging a cocaine overdose. In each occasion the producer everyone love to hate has had to take to Twitter to deny reports, and confirm that he is still alive and - unfortunately for some - making music.

Getty Images

10/10 Gerard Way

It's not just the micro-publishing power of Twitter that has sparked internet death rumours. With its open-editing platform, Wikipedia is also vulnerable to such pranks, and My Chemical Romance frontman Gerard Way found this out in 2008 when someone changed his entry on the online encyclopedia to confirm his death in a car crash. He later released a statement reassuring fans that he was okay and had not joined the 'Black Parade' quite yet.

Getty Images
The Queen's schedule was not affected by the appointment and she is expected to attend a reception this evening.
A BBC spokesperson said that the mistake happened during a "rehearsal" for the 89-year-old monarch's death.
She added: "During a technical rehearsal for an obituary, tweets were mistakenly sent from the account of a BBC journalist saying that a member of the royal family had been taken ill. The tweets were swiftly deleted and we apologise for any offence."
The spokesperson said she could not comment on how the rehearsal was linked with Ms Khawaja's account of a "prank".
Reuse content