Following the news that The Sun had "scrapped" Page 3 after a long campaign by feminist activists, today's Page 3 – hosted on page 5 – is a celebration of fake breasts.
"Katie Price and Alicia Douvall love a cosmetic op, but haven't put the knife into each other in Celeb Big Brother," it reads.
Although the paper appears to have responded to growing calls from campaigners, pictures of topless women will continue to be available to Sun subscribers online, with a note at the bottom of today's paper directing readers to its website where they can see "Hollie from Manchester".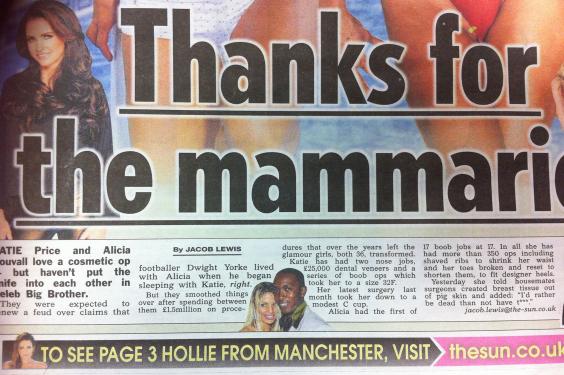 Ending a feature that began in 1970, roughly a year after Rupert Murdoch acquired the paper, The Times said that Friday 16 January's edition of The Sun would be the last to feature a topless woman, claiming that the paper was "quietly" dropping the long-running tradition.
The news received cheers from campaign groups such as No More Page 3, and a backlash from those who were disappointed to see the change to the paper.
Media personality and bodybuilder Jodie Marsh tweeted her disapproval, writing:
So called "feminists" really annoy me. Telling girls they shouldn't do page 3 is NOT being a feminist; women should do WHATEVER they want!!

— Jodie Marsh (@JodieMarsh) January 20, 2015
Don't understand these women trying to ban all page 3 & lads mags. Why don't they fight for something that would actually HELP women? #FGM

— Jodie Marsh (@JodieMarsh) January 20, 2015
On 19 January, actress and model Rosie Huntington-Whiteley starred on the page, while yesterday two Hollyoaks actresses were pictured running in bikinis along a Dubai beach.
Reuse content