The head of the broadcasting network Al Jazeera has distanced it from its Qatari owners and said its coverage of Islamic State (IS) and other contentious stories was "wholeheartedly independent" of the Gulf State.
Al Anstey, Al Jazeera English's managing director, claimed the network operated in "international space" and said: "When you come to the stories about Qatar and Isil [IS] or Qatar and anyone else then we treat Qatar like every other country on that level playing field."
He said the station had covered embarrassing stories for Qatar, including allegations of bribery over the granting of the 2022 World Cup and the Emirate's alleged exploitation of foreign labour.
"We are not there to abbreviate or censor anything we do on Qatar," he said. "Yes we are funded by Qatar. But we were set up with the DNA of Al Jazeera Arabic 18 years ago, as an independent voice in a particularly troubled region."
Mr Anstey was speaking after the Emir of Qatar visited Britain last week and refuted allegations, emanating from the Middle East, that Qatar's oil and gas wealth was funding IS. He visited David Cameron and the Queen, as Qatari officials denied any IS links.
"We showcase our independence every second of every day and if we were ever to deviate one degree off the centre of that then our viewers would and should switch us off," Mr Anstey said at the launch of Al Jazeera's new studios on the 16th floor of the Shard building in London. "We are independent. We often get scrutinised ... and we stand up to scrutiny on every occasion," he said, adding that AJ had been more "careful" than many other broadcasters in limiting coverage of "those awful videos" made by IS of hostages being beheaded for "horrific PR".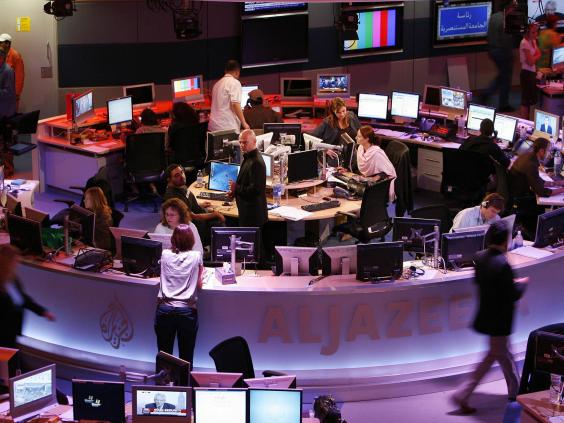 He said. "Our job is never to be a vehicle of anyone else's spin and propaganda and, second to that, there's a taste and decency issue."
Mr Anstey said journalists were "actively seen as targets" by many regimes  which "don't want the true picture to be seen" and he attacked Egypt's continued imprisonment of three Al Jazeera journalists – Mohamed Fahmy, Baher Mohamed and Peter Greste – who have been in jail for 312 days. The three men were sentenced to seven to 10 years for their reporting of the blacklisted Muslim Brotherhood.
"Journalists are being put behind bars for doing a great job," he said. "There was zero evidence and the process was fundamentally flawed." The case, mired in the Egyptian legal process, is due to have its next hearing on 1 January but could "go on for months", Mr Anstey said. "What's to say [it] couldn't have the same unjust and outrageous outcome?"
The AJ English network is now eight years old. Live broadcasts from the London studios will begin next week with specialist London-based shows being prepared to take advantage of the backdrop of the capital's skyline.
Reuse content