Geordie Shore star Vicky Pattison has been named Queen of the Jungle as she emerged victorious from I'm A Celebrity ... Get Me Out Of Here! despite entering the later than other campers.
"Aye, bring it on," she said, as she was handed her flowery crown and hefty wooden sceptre before breaking down into tears and crossing the bridge to meet her mum.
Union J singer George Shelley came second and The Only Way Is Essex star Ferne McCann finished third in the final of this year's three-week series.
It was an emotional start to the show's final episode as the three finalists, who were thrilled to be three "best mates" together in the jungle, embarked on their final, and most challenging, Bushtucker Trials.
First up was Pattison herself, who took on the Surf and Turf challenge and sped through two snake, spider, crab and eel-infested tanks to grab coloured keys and retrieve four gold stars. She completed the task in six minutes, leaving her "thrilled to ribbons".
Next was McCann, who braved her way through the Bushtucker Bonanza, refusing platefuls of pizza, beef pie, roast chicken and profiteroles and instead swallowing a witchetty grub, lamb's brain, the end of a bull's penis and a live water spider over a mountain of profiteroles. The spider appeared to be the worst and she had to coax it into a ball before swallowing it whole.
Finally, Shelley was strapped into a box on his bank and attempted to push his four stars out of a metal grate as 45,000 cockroaches, 25,000 crickets, 5,000 mealworms, 20 witchetty grubs and five nests of green ants were dumped on top of him, with a good number crawling "up his pants".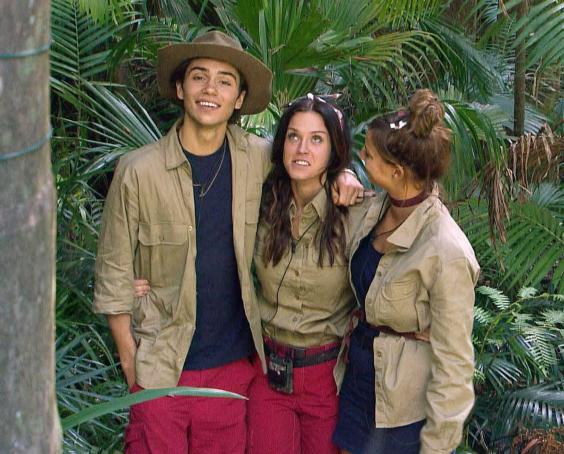 With all challenges completed successfully, the jungle-mates each earned 50 "dingo dimes" and a three-course meal - their first in three weeks.
Shelley opted for spaghetti and meatballs, followed by lamb moussaka and a chocolate brownie with vanilla ice cream, Pattison chose pepperoni pizza, followed by lasagne and red velvet cake with vanilla ice cream, and McCann went for a Chinese feast of Peking duck with pancakes and hoisin sauce, chow mein and sweet and sour chicken, before reclaiming her favourite profiteroles for dessert.
All three washed down their meals with glasses of wine, but the party was cut short when a snake was spotted in the camp and had to be removed by security.
When the first result was announced, McCann could not have been more positive. She said her time in the jungle was "everything and more".
I'm a Celebrity 2015 line-up
I'm a Celebrity 2015 line-up
1/10 Susannah Constantine

Best known for What Not to Wear, Susannah has a massive fear of heights that has 'plagued her throughout her life'. She's missing her daughter's Christmas play to be in the jungle and wants to dispel the misconception that she is posh and bossy!

ITV

2/10 Tony Hadley

Eighties Spandau Ballet singer. Hates cockroaches. Doesn't 'buy into that whole vacuous celebrity thing'. Reckons he'll be the shoulder to cry on. Here' hoping for a 'Gold' rendition.

ITV

3/10 Yvette Fielding

Most Haunted host terrified of anything that moves. Promises not to spend the whole show screaming. Wants people to see her for who she really is, which she claims is 'colourful'.

ITV

4/10 Lady Colin Campbell

The first artistocrat to go on the show. Known for a book about Princess Diana detailing her affair with James Hewitt. Had to cancel lots of plans to head into the jungle, naturally darling.

ITV

5/10 Chris Eubank

Former champion boxer. Hates heights but insists it's 'good to be scared'. Thinks people will be surprised by how 'non-confrontational and fun' he is.

ITV

6/10 Duncan Bannatyne

Business entrepreneur known for Dragon's Den. Says he is a great cook, cleaner and washer-upper. Reckons he can do all the challenges. Not smug at all.

ITV

7/10 Kieron Dyer

Former English footballer hoping to change the public's perceptions about footballers in general. Hates spiders and snakes but refuses to 'look a wuss on the trials'.

ITV

8/10 Brian Friedman

Quit X Factor as creative director after nine years. Generally fearful of things normal people are fearful of. Claims not to be overdramatic and again, 'colourful'. It's going to be a rainbow in there.

ITV

9/10 George Shelley

Union J singer. Scared of moths. Aged just 22 and going to miss home comforts and his mum.

ITV

10/10 Jorgie Porter

Hollyoaks actress who insists she isn't as ditsy as the character she plays. Scared of spiders and wants to create a 'girl squad' in camp. Going to miss chocolate brownies and high heels.

ITV
"I threw myself into the experience. Of course you have your highs and lows but I just really enjoyed it," she said.
Commenting on rumoured romances between herself and Shelley, she said "we are definitely going to meet up", but said the pair were just friends.
Runner-up, Shelley said the hardest parts of the experience were the "hunger pains" and missing his family, but said it was "gruelling but amazing".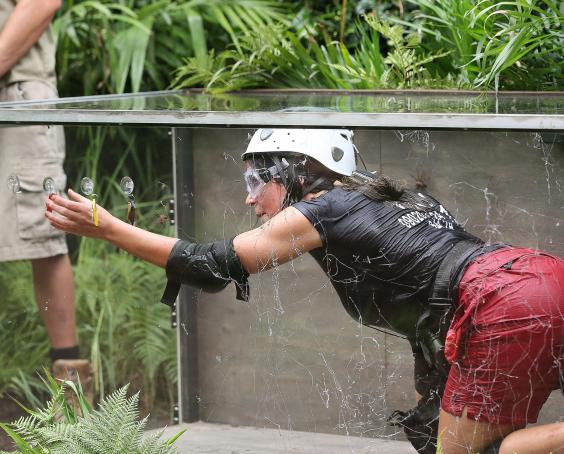 "I didn't think I was going to enjoy it that much, but I have met some amazing people," he said.
Before the final result was announced, Pattison, who has won viewers' hearts with her thick Newcastle accent and jaunty approach to almost everything in the show so far, said just taking part had been "a dream come true".
She said: "I wasn't sure what to expect at all. I have struggled on occasion, but I have embraced it all.
"I bet everyone thought I was just going to go in there and start chucking kangaroos about. I'm goofy."
PA
Reuse content