For a nation still reeling from three years of Piers Morgan, the news that another Brit is pitching to become American television's king of chat has prompted consternation and confusion. "So who is James Corden?" asked publications from the International Business Times to Salon magazine as the comic actor was named hot favourite to take over The Late Late Show.
Corden, 35, was widely reported to be CBS's choice to replace the Scottish comic Craig Ferguson as host of the cult US chat show, which is broadcast after the Late Show with David Letterman every weeknight at 12.35am.
Ferguson, who announced he was stepping down in April, has helmed the show since 2005 and earned a Peabody Award for his mix of humorous monologues and celebrity interviews.
With millions of younger viewers still available after hours, the late slot remains a fiercely competitive battleground for the networks.
Names mooted to take over from Ferguson, whose ratings have slipped from a 2009 peak, include Broadway star Neil Patrick Harris and the E! Channel's late-night chat show host Chelsea Handler.
But CBS threw viewers a curveball by offering the gig to Corden, 35, who is familiar to Broadway audiences after his Tony Award-winning performance in One Man, Two Guvnors, but whose name means little in heartland America.
"Googles James Corden" became a popular Tweet as US opinion-formers scrambled over Corden's CV to bring nonplussed viewers up to speed.
The Londoner's early break on Hollyoaks was glossed over, but Corden's upcoming acting performance alongside Meryl Streep in the Disney film Into The Woods was noted approvingly. "He's proven to be a force to be reckon with when it comes to the small screen," said the International Business Times.
"He's hosted the Brit Awards four times. And he cut off Adele," reported online culture magazine Slate. "Nobody cuts off Adele!"
However Salon.com said Corden's "laddish humour" was a retrograde step, when CBS could have struck a blow for diversity by hiring the comedian Maya Rudolph or the talk show host Aisha Tyler.
"The fact remains that CBS would, apparently, rather take their chances on a guy whose main distinguishing factor is his boorish nature over a universally liked woman with whom American audiences are more familiar," the publication complained.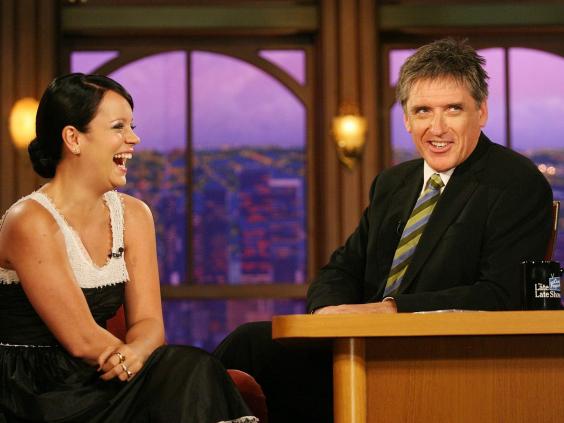 Despite the end of Piers Morgan's provocative tenure as CNN's host after three years, quickwitted Brits remain in fashion on American television. For instance, Former Daily Show sidekick John Oliver has graduated to his own acclaimed HBO satire show.
Ferguson, another unknown before CBS gave a break to a stand-up best known for his alter-ego Bing Hitler, remains a popular figure and was given $5m in compensation after failing to be chosen to replace David Letterman in the plum slot, when the veteran entertainer retires next year.
If Corden moves to Los Angeles, which CBS had yet to confirm, he would be a beneficiary of a shake-up in late night US television, heralded by Stephen Colbert of The Colbert Report's move to take over as Letterman's successor at the Late Show next year. Corden's social media footprint was also a factor for CBS.
The double Bafta-winner has 4.35 million Twitter followers, which the network hopes to deploy in its battle against NBC, which successfully relaunched its Tonight Show and Late Night franchises earlier this year with Jimmy Fallon and Seth Meyers, respectively.
At ease playing off public off figures ranging from David Beckham to Prince Charles and with a knack for spontaneity, Corden is most likely to produce the kind of chat-show sequences which spread virally on YouTube, creating a buzz around the show with its target youth demographic.
Nina Tassler, CBS entertainment chairman, said there was a "knee-jerk reaction to go for a more traditional sort of behind-the-desk interview format," among rival chat shows.
Ferguson's successor was "an opportunity for us to look at all different kinds of hosts" including figures from the "political world" as well as the "comic world".
Although the "live audience" for The Late Late Show hovers at around barely 1.5m viewers, a successful takeover by Corden could make him a contender for the "king of chat" role when Colbert comes to hand over the reigns of the Broadway-recorded Late Show"
When Corden wowed the Great White Way with his Two Guvnors performance, the New York Daily News declared: "He is so mad talented, adorable and hilarious. Can we keep James Corden in New York for good?" That would be the ultimate prize for the latest Brit to colonise America's chat shows.
Brits on the US box
Piers Morgan: Former tabloid editor survived three years in high-profile nightly CNN chat show before ratings tumble and refusal to abandon his gun control soapbox finally did for him. "I'm ready to move on," Morgan said. "I want to do big interviews."
John Oliver: Unknown when he joined Comedy Central's Daily Show with Jon Stewart, the Brit with a licence to point out America's foibles passed on the CBS Late Late Show and graduated to his own HBO satirical show, which attracts 50 million YouTube views.
Simon Cowell: The model for mouthy Brits with global ambitions, Cowell's abrasive performance as judge turned American Idol into a US phenomenon. The X Factor USA proved less enduring, sending the mogul back to Britain.
Ant & Dec: Geordie duo are determined to conquer America, despite a 2008 US gamble on their Wanna Bet! series failing. "There has been some interest in Saturday Night Takeaway from the States. We have had a couple of meetings about it," said the optimistic Dec.
Reuse content