Action star Jean-Claude Van Damme performs the splits between two moving vehicles in a new advert for Volvo lorries.
The Kickboxer and Double Impact actor has proved remarkable flexibility and martial arts skills in many of his movies.
Van Damme, 53, still has the ninja factor, as he proved in Volvo's trucks TV advert.
Folding his arms, the Belgian star performs the split between the two moving vehicles and balances perfectly with his legs in a 180 degrees position between the trucks, which are reversing along what appears to be a runway.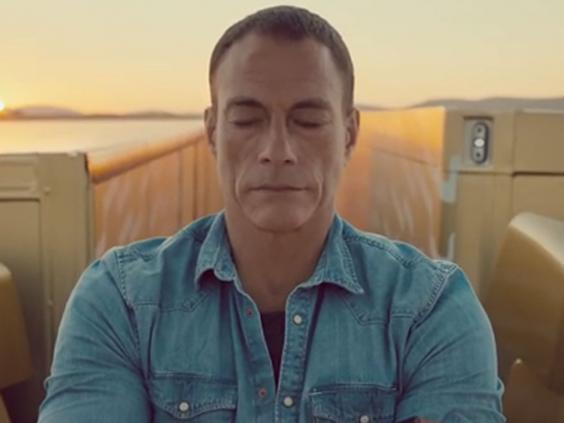 The commercial has the surprise factor; playing Enya's classic "Only Time" at the background, the mini film starts with a close up of the martial arts legend standing in an upright position with his eyes closed.
His voice at the back saying: "What you is a body crafted to perfection, a pair of legs engineered to defy the laws of physics and a mind to set the most epic of splits..."
Van Damme then holds his pose as the camera then pans out to show the stunning stunt. Jaw-dropping.
To acquire such strong skills, the actor has not only had decades of experience in martial arts, but he also studied ballet, which helps him show off his flexibility in such a beautiful performance.
The commercial, which was filmed in just one take, then states: "This test was set up to demonstrate the stability and precision of Volvo Dynamic steering. It was carried out by professionals in a closed-off area."
Although there was safety equipment during the filming, which was digitally removed from the commercial, Volvo confirmed that the stunt has no computer tricks. Other than that, the truck drivers also did their job very well.
Nicknamed the "muscles from Brussels", Van Damme is also known for Timecop, Universal Soldier and Black Movie. Most recently the film star appeared in The Expendables Two, together with some of Hollywood's big men: Sylvester Stallone, Bruce Willis and Arnold Schwarzenegger. His next action thriller Enemies Closer is set to release next month.
Reuse content