The film-maker Alain Resnais, a major figure in international cinema in the 1950s and 1960s, was often linked to the nouvelle vague, to the brisk and youthful cinema of François Truffaut and Jean-Luc Godard. But although he directed an early documentary about Nazi concentration camps that was riveting in its directness, his later films, particularly Hiroshima, Mon Amour and Last Year at Marienbad, combined opulent, baroque imagery with complicated narratives that could be as puzzling as they were compelling.
The new wave is usually associated with films that were lyrical, fast-paced, easy to watch and imbued with a cheeky youthfulness. Resnais developed a different path. As the film writer Richard Roud, who conducted a long interview with the French director, a Resnais film was always a "calculated work of art. It is not spontaneous, it is not realistic and it is complex."
This was true of much of Resnais' later work but not of the short documentary with which he established his reputation. Made a decade after the end of the Second World War, Nuit et Brouillard (Night and Fog, 1955) is often credited as the first filmic evocation of the Nazi concentration camps. A mixture of grisly black and white photographs taken during the War and quiet colour images of the now-empty camps, the 30-minute film could not be more straightforward and harrowing. As another critic, Stuart Klawans, said, "Night and Fog remains an unsurpassed meditation on the Holocaust."
The text was written and narrated by the poet and publisher Jean Cayrol, a survivor from the Gusen camp in Austria. "If one does not forget, one can neither live nor function," Resnais said in 1966. "The problem arose for me when I was making Nuit et Brouillard. It was not a question of making yet another war memorial, but of thinking of the present and the future. Forgetting ought to be constructive."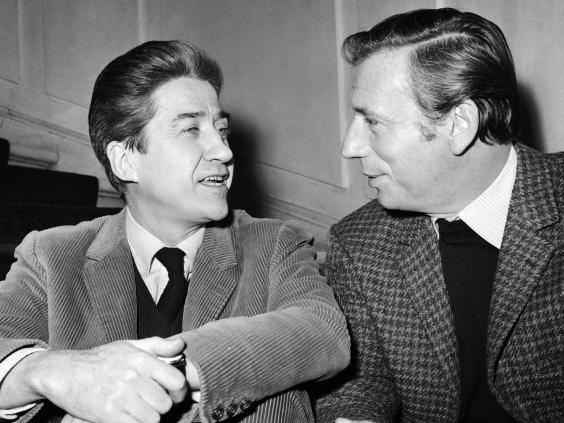 His emphasis on memory, more as an intellectual or even elliptical exercise than as straightforward dramatic narrative, pervaded much of his subsequent work. For Hiroshima, Mon Amour (1959), Resnais had envisioned a documentary similar to Night and Fog but he altered his vision after consulting the novelist Marguerite Duras. She wrote a script with 16 pages of dialogue, a spareness that allowed the director to shape a stylised narrative centred on the tortured affair between a French actress (Emmanuelle Riva) and a Japanese architect (Eiji Okad).
The result, which Time called "an intense, original and ambitious piece of cinema," combined documentary footage with a love story, told in the present tense but forever overshadowed by the memory of atomic catastrophe and her earlier love for a German soldier who was killed during the Allied liberation of France.
As he did with Hiroshima, Mon Amour, Resnais often worked with writers who were not yet generally associated with the cinema. His next major project was Last Year at Marienbad (1961), a collaboration with the French avant-garde novelist Alain Robbe-Grillet. Featuring Delphine Seyrig, Giorgio Albertazzi and Sacha Pitoff, the film focused on a man's attempts to persuade a woman that they had had an affair a year earlier. The surreal film regularly turns up on lists of both the best and worst films ever made.
By design, the characters — known only as A, X and M — have no more humanity than figures on a chessboard, variables in an equation, or dummies in a store window. For that reason, it has often been said that half of the fashion photography of the past 50 years owes a debt to Marienbad.
The film, Resnais said at the time, represented an effort to "determine if it is possible to represent, even roughly, the mechanics of thought, not in reality, but in the minds of the characters." Attempts to discern a plot, discover a hidden message or make an emotional connection with the characters are doomed to failure. Marienbad is best followed as if it were a string quartet, a ballet or a mysteriously animated painting that changes slightly as you watch.
"With Marienbad, Resnais carried the cinema farther than it has ever gone before without worrying about whether or not audiences would follow," Godard said in 1962. "If he were a novelist or a poet, this wouldn't matter — but in the cinema, you're supposed to worry about your audience. Alain knows this and that's why he seems so contradictory and mysterious. He's trying to hide his obsession with his art."
Alain Resnais was born in Vannes in Brittany, where his father ran a pharmacy. A fragile child, he was educated mostly at home. On his 12th birthday he was given an 8mm camera and began to make home movies with his friends given starring roles. He was a devoted reader of comic strips, and once suggested that his interest in flashbacks and what he would describe as "flashforwards" might have been inspired by his love of Milton Caniff's long-running cartoon Terry and the Pirates.
"It was an impossible task to find that story in France because it would be published for two weeks and then disappear," he told the film scholar James Monaco. "Then I would find it in Italian and then that would disappear, too. And after that there was a war and so I had to read Terry and the Pirates in complete discontinuity. I discovered that it gave the story a lot of emotion to know Terry when he was 14 and then when he was, say, 24, after which I would make up myself what had happened to him when he was 22 or 17."
At 17 Resnais moved to Paris and studied acting before entering the French military toward the end of the Second World War. Afterwards he began making short films about artists such as Paul Gauguin and Vincent van Gogh, the second of which, Van Gogh, won an Academy Award for best short film. He also directed a film about the Nazi bombing of the Basque city of Guernica and Pablo Picasso's artistic response to it.
Providence (1977) was Resnais' first film in English. Despite a cast that included John Gielgud as a dying English novelist, it was savaged by most critics. The New Yorker reviewer Pauline Kael was particularly hard on Resnais, reducing his technique to "beautiful diddles."
Providence did, though, eventually find passionate admirers. And Monaco, in a riposte to Kael, believed he had found the key to Resnais' work. "Alain Resnais' films, far from being the complicated and tortuous intellectual puzzles they are reputed to be, are rather simple, elegant, easily understood – and felt – investigations of the pervasive process of imagination," he wrote. "It doesn't even take much imagination to enjoy them. All that is necessary is an understanding that we are watching not stories but the telling of stories. "
Among Resnais's most celebrated other films were La Guerre est Finie (The War Is Over, 1966), a drama starring Yves Montand as an aging Communist Party revolutionary in Franco's Spain, and Stavisky (1974), with an instrumental score by Stephen Sondheim.
Other works included Muriel (1963), a melancholy rumination on the Algerian war; La Vie Est un Roman (1983), an interweaving of three disparate tales spread out across several centuries; I Want to Go Home (1989), an excursion into the world of comic books set in Cleveland with a script by the cartoonist Jules Feiffer; and three settings of plays by Alan Ayckbourn, including the acclaimed Smoking/No Smoking (1993). He married his second wife, the actress Sabine Azéma, appeared in many of his films from the early 1980s, in Ayckbourn's home town of Scarborough. His first wife was Florence Malraux, the daughter of the French author and politician Andre Malraux, an assistant director for most of Resnais' films after and including Marienbad.
The tall, formal, soft-spoken Resnais was generally liked personally by those he met, including critics who didn't always admire his work. "I make difficult films," he acknowledged in 1962. "But not on purpose."
Alain Resnais, film-maker, born Vannes, France 3 June 1922; married 1969 Florence Malraux (marriage dissolved), 1998 Sabine Azéma; died Paris 1 March 2014.
© The Washington Post