Dora Bryan was one of Britain's most admired and loved entertainers. She had notable careers on the stage, in films and on television, and will be remembered particularly fondly by those who saw her in intimate revue during the last decade or so that the form flourished.
Her timing and versatility were phenomenal, honed by long experience in repertory and provincial theatre (she once told me that it was "bloody tough" making it to the top). On screen she spent years when she seemed to play mainly what she called "ladies in plastic macs", but she progressed to leading roles and in 1961 won a Bafta award as best actress for her performance in A Taste of Honey.
In 1994 she won the Olivier Award for her portrayal of Meg in Harold Pinter's The Birthday Party at the National Theatre, and the Variety Club of Great Britain named her best actress of the year for her Mrs Hardcastle in She Stoops to Conquer (1995), also at the National. Other stage triumphs included The Water Gypsies (1955), Hello, Dolly (1964) at Drury Lane and a show-stopping performance in a revival of Charlie Girl (1986), in which she sang a duet with Hollywood star Cyd Charisse.
She was the first female to play Dame in pantomime at the London Palladium, and was the first person to be chosen twice as the subject of This Is Your Life. She even had a record in the Top 20 when she recorded "All I Want for Christmas is a Beatle" in 1963. More recently, she starred in the West End musicals 70, Girls, 70 and The Full Monty, toured in Alan Bennett's masterly miniature A Cream Cracker Under the Settee, and for several seasons was in The Last of the Summer Wine as Roz, Thora Hird's sister. Though Hird was made a Dame, Bryan with an even more distinguished and varied career, was overlooked for the honour, but was awarded an OBE in 1996.
She was born Doreen May Broadbent in Parbold, Lancashire in 1924, but when she was six months old the family moved to Oldham, and she always thought of herself as "an Oldham girl", particularly after she spent "four wonderful years" with the Oldham Repertory Company in the early 1940s, following which she joined Peterborough Rep. While there she changed her name. She decided on Bryant after seeing a box of Bryant and May matches, but a programme printer missed out the final "t".
Her show business career had begun at 12 at Eileen McNeil's dancing school in Oldham; McNeil encouraged her to audition for one of the "Drury Lane Babes" in the pantomime Jack and the Beanstalk at the Palace Theatre in Manchester. She made her London debut as a pantomime "babe" at the Hippodrome in 1937, then came years of pantos and summer seasons before the two reps.
During the War she performed with Ensa, then toured in a production of Private Lives which was seen by its author, Noël Coward, who wrote the role of Phyllis for her in Peace in Our Time, which opened at the Lyric, Hammersmith, in 1947. The same year she made her screen debut, in Carol Reed's Odd Man Out. Her breakthrough came the following year, in Traveller's Joy at the Criterion and with her first notable screen role, in Reed's The Fallen Idol, based on a Graham Greene short story.
She was warm, funny and irresistible as Rosie, the prostitute who is in a police station when a little boy found wandering the streets is brought in. When the child fails to respond to questioning about his identity but seems drawn to the young woman, they ask her to coax his name and address from him. Drawing the little lad closer, she says, "Hello, dearie, where do you live?" On learning that he is the son of the ambassador, she blurts out, "I think I know your father."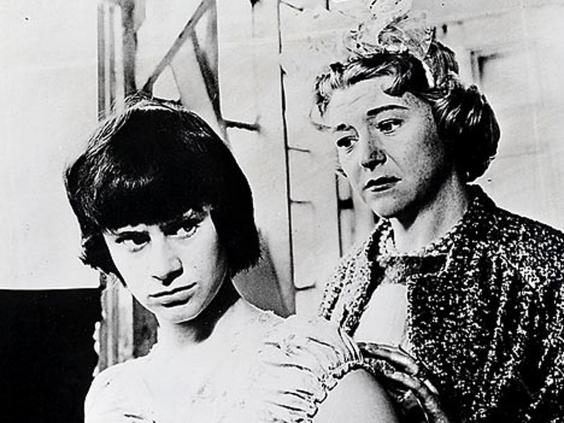 She was a lady of the streets again in a story of female police officers, Street Corner (1953), complaining when arrested, "If I'm going to be pinched, I want to be pinched by a man," and she had a substantial role in Britain's first "X" film, Women of Twilight (1953) as Olga, one of the more self-sufficient of a group of unwed mothers staying at a shabby boarding house run by a blackmailer and baby farmer.
She made nearly 40 films in the 1950s: "Tarts and barmaids! I just took whatever came along. That's been my motto always – do everything you can, don't get choosy! To me, my job was in the theatre anyway, so this was all extra, a bit of fun, a day's work for £100, which was a lot of money then." By 1958 she was billed as a guest star in the last film made by skating star Sonja Henie, Hello London! and was now playing leading roles in such films as Carry On Sergeant (1958), Operation Bullshine (1959) and Desert Mice (1959), the last an engaging account of an Ensa troupe during the war.
Bryan first displayed her wonderful flair for revue in 1951 and 1952 when she was one of the stars of The Lyric Revue and The Globe Revue. In the first she introduced Noël Coward's hilarious comment on the Festival of Britain, "Don't Make Fun of the Fair." In his diary, Coward described her performance as "superb".
In The Globe Revue's sketches and "black-outs" (brief gags), she displayed matchless timing and inflection. In one "black-out" she was one of two typists discussing their new boss. "I think he's lovely," says her co-worker, "and he dresses so well." Bryan replies, "Yes, and so quickly." When she co-starred in the AP Herbert-Vivian Ellis musical The Water Gypsies (1955), she realised an ambition nourished since Oldham, seeing her name in lights.
Shge starred in her last great revue, Living for Pleasure (1958) at the Garrick Theatre. Her major song in the show, "No Better Than I Should Be", was to become a staple of her solo shows and concert appearances, along with the music hall song "Because He Loves Me", which she sang in A Taste of Honey.
In 1954 she had married the Lancashire cricketer Bill Lawton. It seemed that Bryan was unable to have children, and they adopted a son, Daniel, and a daughter, Georgina, then in her late thirties she bore a child, William. After Lawton retired he and Dora sold their Chiswick house and bought a hotel in Brighton.
In 1961 Bryan was given her finest film role, as the salty mother in A Taste of Honey. Her co-star Rita Tushingham, recalled, "She is so lovely, and what a talent! Why isn't she a Dame? I was very lucky because she was such a very normal person. I thought she was so touching. No one could have done it as well as she." Strangely, film work was scarce after wards: "I won the award as best film actress, then no one asked me to make another film for five years!"
In Hello, Dolly at Drury Lane (1966), she was a triumph, not only getting every laugh out of the libretto but displaying her ability to touch the heart with her determined vow to "rejoin the human race" after a period of widowhood, with the song "Before the Parade Passes By".
In 1984 she played Mistress Quickly in The Merry Wives of Windsor at Regent's Park Open Air Theatre. "I thought I'd have a crack at Shakespeare and I was so happy when I brought it off." She returned to muscals with Charlie Girl (1986), and the following year made her Broadway debut as Mrs Pearce in a distinguished revival of Pygmalion alongside Peter O'Toole, John Mills and Lionel Jeffries.
She had another personal triumph in the West End in the John Kander-Fred Ebb musical celebrating old age, 70, Girls, 70 (1991), and played Madame Arcati in a revival of Blithe Spirit at Chichester in 1997, the year her daughter Georgina died ("She used to work in our bar and she got into bad habits").
Sporadic film work after A Taste of Honey included the headmistress in Launder and Gilliat's The Great St Trinian's Train Robbery (1966), and a Hammer horror, Hands of the Ripper (1971). On television she starred in several shows of her own, including Our Dora (1956), Before the Fringe (1967) and According to Dora (1972), and made guest appearances on such shows as Heartbeat, Dinnerladies, Holby City and Absolutely Fabulous.
Her later career was chequered by ill-health – she relinquished a leading role in the musical On the Twentieth Century due to a nervous breakdown and left Last of the Summer Wine, announcing that she was semi-retiring order to spend more time with her husband, who was suffering from dementia. He died in 2008, and Bryan spent her final years in a nursing home in Hove.
TOM VALLANCE
Doreen May Broadbent (Dora Bryan), actress and singer: born Parbold, Lancashire 7 February 1924; OBE 1996; married 1954 Bill Lawton (died 2008; one son, one adopted son, and one adopted daughter deceased); died 23 July 2014.