Mary Soames was the youngest daughter of Sir Winston Churchill and the widow of the politician Christopher Soames. She led a long and full life and was still energetically engaged in public life in her eighties.
Her early life found her as a supportive daughter to her famous father; she served as his ADC on several occasions during the Second World War. She went on to undertake various roles as Soames' wife, campaigning for him when he was in Parliament and adding lustre to his career when he was ambassador in Paris and later governor of Rhodesia. She was chairman of the National Theatre, wrote a superb biography of her mother and various other books, was the mother of a large flock of Soameses and lived to be a grandmother and great-grandmother. Her own merit was recognised by the Queen when she was appointed a Lady Companion of the Order of the Garter in 2005, one of only three non-royal women to whom this honour has been given.
Mary Churchill was born in 1922 and brought up at Chartwell. She claimed always to wince at the description "favourite" daughter, but certainly she was the most stable. Of her older siblings, she described Randolph, hated by his mother, as "an oak growing up in the shadow of a greater oak"; Sarah (the most beautiful) became an actress and succumbed to drink, Diana died of an overdose and Marigold died young. Unlike the other children she had the same nanny-governess until she was 18, her mother's cousin, Maryott Whyte. Mary attended a day school at Manor House, Limpsfield; she was a "persevering plodder".
When the Second World War was declared she worked for the Red Cross and the WVS in Aylesbury, near Chequers. Then in 1941 she and her cousin, Judy Montagu, joined the ATS, initially stationed at Aldermaston and then Oswestry, serving in mixed anti-aircraft batteries, mostly in London but also in Belgium and Germany. She gained a commission and achieved the rank of Junior Commander. She accompanied her father as his ADC on several overseas journeys: she went with him to Canada in August 1943, and accompanied him to Potsdam in July 1945. She was demobilised in 1946.
At this point she almost became the victim of a bizarre whim of her parents to forge a dynastic marriage with the Belgian Royal family. They decided she should marry Prince Charles of Belgium, the then Regent. To this end they set off and fortunately broke the journey in Paris. At the British Embassy Mary met Captain Christopher Soames, then the Assistant Military Attaché. As Mary wrote: "Despite distance and duty, our friendship was budding." Soon afterwards she was sent to Rome to be with her sister, Sarah. Soames changed his plans, accompanied her to Rome and they got engaged.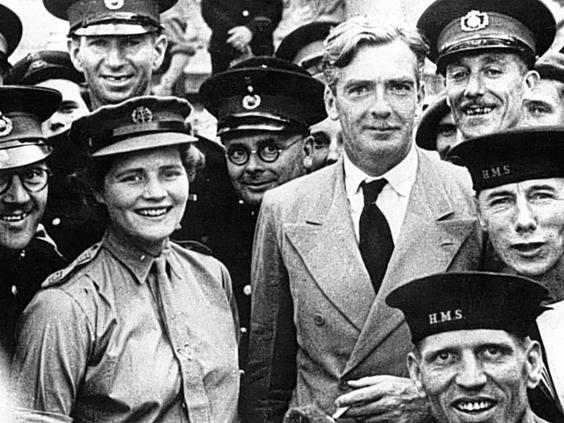 The news was greeted by both parents with what she described as "stoicism laced with hopefulness". They were worried by her precipitate action, and her mother in particular was extremely anxious. In February 1947 Soames married Mary at St Margaret's, Westminster, and in due course they had three sons and two daughters. Of these two became well-known to the general public: the ebullient, not to say corpulent, MP, Nicholas Soames, and Emma Soames, the writer and editor.
Soames became Conservative MP for Bedford in 1950, and Mary campaigned for him in six general elections. She played her part in constituency life but, unlike her parents, made a point of putting her children first. Soames attained several government posts but lost his seat by 378 votes in the 1966 General Election.
There is no doubt that Soames' career owed much to being married to a Churchill. He was able to ride several hitches in his working life that might have squashed a less well-connected man. In 1968 Harold Wilson appointed him British Ambassador in Paris, and Mary was Ambassadress until 1972. Hardly had he arrived there than he upset President de Gaulle in what was known as L'Affaire Soames. In February 1969 the Ambassador lunched with the President but could not remember what he had said about how Europe should be run. The Foreign Office concluded that de Gaulle's plan was a nasty French plot and leaked it, further embittering Anglo-French relations.
During their time en poste the Queen paid a State Visit to President Pompidou, a few days after which the Duke of Windsor died, and Mary was one of those who accompanied the Duchess of Windsor on her flight to Britain for the funeral. In 1973 they went to Brussels, where Soames was the first British Vice-President of the European Commission, serving until 1976.
On their return Mary became a Vice-President of the Church Army and took a particular interest in Churchill Houses, a scheme for re-housing elderly people. In 1979 she became UK Chairman of the International Year of the Child, one of whose activities was to stage an enormous party in Hyde Park at which 160,000 children were entertained over two days – with no casualties recorded. Hardly was that over than Christopher Soames was sent out to Rhodesia by the new Prime Minister, Margaret Thatcher, to oversee the hand-over of power to the new country, Zimbabwe. This was a successful venture and capped his career. Soames died in 1987.
Soames had persuaded Mary to write her mother's life, and she began the work with Clementine's blessing in 1963. Public life intervened and there were years when she set it aside, but eventually Clementine Churchill was published in the summer of 1979 to great acclaim, winning the Wolfson Literary Award. Dame Rebecca West judged it admirable, though she declared: "Winston Churchill as a husband chills the blood."
Mary went on to produce A Churchill Family Album (1982), The Profligate Duke, a life of 5th Duke of Marlborough and his wife (1987), Winston Churchill – His Life as a Painter (1990), and to edit her parents' letters, Speaking for Themselves (1998). She had tried to persuade a publisher to commission a biography of Soames, but instead worked on her own memoirs, which were published in 2011 as A Daughter's Tale.
When she won the Wolfson, she said: "I always thought being middle-aged would be somehow dull and uneventful, but mine certainly hasn't been." Nor was her old age, which found her jetting off to America to attend conferences or make speeches to any number of disparate groups. In everything she did she was supremely efficient. When I invited her to unveil a Jubilee Walkway panel at the Corn Exchange, she accepted the invitation by return of fax. On the day she arrived at the appointed hour and made a beguiling speech. She firmly eschewed any offers of a car to bring her there, or reimbursement for the taxi that took her home.
She was thrilled to be made a Lady of the Garter, not least since it was an honour bestowed on her father. The Queen made sure that she was allocated his Garter collar. In advance of the ceremony she used to go into her London garden early in the morning in her dressing gown to practice the series of curtseys she would make at the investiture. One day to her surprise she realised that she was being watched by an astonished neighbour, who must have wondered what had come over her.
The keynote to Mary Soames' life was her devotion to her father, husband and family. She did not shirk hard work, and was deeply conscientious. She relished life in all its aspects, was a generous host, happily dispensing fine wine from Soames' cellar when she was chairman of the Royal National Theatre Board, while she herself emulated her father and smoked powerful cigars.
She was devoid of any aspect of pettiness, always ready to help and advise, and gave freely of her time and energy when the cause demanded. She was aristocratically grand without being overbearing, and her presence added considerable cachet to any event. Hers was a remarkably varied life, which she lived to the full. She was one of Britain's great national figures, due not to eccentricity, but to her many achievements in public life.
Mary Churchill, writer: born Chartwell, Westerham, Kent 15 September 1922; MBE (mil) 1945; DBE 1980; Lady Companion, Order of the Garter 2005; married 1947 Christopher Soames (two daughters, three sons); died London 31 May 2014.