Mary Ellen Mark was an award-winning US photographer whose work was a million miles away from the glamour and glitz of Hollywood. A self-proclaimed street photographer, she never shied away from darker subjects, frequently photographing the "invisible" sections of society and people on the fringes.
In 1983, LIFE magazine published her humane depiction of Seattle's homeless youngsters in a piece entitled "Streets of the Lost". It brought her to prominence in the US. Depicted as America's most liveable city, Mark wanted to show that if this underbelly existed there, it undoubtedly existed in every major US city.
Rather than photographing from a distance, Mark immersed herself in the daily lives of her subjects, thus gaining their trust, which enabled her to capture shots of them at their most vulnerable. Her photographs – portraying children wielding guns, eating from bins and injecting themselves with needles – punctured middle America's conservative sensibilities and made many sit up and take note.
Her book Streetwise was published in 1988 to critical acclaim, with a 14-year-old streetwalker called Tiny at its centre. Subsequently, with her husband, the film-maker Martin Bell, Mark turned her encounters into a film, soundtracked by Tom Waits. It was nominated for the best documentary at the 1984 Academy Awards.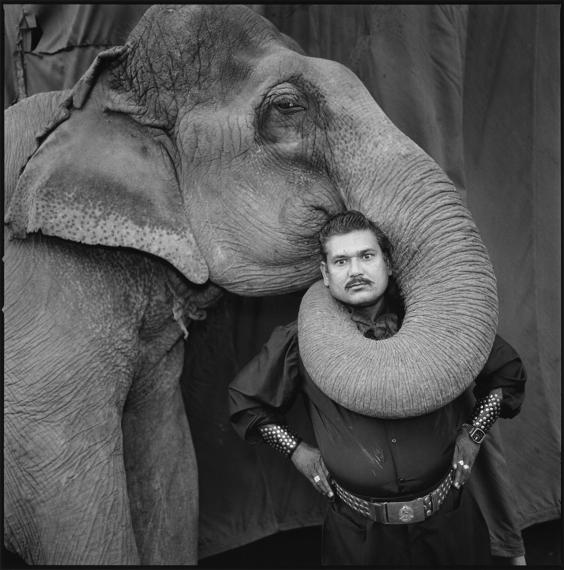 With worldwide exhibitions and work in The New Yorker, Vanity Fair, The New York Times and Rolling Stone, as well as 18 books to her name, Mark's strikingly diverse photographs over a four-decade period came from all over the globe. They captured the downtrodden, "The people," she explained, "who didn't have the best breaks in life," including drug addicts, circus performers, prostitutes, gypsies, the mentally ill and street children.
Working primarily in black and white and using Kodak Tri-X film, Mark never truly converted to digital. She believed that her success came through pounding the streets and "making  contact with people and photographing them". 
Born in 1940 in Elkins Park, a suburb of Philadelphia, Mary Ellen Mark took up photography at the age of nine. Educated at Cheltenham High School, where she was head cheerleader and showed a talent for painting and drawing, she read painting and art history at the University of Pennsylvania, graduating in 1962. She completed an MA in photojournalism in 1964, with a particular interest in the work of Henri Cartier-Bresson, Robert Frank and Dorothea Lange. In between she worked briefly for the city planning department.
In 1965 she won a prestigious Fulbright scholarship, which funded a trip to Turkey and a further year travelling to other countries, including Greece, Italy, Germany, Spain and England. Her experiences provided some of the subject matter for her first book, Passport, published in 1974.
Mark's first break came in 1969, photographing teenage heroin addicts shooting-up at St Clement's Hospital, London. In the mid-1970s she was asked to do a behind-the-scenes shoot on the set of One Flew Over the Cuckoo's Nest at the Oregon State Hospital for the mentally ill. Mark was intrigued by the female patients – and spent 36 days living and photographing the women for her book Ward 81 (1979).
Despite running into hostility on her first trip to India in 1968, to photograph the teenage prostitutes working Mumbai's Falkland Road, Mark returned 10 years later. She spent three months befriending the women and managed to gain their curiosity, acceptance and trust. The colour images that ensued, collected in the book Falkland Road, were never vicarious or sensationalistic and told a vivid story. Her empathy towards her subjects was her trademark and always shone through.
Running parallel to her photojournalism, Mark established herself as an accomplished set photographer on a number of Hollywood films; one of her first assignments was to photograph Federico Fellini on the set of Satyricon in Rome. Over the years, she notched up over 100 movies, including Francis Ford Coppola's Apocalypse Now (1979) and Baz Luhrmann's Australia (2008). She was briefly a member of Magnum Photos.
During the 1990s, Mark also made the transition to fashion photography and portraiture, producing ads for the likes of Heineken, while continuing her documentary work, photographing high-school proms, autistic children and families in homeless shelters.
Mark enjoyed returning to her subjects years later and in 2013, she raised the necessary funds to develop a follow-up documentary focusing on the life of Erin "Tiny" Blackwell. Streetwise: Tiny Revisited is due for release in the autumn.
Mark's work was respected globally and was featured in countless exhibitions.  She received numerous accolades, including three Robert F. Kennedy Journalism Awards. In 2014, she was awarded a Lifetime Achievement Award from George Eastman House and received the Outstanding Contribution to Photography by the World Photography Organisation at the Sony photography awards in London
Mark died from myelodysplastic syndrome, a disease which affects the body's bone  marrow and blood. Her husband survives her.
MARTIN CHILDS 
Mary Ellen Mark, photographer: born Philadelphia, Pennsylvania 20 March 1940; married Martin Bell; died New York 25 May 2015.
Reuse content