The American actor Powers Boothe, who has died aged 68, was unfazed about following in the footsteps of Dick Powell, Humphrey Bogart and Robert Mitchum in playing Philip Marlowe, Raymond Chandler's legendary 1930s Los Angeles detective.
"Dark, dour, almost sullen but not quite sour, this Marlowe would have had Chandler's approval," wrote The New York Times, as critics praised the wide-jawed, broad-shouldered, deep-voiced American actor's performance in the five-part 1983 series Philip Marlowe, Private Eye.
He oozed the detective's toughness and quick wit but deliberately eschewed the world-weary and seedy-man-in-a-raincoat personas of others who had played him.
"That is not the man that was written by Chandler," insisted British TV producer David Wickes, who negotiated the rights to Chandler's short stories and created programmes sold to more than 40 countries.
The atmospheric film noirs were shot in London's outer suburbs and Santa Monica, California – the original Bay City of Chandler's stories – by directors such as Bryan Forbes. Many viewers were left wanting more and, after the American network HBO screened the ITV series, Boothe starred in a second run produced by a Toronto company in 1986.
The actor was the youngest of three sons born on a Texas cotton farm to Merrill and Emily (née Reeves) Boothe, and excelled in football at Snyder High School. He gained a drama degree from Southwest Texas State University and a masters in fine arts from Southern Methodist University, Dallas, before joining the Oregon Shakespeare Festival's rep company, then making his Broadway debut as Roy, a cowboy, in James McLure's one-act play Lone Star (Century Theatre, 1979).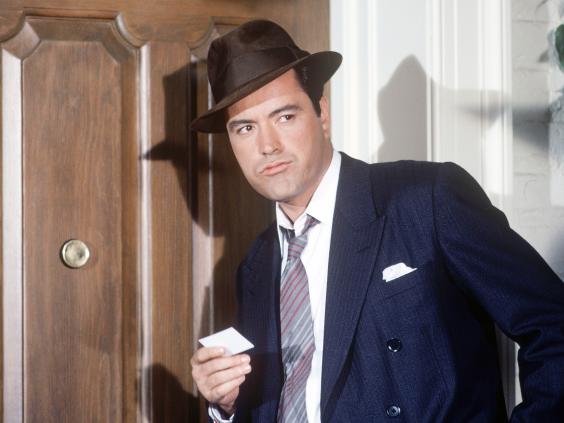 Boothe played a member of a theatre company performing Richard III in his first film, the Neil Simon-written comedy The Goodbye Girl (1977), but his screen break came three years later as the messianic cult leader in the TV movie Guyana Tragedy: The Story of Jim Jones. His achievement in winning the Emmy Award as best actor for that performance was tempered by the fact that he crossed a picket line of fellow thespians at the ceremony. "This may be either the bravest moment of my career or the dumbest," he told the audience in his acceptance speech.
In films, Boothe also played a downed fighter pilot in the war drama Red Dawn (1984), which envisions a joint Soviet-Cuban invasion of the United States, an American engineer searching for his young son abducted by Indians in The Emerald Forest (1985), the President's White House Chief of Staff Alexander Haig in director Oliver Stone's biopic Nixon (1995) and corrupt Senator Roark in Sin City (2005) and its sequel, Sin City: A Dame to Kill For (2014).
Boothe's television roles included saloon owner Cy Tolliver in the Western Deadwood (2004-6) and Vice President Noah Daniels in the 2007 run of 24 and the programme's one-off "prequel" to the next series the following year (as President).
The actor furthered his reputation for playing villains with the role of menacing Gideon Malick, a leader of the criminal organisation Hydra, in the third series of Agents of S.H.I.E.L.D. (2015-16), about a superheroes peacekeeping and spy agency. It followed his appearance in the same, but unnamed, role as one of those who infiltrates the World Security Council in the 2012 film Marvel's Avengers Assemble.
Powers Allen Boothe, born 1 June 1948, died 14 May 2017
Reuse content