A dozen undisclosed female victims of the photo hacking scandal that saw hundreds of private and indecent images of celebrities shared online are threatening to sue Google for $100million for failing to delete them.
Famed entertainment lawyer Marty Singer – who has previously represented John Travolta, Charlie Sheen and more recently X-Men director Bryan Singer – has written to Google demanding that the company pay damages for "knowingly accommodating, facilitating, and perpetuating the unlawful conduct" of the 4Chan thieves.
A copy of the letter, which you can see here, has since been published via US site TMZ.
Titled 'Google's Repeat Copyright And Privacy Violations In Connection with Hacked Photo Scandal', it is addressed to Google CEO Larry Page, Executive Chairman Eric. E. Schmidt and co-founder Sergey Brin, among others.
In the letter, Singer accuses Google of neglecting to "to act expeditiously, and responsibly to remove the images".
"Google knows the images are hacked stolen property, private and confidential photos and videos unlawfully obtained and posted by pervert predators who are violating the victims' privacy rights, yet Google has taken little or no action to stop these outrageous violations."
He goes on the allege that Google are "making millions and profiting from the victimisation of women," but says that, "because the victims are celebrities with valuable publicity rights you do nothing – nothing but collect millions of dollars in advertising revenue … as you seek to capitalise on this scandal rather than quash it.
"Like the NFL, which turned a blind eye while its players assaulted and victimised women and children, Google has turned a blind eye while its sites repeatedly exploit and victimise these women," he writes.
Singer sent the letter via his law firm Lavely & Singer on behalf of a number of clients, who remain anonymous.
He further claims that he sent a notice to Google to delete the images in question four weeks previously, but that many still appear on Google-owned sites, such as YouTube and BlogSpot.
A Google spokesperson said: "We've removed tens of thousands of pictures - within hours of the requests being made - and we have closed hundreds of accounts. The Internet is used for many good things. Stealing people's private photos is not one of them".
The letter has purportedly been sent after a third wave of private images of famous women, including Cara Delevingne, were leaked on the internet.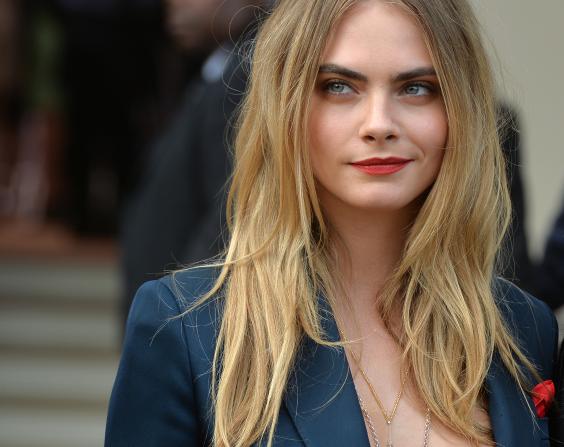 A second wave of naked pictures, thought to depict female stars including Kim Kardashian and Rihanna, emerged online just a week previously.
The actresses Vanessa Hudgens and Aubrey Plaza, designer and former child star Mary-Kate Olsen, and US soccer player Hope Solo are reportedly among those vicitimised.
There were also new nude pictures purportedly of Jennifer Lawrence.
Last month, over 100 household names were the target of online thieves, who stole scores of naked photographs and intimate videos and posted them on the website 4Chan.
Several of the images – in particular, two of Hunger Games star Lawrence – quickly circulated on Twitter.
The original list had also included Olsen and Hudgens, as well as Ariana Grande, Jessica Brown Findlay, Mary E Winstead, Mary E Winstead, Cara Delevingne, Kate Bosworth, Selena Gomez, Kate Upton, Kirsten Dunst and Kaley Cuoco.
Jennifer Lawrence's best quotes
Jennifer Lawrence's best quotes
1/20

"I was at the Oscars, waiting to hear
 if my name was called, and I kept thinking, cakewalk, cakewalk, cakewalk.I thought, 'Why is 'cakewalk' stuck in my head?'" - On why she fell at the Oscars 2013

2/20

"I finally get to make out with Christian Bale and he's a really fat guy. He's Fatman, not Batman." - American Hustle director David O Russell lets slip J-Law's on-set words to US Magazine

3/20

"I can't even... It's like past mad, it's this weird other emotion … I feel like my heart just fell out." - To presenter Shaun Robinson after she spoiled the Homeland Season 3 finale

4/20

"He was at a party, and I turned into a perverted guy. I was like following him into rooms and staring at his ass…He asked me if I was on mushrooms and I said, 'No. I'm dead sober. This is just me.'" - on stalking John Stamos at a party

5/20

"I think any time a girl has to show her thighs, it's never going to be her favorite look. I love the dress...if someone else wore it." - To Good Morning America

Getty Images

6/20

"I'm a horrible dancer! I'm like a dad at prom. I look like Gumby getting electrocuted." - On whether you'll see her twerking any time soon

7/20

Shares in Jimmy Choo, the shoemaker popular with such Jennifer Lawrence, are set to be priced between 140p and 180p, valuing it at up £700 million

PA

8/20

"I wrap myself up to look like Lord Voldemort so that they can't see anything because the thought of giving them a picture that will make them money absolutely infuriates me." - Entertainment Weekly

Getty

9/20

"If I don't have anything to do all day, I might not even put my pants on." - Glamour Magazine

Getty

10/20

"I think people are fascinated with breasts that bounce. They are so used to seeing [fake ones]. People are confused [that mine bounce]! My breasts have a life of their own." - The Sun

Getty

11/20

"You guys are just standing up because you feel bad that I fell and that's really embarrassing, but thank you." - 2013 Oscars acceptance speech

Getty

12/20

"I really would not call myself a fashion icon. I would call myself somebody who gets dressed by professionals. [It's like], 'Dance, monkey, dance' right on the red carpet.' I would call me more of a monkey." - To E!

Getty

13/20

"If anybody even tries to whisper the word 'diet,' I'm like, 'You can go f– yourself." - To Harper's Bizarre

Getty

14/20

"I was surprised at how little camel toe problem there was. I was expecting a lot more." - To E! on her Hunger Games jumpsuit

Getty

15/20

"If I were just your average 23-year-old girl and I called the police to say that there were strange men sleeping on my lawn and following me to Starbucks, they would leap into action." - To Vogue on the paparazzi

Getty

16/20

"I'm the fastest pee-er ever. I'm famous for it." - Rolling Stone

Getty Images

17/20

"I can see the McDonalds right there. Wait, hold on, I didn't say fries! I'm seeing you talk and all I'm seeing is me being pissed I didn't get fries. And you have to remind them about ketchup because they never include ketchup, you have to ask for it. Cheapskates." - Being interviewed on the Oscars red carpet

Getty Images

18/20

"I want to play a character I've never been before-a crazy serial killer like Charlize Theron in Monster. I'd love to have to shave my head."

Getty Images

19/20

"This isn't like an auction, right? You guys aren't going to take it away?" - Backstage at the Oscars

Getty Images

20/20

"This isn't like an auction, right? You guys aren't going to take it away?" - Backstage at the Oscars

Reuters
The FBI and Apple are both conducting investigations into the apparent widespread invasion of personal accounts thought to be connected to the iCloud service.
A spokesperson for Lawrence said at the time: "This is a flagrant violation of privacy. The authorities have been contacted and will prosecute anyone who posts the stolen photos of Jennifer Lawrence."
Justice and Grande both said that the pictures were fake, although Lawrence's spokesperson verified their authenticity.
Representatives for Upton said they were "looking into" the authenticity of the intimate images.
Ricky Gervais went on a back tracking spree on the social media site after he was criticised for 'victim blaming', while Emma Watson also took to Twitter to voice her condemnation of the breach.