Abz Love, the former member of 90s boy band 5ive, has expressed shock and disbelief that his slightly battered Brit Award has raised more than £1,000,000 in bids since he put it up for auction on eBay.
Abz, real name Richard Abidin Breen, put his Brit Award for Newcomer: Best Pop Act from 2000 on the online bidding site to raise funds for his life "off the grid" on a farm in Carmarthenshire, Wales, where he grows his own food and is not beholden to gas, water or internet bills.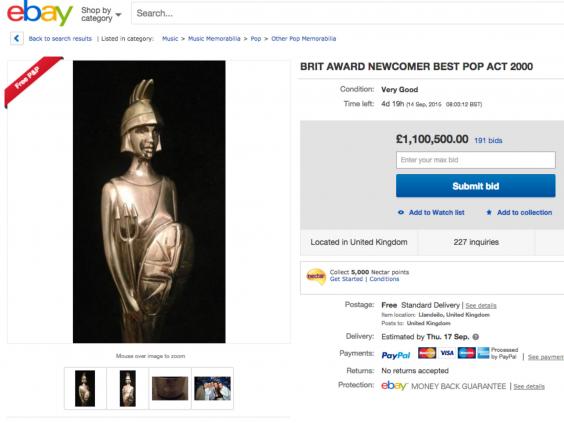 In his listing, Abz said he is selling his trophy "to fund a delivery of topsoil and maybe some garden tools", but admitted the award had been "dropped and knocked a few times and is currently being used as a door stop".
He started the listing at 99p and expressed disbelief at the latest bid. "Oh my God - I don't know what to say. It has to be a hoax - it can't be real," he said in an interview with the Associated Press.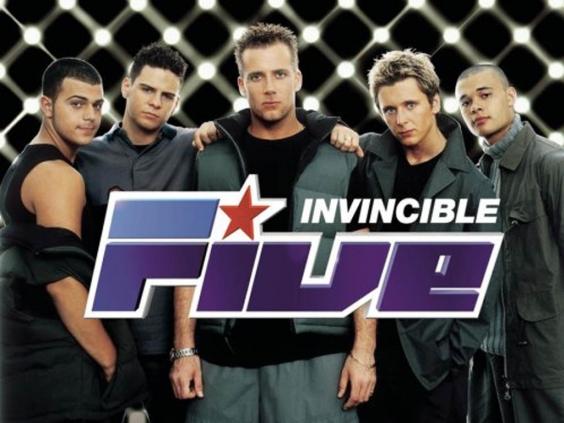 "I don't need a million quid! I feel-light headed. All I needed was a bit of top soil and its gone nuts.
"I better get in touch with eBay - that's a lot of soil!"
Abz said he has been out of work for around 10 months after he quit 5ive in August last year and has sold his Rolex watch, Louis Vuitton luggage and diamond stud earrings to help fund his new self-sufficient lifestyle, but had resisted selling the Brit Award until now.
Most controversial Brit Awards moments
Most controversial Brit Awards moments
1/10 Geri Halliwell's Union Jack dress, 1997

Geri Halliwell's era-defining dress became an iconic symbol of the nineties, not least for the fact it revealed her knickers and a large amount of her very own 'brits'. The singer wore it for the band's performance of 'Who Do You Think You Are', voted Most Memorable Performance of 30 Years at the Brit Awards in 2010

Reuters

2/10 Noel Gallagher insults INXS, 1996

Oasis star Noel Gallagher began his downward spiral of Brit controversy by telling INXS singer Mick Hutchence, who presented the band with an award: "has beens shouldn't present f***ing awards to gonna-bes"

Reuters

3/10 Robbie Williams challenges Liam Gallagher to televised fight, 2000

After winning Best British Song and Best British Video for 'She's the One' at the 2000 Brit Awards, Williams challenged public enemy Liam Gallagher to a televised fight, saying: 'Liam, a hundred grand of your money and a hundred grand of my money. We'll get in a ring and we'll have a fight.' Alas for Williams, Gallagher was out of the country at the time

Reuters

4/10 Liam Gallagher lobs mic into audience, 2010

But then Liam Gallagher decided to go Brits up himself (ten years on, mind). The Oasis singer collected a gong for Best Album, before chucking the award to a fan and hurling the microphone into the audience. Host Peter Kay called the singer a 'knobhead'

Reuters

5/10 Adele gives the middle finger, 2012

Adele gave the finger after James Corden cut short her acceptance speech for British Album of the Year. Corden was under pressure from television producers worried about the show overrunning, who later apologised to the singer. Adele said the middle finger was 'to the suits at the Brit Awards', not her fans

Reuters

6/10 Russell Brand sparks Ofcom Complaints, 2007

Never one to shy away from offending, Russell raised a few eyebrows with quips about Robbie Williams' spell in rehab, the Queen's 'naughty bits' and a British soldier killed in Iraq. ITV received over 300 complaint calls from viewers and Ofcom logged a further 135

Getty Images

7/10 John Prescott has jug of water poured in his face, 1998

Chumbawamba vocalist Danbert Nobacon poured a jug of water over the deputy prime minister's head at the 1998 Brit Awards. The band attacked New Labour on stage at the award, singing: 'New Labour sold out the dockers, just like they sell out to us'

Reuters

8/10 Sharon Osbourne calls Vic Reeves a p**s head, 2008

An altercation between Sharon and Vic Reeves ensued when the comedian made a quip about Kylie Minogue, saying she was 'all right, a bit of work there and she will be ok', which was met with silence. Reeves then seemed to forget which award he was presenting, prompting Sharon to tell him: 'Shut up, you're a piss head, piss off you bastard.'

Reuters

9/10 Samantha Fox and Mick Fleetwood's dodgy hosting, 1989

Inexperienced hosts Samantha Fox and Mick Fleetwood presented the 1989 awards , which led to missed autocues, pop stars coming up to the stage at the wrong time, and a generally poorly executed show

10/10 Jarvis Cocker storms stage in protest against Michael Jackson, 1996

Cocker stormed on stage during Michael Jackson's performance to protest against the singer by bending over and pointing his bum in his direction. Later he said his actions were a protest 'at the way Michael Jackson sees himself as some kind of Christlike figure with the power of healing'
"It's always been something I've taken with me along the journey, even when I was broke. But then I was looking at it one day - we use it as a doorstop - and I thought that it is so under-appreciated by me now that I might as well put it up for auction too.
"Maybe I'll start a trend for other struggling pop stars."
Abz, Ritchie, Scott and Sean reunited without their bandmate J in 2012 to film ITV2's Big Reunion alongside other 90's groups like Atomic Kitten and Liberty X.
They then went on to headline their own 5ive Greatest Hits Tour in 2013, but Abz said he hasn't spoken to his former bandmates since he quit a life of "sex, drugs, rock and roll, and partying wiht royalty" so he could "get back to nature".
"I need to buy soil and pay back my mum. I owe her a few quid by now."
Additional reporting by Associated Press