Amal Clooney is urging the Egyptian government to release imprisoned journalist Mohamed Fahmy on medical grounds.
The human rights lawyer, who recently wed actor George Clooney, is arguing that the jailed Al-Jazeera reporter should be let out because he is suffering from Hepatitis C.
In a text released through her London-based Doughty Street chambers and co-authored by barrister Mark Wassouf, she writes: "Mr Fahmy's trial was fundamentally unfair and his imprisonment a travesty of justice.
"Egypt's supreme court should overturn his conviction and release him when it hears his appeal. And in the meantime the authorities should grant him temporary release so that he can receive the medical treatment that he so urgently needs."
Fahmy hired Clooney as his international lawyer. Negad el-Boraie, his own lawyer, also represents him in Egypt.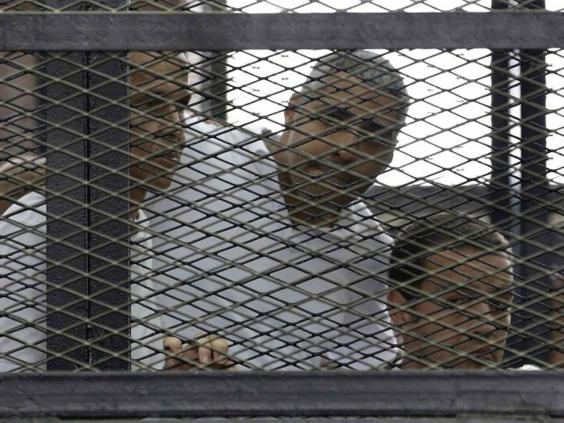 Al-Jazeera had come under some fire over fears they may have inadvertently worsened Fahmy and his colleague's situation by threatening to sue the Egyptian government ahead of their verdict.
"Al-Jazeera English – Mr Fahmy's employer when he was arrested – should take positive steps to assist him in his bid for freedom and refrain from taking any action that might undermine his cause," Clooney added elsewhere in the statement.
Fahmy was jailed alongside two Al-Jazeera colleagues, a local producer Baher Mohamed and former BBC correspondent Peter Greste in December last year.
He and his co-workers were convicted of aiding terrorists, conspiring against Egypt's national security and doctoring footage.
The trial was heavily criticised, not least because the Qatari-owned network that the trio worked for regularly challenged the politics of the existing Egyptian government, which was one of the main factors cited in their conviction.
An experienced human rights lawyer, Clooney has previously defended Wikileaks founder Julian Assange and former Ukrainian prime minister Yulia Tymoshenko.
She also served as UN Special Envoy Kofi Annan's advisor on Syria and has campaigned for liberal causes in the US and abroad, most notably in Darfur.
She recently argued on behalf of the Greek government that Britain return the Elgin Marbles.
Well-versed in Egyptian law, she previously worked as a researcher at the International Bar Association Human Rights Initiative (IBAHRI) putting together a report on the various legal loopholes in the country's justice system.
Reuse content