Amir Khan has described himself as "more British than UKIP" because he fought for his country at the Olympic Games.
In response to claims that cultural tolerance is decreasing in his hometown of Bolton, where UKIP is doing well, the boxer said: "I've got nothing but a lot of love here from a lot of people.
"But maybe it's because I'm probably more British than UKIP are because I represented the country in the Olympic Games.
"I also fight for the country and I've won medals and titles for the UK. So I'm more British than them."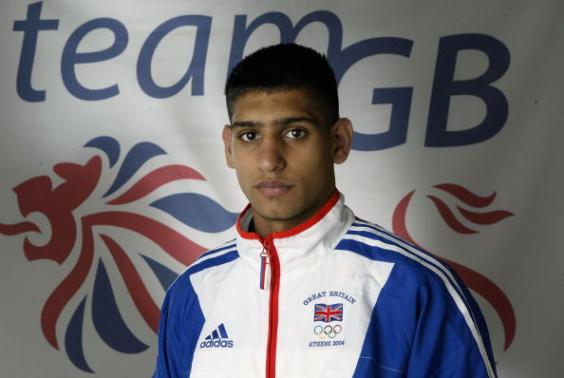 When asked about young British Muslim jihadists Khan said: "People are brainwashing them. Kids don't grow up thinking about going out and killing innocent people. It's why I go to schools and tell them: 'Look, you want to follow the right path. You want to represent your country in a good way. You want to build a name for yourself and your families.'"
"Obviously innocent people shouldn't be killed. Obviously this is wrong," he continued.
Khan's comments come after three schoolgirls from the Bethnal Green Academy in east London fled to join Isis in Syria.
They disappeared during the February  half-term holiday, possibly after being radicalised online and instructed by Isis recruiters on how to evade security.
Khan has been in the political limelight since the beginning of his career.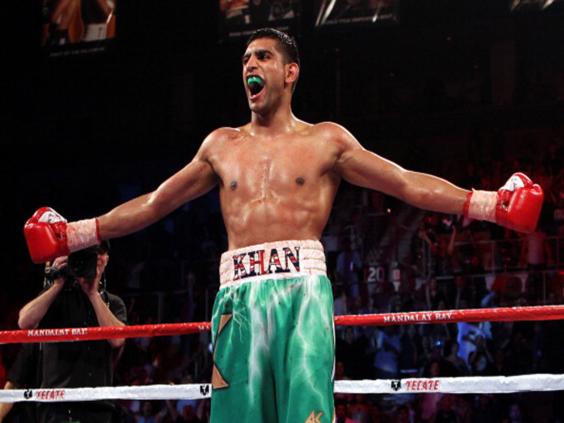 His first professional fight was nine days after the 7/7 bombings – Khan entered the ring in a pair of Union Jack shorts.
He has been the target of a good deal of venom over the years.
A friend of his describes a fight: "I saw him fight in Manchester and, you know, the boxing crowd is not like at a football match – it's late, people are drunk, and there was a lot of very blatant racial abuse going on from certain sections of the crowd.
Muhammad Ali – career in pictures

Muhammad Ali – career in pictures

1/15 Won Gold at the 1960 Olympic Games

Still called Cassius Marcellus Clay, he won six Kentucky Golden Gloves titles, two national Golden Gloves titles, an Amateur Athletic Union National Title. He rose to international fame, however, after winning the Light Heavyweight gold medal in the 1960 Summer Olympics in Rome.

Getty

2/15 Threw Gold medal away

Clay claimed in his 1975 autobiography that he threw his Gold medal into the Ohio River after being outraged that he and his friend were refused service in a 'whites only' restaurant.

Getty

3/15 19-0 record

Following the Olympics, Clay amassed a stunning record of 19–0 with an even more astonishing 15 wins by knockout. Beating his former trainer and veteran boxer Archie Moore along the way, he was fast becoming the most feared boxer in the world.

Getty

4/15 Heavyweight champion

In 1963, Clay became the youngest boxer (22 years old) to take the title from a reigning heavyweight champion after defeating Sonny Liston in perhaps the biggest upset in the sport's history.

Getty

5/15 Heavyweight champion

If winning Gold didn't do it, then Clay had finally become the most famous boxer on the planet. Famed for his controversial 'labelling' of his opponents during the fights, he was also one of the most iconic.

Getty

6/15 Changing his name

Shortly after becoming world champion, Clay (often nicknamed The Greatest) changed his name to Muhammad Ali. After joining the Nation of Islam, he switch to Ali from his 'slave name' and later converted to Islam in 1975.

Getty

7/15 Defending his title against Floyd Patterson

After branding Floyd Patterson a "white man's champion", it was perhaps no surprise that the former heavyweight champion attempted to take his title - to no avail.

Getty

8/15 Refusal to join the armed forces

Ali continued to attract controversy and refused to join the armed forces because of disagreements with the Vietnam War. As a result he was systematically denied a boxing license in every state and stripped of his passport. As a result, he did not fight from March 1967 to October 1970—from ages 25 to almost 29.

Getty

9/15 Fight of the Century

Ali eventually returned from exile and took part in the 'Fight of the Century' with Ali-Frazier II. Eventually knocked out, losing by a unanimous decision, Ali was handed his first professional defeat.

Getty

10/15 Defeating George Foreman

Ali recovered in stunning fashion, however, in The Rumble in the Jungle. Knocking out George Foreman, he regained his title by knockout. Foreman later said: "I'll admit it. Muhammad outthought me and outfought me."

Getty

11/15 Thrilla in Manila

In temperatures above 38°C, Ali defeated Joe Fraizer but later said the fight "was the closest thing to dying that I know".

Getty

12/15 Losing - and regaining his title

After losing to Leon Spinks at the Hilton Hotel in Las Vegas, Ali admitted that he had underestimated his opponent. A rematch was quickly arranged, which broke attendance records, and Ali become the first boxer to win the title three times.

Getty

13/15 Final blow

Ali lost to Larry Holmes in 1980 in a fight which actor Sylvester Stallone at ringside said was like watching an autopsy on a man who is still alive. Angelo Dundee finally stopped the fight in the eleventh round, the only fight Ali lost by knockout.

Getty

14/15 Parkinson's Disease

Ali was diagnosed with Parkinson's syndrome in 1984, a disease linked to head trauma. Around 1987, Ali was selected to personify the vitality of the U.S. Constitution and Bill of Rights.

Getty

15/15 A sporting legend

Ali continued to make public events and, in 1999, was awarded a Sports Personality of the Year award by the BBC.

Getty
"He doesn't engage in it, but boxing draws a very traditional working-class white-male following… and it can be quite ugly."
Khan's grandfather was born in the Punjab and moved to Britain to work in a cotton mill before building up two businesses.
Reuse content