German Chancellor Angela Merkel was politician Wolfgang Bosbach's first port of call when he was asked to phone a friend during a German quiz show – but he was left disappointed when she didn't answer.
To be fair, Merkel is a busy woman – she's been otherwise engaged topping the Forbes most powerful women chart and, you know, keeping Europe afloat.
Nonetheless, Bosback was a friend in need and all he got was Merkel's voicemail.
He was asked on a German television quiz show – the country's version of Who Wants To Be A Millionaire – why the East German WM66 washing machine was legendary.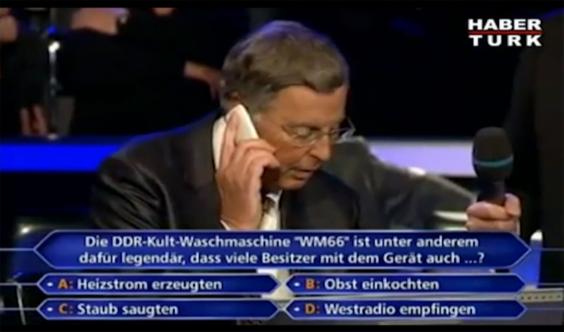 He thought that, naturally, Merkel might have the answer (she grew up in East Germany), explaining that "she's always happy to see me and hear my voice".
However, the call reached her answerphone. A correct answer from Merkel would have won him €500,000 for charity, but instead he gave up and settled for €125,000.
The MP – who is a specialist on German domestic policy and legal affairs, as well as chairman of Merkel's CDU/CSU parliamentary group – received a text message from the Chancellor which read:
"Ok whatever it was, warm greetings from am."
Reuse content